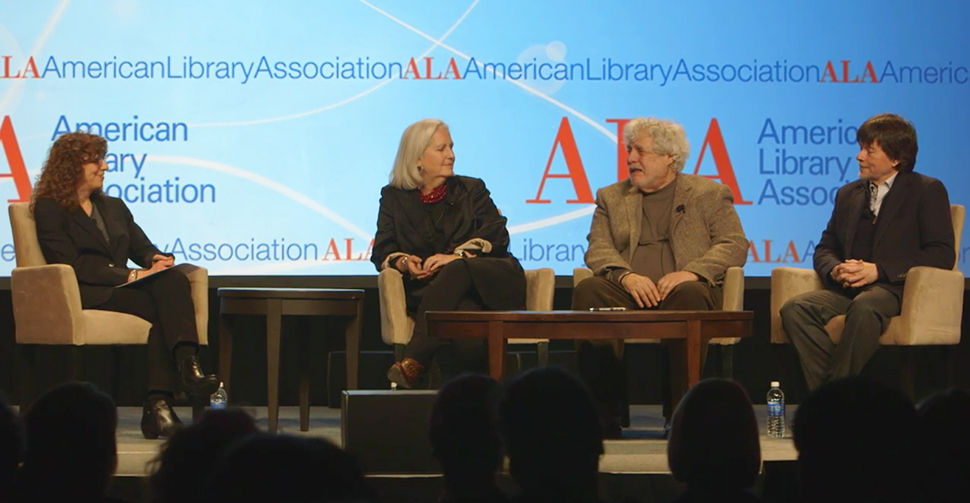 "I've always asked myself: Who are we? Who are those strange and complicated people called Americans?"
Oscar-nominated documentary filmmaker and writer Ken Burns's response when asked how he chooses the subjects of his work encapsulates "The Writer as Witness," the theme of the ERT / Booklist Author Forum at the 2016 ALA Midwinter Meeting in Boston. A writer must look both outward and inward to completely, accurately, and honestly tell a story, he stressed. The sentiment was echoed by bestselling writers Mark Kurlansky and Terry Tempest Williams, who joined Burns at the popular forum that kicks off Midwinter each year with conversations with writers. To understand others, to tell their stories, to be a true witness, writers must understand themselves and their place in the world, they agreed.
Led by Booklist Editor for Adult Books Donna Seaman, the forum found the three writers conversing like old friends. The familiarity was real: Williams, author of the forthcoming book, The Hour of Land, about the US National Parks, was an on- and off-screen contributor to The National Parks: America's Best Idea, Burns's sweeping 2009 documentary on the parks, and both praised each others' respective handling of the topic. Williams also noted that she gives copies of Kurlansky's book Cod to friends to demonstrate the dangers to our ocean's ecosystems.
The mutual admiration let the writers speak comfortably, intimately, and with humor about their inspirations, processes, families, and each others' work. When asked how he became a storyteller, Burns, whose upcoming kids book Grover Cleveland, Again! looks at the lives of American presidents, detailed how the loss of his mother as a child impacted his life and work. It was a visit to a psychologist as an adult that made that clear. "'What do you do for a living?' he said. 'You wake the dead,'" Burns recalled the therapist saying to him.
The trio discussed the writing and editing process at length. Their thoughts revealed much about their own styles and methods, but it was also a master class in writing, editing, research, and subjectivity. When asked how he can write both fiction and nonfiction at the same time, Kurlansky was animated. "It's easy," he said. "It's two different parts of the brain. In fiction, there's a lot of self-searching and reflection. Characters do what they want to do." Nonfiction writing requires an altogether different mindset, he noted. "In nonfiction, you find that the characters in real life, their stories, are so great, you get to a point where you think, 'I can never write something so good,'" he laughed.
Williams stressed the importance of journaling and rewriting to her work. She goes through approximately one journal a month, using them to capture emotions and reactions at their rawest. She returns to her journals later while writing to recapture the immediacy of those moments. "My journal is my personal library of experiences," she said. "It's not real if I've not written it down."
The writers expanded at length on how writing is a collaborative effort, from initial research to writing and editing to finally releasing the work to the world for its own subjective interpretation. "The process is mine," Burns said. "But the second [the work] is done, it's yours and not mine."
"Writing is a collaboration," Williams continued. "Libraries too are a collaboration. They're prisms that let us see the world through different angles as we become more complex."
Watch an edited extract of the program here: