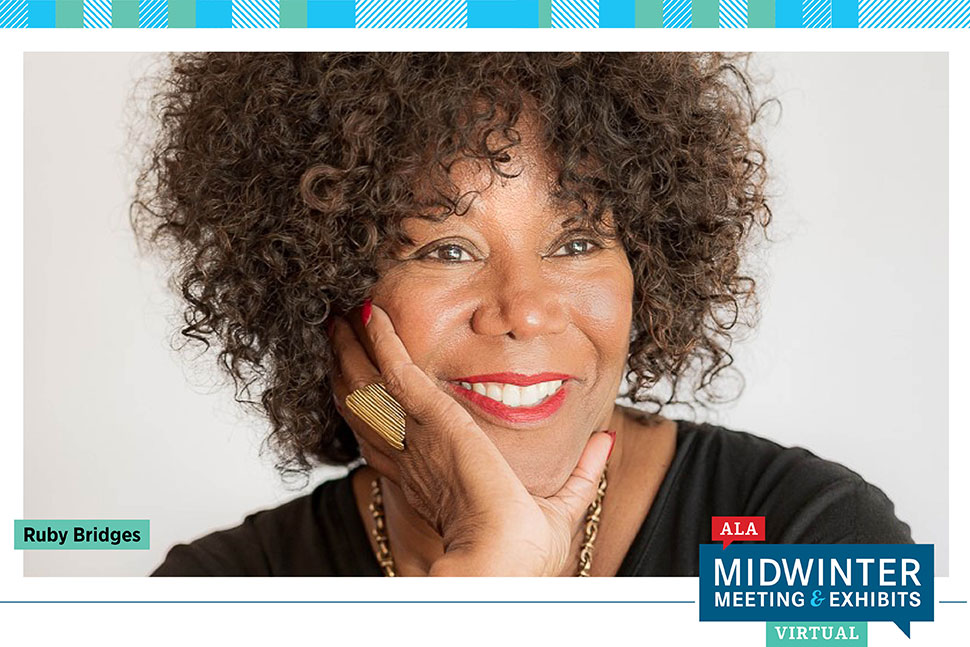 In 1960, 6-year-old Ruby Bridges made history when she became the first Black student to desegregate an all-white US school—William Frantz Elementary School in New Orleans. Now 66, Bridges has reflected on her life in a book for kids titled This Is Your Time (Delacorte Books for Young Readers, 2020), which she discussed with Librarian of Congress Carla Hayden on Friday on the Diversity in Publishing Stage at ALA Midwinter Virtual 2021.
Hayden opened the conversation with condolences to Bridges for the loss of her mother, Lucille, who died in November from cancer. Calling Lucille her "guardian angel," Bridges said her mother was a driving force and influence in her family.
"She was a beacon for me and my siblings," Bridges said. "She was adamant about having better opportunities for her children. She pushed us to be better." That desire for opportunity led Bridges' mother to enroll her daughter in the then all-white elementary school with help from the NAACP, she said.
Bridges said she remembers clearly that first day at the school, in particular walking by a mob of angry white people shouting at her as she walked by them in the morning. She says the innocence of youth protected her.
"I didn't hear anything about racism at that age," she said, thanking her mother for shielding her from it. "It's hard to explain to a 6-year-old what they're about to get into." Instead of fear, Bridges said the mob instead reminded her of a Mardi Gras crowd. Fear did rear its head eventually as the school year progressed, Bridges said, recalling how the crowd brought a child's casket to the school with a Black doll lying inside.
Bridges credits a teacher, Mrs. Henry, as a protective force inside the school. Attending school alone and guarded by federal marshals—the rest of the students had been pulled out of class by their parents—Bridges said the teacher made learning fun despite the isolation. "I knew if I could get past the crowds, I would have a good day," she said.
Students eventually did return to William Frantz Elementary School, and the kids' reaction to Bridges's presence should have provided an example for their parents, Bridges said.
"Once we were brought together, it didn't matter," she said. "We were 6-year-olds. What kept us apart were the adults."
Hayden asked Bridges about the call to action that concludes her book, and Bridges said it was necessary to tell kids that a light exists in the future.
"Like all of us, I watched what happened in May [regarding George Floyd's death]. I traveled and talked to kids. This book is a letter to [them]. Some of what they're seeing now is what I saw as a 6-year-old. But we'll get through it, and things will get better.
"Don't be afraid. This is our time in history," Bridges said. "And we'll get past this. Not through adults, but through kids. If they're united, we'll win in the end."