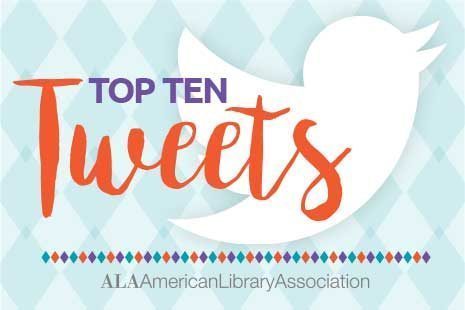 It's day one of #alaac18! As always, it was full of excitement and boundless energy, especially for the Opening General Session.
You're ready for Annual to start.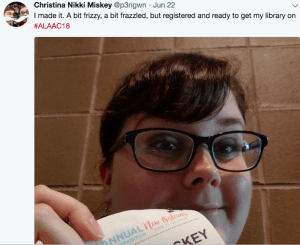 Or maybe you feel like this.
This is my OMG-I-won-the-Newbery-Medal-and-now-I'm-on-my-way-to-#ALAAC18-WTH-is-happening-right-now face. #ALA18 pic.twitter.com/C3pl90vr0v

— Erin Entrada Kelly (@erinkellytweets) June 22, 2018
You are psyched for all the sessions.
Awwww yyeeaaahh #alaac18 pic.twitter.com/qFs7FE0vCM

— Tasha Nins (@TashaCMN) June 22, 2018
It's begun! #alaac18 #diversity #equity #inclusion pic.twitter.com/YRfFPsVukH

— J ChaCha (@jtcmlis) June 22, 2018
You want to pay it forward.
If any students are here at #ALAAC18 let me buy you food. I've been in your position. Let me treat you.

— J.L. Colbert (@SpookyColbert) June 22, 2018
You waited in line for hours to see former First Lady Michelle Obama and Librarian of Congress Dr. Carla Hayden.
Worth the 10 hr wait! @MichelleObama #ALAAC18 #alaac2018 #NewOrleansLA #librarianswin @penguinrandom pic.twitter.com/n1Wy9jnpCW

— D (@dollybrarian) June 22, 2018
Yes!!! I know I shouldn't point but it's the @LibnOfCongress . #alaac18 #alaac2018 pic.twitter.com/1ZTJ8NlrVB

— T. Love (@tlovesbooks) June 22, 2018
But you have no complaints.
The line for Michelle Obama is like a huge librarian sleepover. I've seen party games, hair braiding, snack sharing, and movie vs book discussions. It's pretty spectacular! #alaac18

— Katie Salo (@storytimekatie) June 22, 2018
https://twitter.com/aslaughter/status/1010270752900337664
And for the @alaleftbehind folks, here's a tasty tip.
Eating doughnuts at my desk because I'm seeing all these great pics of people eating beignets @alaannual and I'm jealous. #ALALeftBehind

— Kaitlin Springmier (@kaitlinspring) June 21, 2018
BONUS tweets: People who had more fun than you getting to New Orleans!
You never know who might run into.
Look who i found at Midway Airport in #Chicago on the way to the @ALALibrary @alaannual conference in #NewOrleans…my Mom! @MaryEllenFies #tinderboxbook #PrideMonth #Pride #pflag #LGBT pic.twitter.com/g7kbrLd2jm

— Robert Fieseler (@wordbobby) June 22, 2018
You never know what you might hear.
#alaac18 attendee to flight attendant: "Beware. This flight is full of librarians and we're not shushing!" Lmao #librarians @DCLALibrarians @ALALibrary @AmericanAir dca—>msy pic.twitter.com/gQuIvqwpij

— Nicholas A. Brown (@frenchhorn88) June 22, 2018
https://twitter.com/socaldesi/status/1009955239032705026
You never know when someone might be eyeing you.
Sitting at my @SouthwestAir gate @BWI_Airport waiting for my plane to board to NOLA and trying to pick out the librarians…#alaac18 here I come! BTW borrowed this idea from @librarycourtney and bought some postcard stamps. I can send mail to friends #ALALeftBehind DM me addresss pic.twitter.com/A9eVvSc4fN

— Stacey Rattner (@staceybethr) June 22, 2018
You never know when you might need to apologize.