In 2021, students entered nearby DeLand (Fla.) Regional Library (DRL) to hunt for a secret word. The activity was part of a summer reading challenge in collaboration between DRL and Volusia County (Fla.) Schools (VCS). Kate Sprague, head of youth services at DRL, says the two entities have worked together many times before, but something about this venture was different. "I can honestly say I saw a lot of new faces last summer," Sprague says. "And they came in purposefully to look for that secret word, but what that also did was let us share what the library had to offer."
That connection between the school and the library was made possible through Zoobean's tandems, a feature which enables schools and libraries to link their Beanstack accounts and better motivate students to read and explore their library.
Through this feature, students can participate in Beanstack reading challenges from their local public library and their school at the same time. Whether public libraries and schools work together throughout the year to create reading challenges to engage readers, tandems help make the connection and make it easier to complete reading logs.
Keeping connected
Frederick County (Md.) Public Libraries (FCPL) has used Beanstack for summer reading challenges since 2016. When the pandemic pushed communities into quarantine, the library system thought of one way to keep patrons connected safely and virtually: It implemented the tandem feature with the entire local school district, Frederick County Public Schools (FCPS).
Only a few schools had tandems in 2019, the rest joining Beanstack in 2020 and 2021, according to Robin Goetz, children's services supervisor at the FCPL's Myersville Community Library branch. "All of it really started while we've been so separated from each other."
Goetz reports more than 960 students (and some teachers) have linked their public library and school Beanstack accounts; about 90% of those connections were made after March 2020. Since then, these readers have logged more than 1,850,000 minutes of reading through Beanstack and its tandem feature.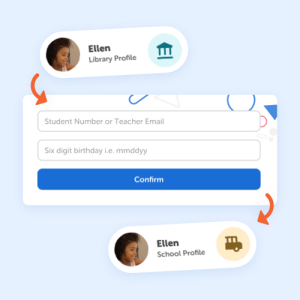 Jeffrey Riley, media specialist at FCPS's Middletown Elementary School and a former teacher, says the tandems feature strengthens the bridge between the school library and the public library. He wants to teach kids to be more than just great digital citizens, and that means seeking out materials beyond the school library.
"My goal is to help kids be as resourceful as they can be and to find the resources that they're choosing to access," Riley says. "That's where the partnership with the Frederick County Public Library has come into place." It also helps that every FCPS student is outfitted with a specialized FCPL designation called the Student Success Card. "If I didn't have a book at the school library, I could partner with FCPL," he notes.
Riley plans to collaborate with librarians at FCPL in late summer to create challenges specific to his hometown. "Middletown is a very competitive sports town," he says. "I'm working on a sports-themed challenge, where we're going to be looking at the sports genre, both fiction and nonfiction."
Building a love for reading
When students log their reading in Beanstack, they can get incentives and prizes from both sides of the tandem. This summer, Sprague says, the library plans to work with VCS to host educational and entertainment programs as an additional reward for summer readers.
"The bottom line is, we both want kids to keep reading—especially over the summer—but also, of course, during the year to build that level of literacy," Sprague says. "Having Beanstack really assists with that."
On top of reading logs, media specialists at school and staff members at the public library can also collaborate to publish recommended reading lists on Beanstack for students to access—something that Goetz does at FCPL.
"Being able to work together is just one of those really great things," Goetz says. "The support for students comes from everywhere—from the schools, from the libraries, from all of that—so we need to just be able to strengthen that idea of community. Beanstack allows us to do that."
When it comes to building a community that has a love of reading, Sprague gives this advice: "Make it fun for readers. And keep it simple."
Goetz agrees. "When we create these programs with Beanstack, we just keep them simple," he says. "Make it easy for anyone to log their reading and their activities. But also have options for those people who don't have digital access—have a paper version of something, so they can come in and we can log things for them."
"Build excitement!" Riley adds. "And teach parents—because as a single dad myself, I know how busy they are—to encourage or build some incentives at home for completion of reading."
For more information on Zoobean's tandem feature and how to get your school and public library connected, visit Beanstack Tandems.