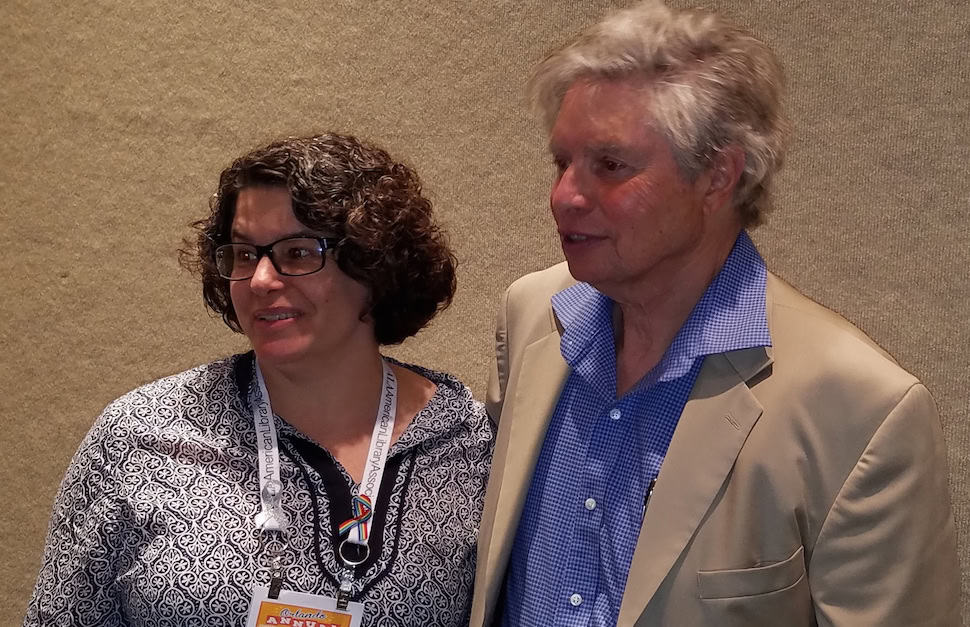 Children's author Avi was the featured speaker at the President's Program of the American Association of School Librarians (AASL) on Saturday morning. AASL President Leslie Preddy introduced the 2003 Newbery Medal‒winner (for Crispin, the Cross of Lead), saying, "He writes literature, not books" and "never 'writes down' to his readers," skillfully using "power, voice, and integrity in his writing."
Avi reminisced about his upbringing in 1950s Brooklyn in a family that included both readers and writers. He has vivid memories of reading And to Think That I Saw It on Mulberry Street by Dr. Seuss, The Story of Babar by Jean de Brunhoff, and The Story of Ferdinand by Munro Leaf. Avi's parents frequently told the story that at a young age he burst into the room shouting, "I can read! I can read!" although he has no memory of the incident. His grandfather "could not go to sleep without reading something," and Avi adopted the same habit early on.
His parents "never told me I could not read a particular book," Avi said, although he was forbidden to bring gory comic books into the house. "I could read them on the outside stoop, a decision I still don't understand."
In elementary school, Avi gave no thought to becoming a writer even though he was a "voracious reader" and experimented with writing radio plays. At this time he was diagnosed with dysgraphia, a learning disorder characterized by sloppy handwriting, bad spelling, and poor grammar. Because he was not told about the condition, he suffered through "constant criticism and low grades" without knowing the reason.
But Avi was reprieved at age 16 when a tutor, Ella Ratner, told him, after she had read some of his stories, that he "was an interesting person" and that if he could write better, "people would know that." Almost instantly, he said, "my motivation for writing changed, and I began writing for the readers (especially young ladies)."
When his first child was growing up, Avi began making up bedtime stories on many topics, and this resulted in his first book, Things That Sometimes Happen, in 1970. At that time, he was working as a librarian for the Theatre Collection of the New York Public Library—he had gotten an MLS degree at Columbia University in New York in 1964—and later worked for 16 years at Trenton (N.J.) State College.
Avi's most recent books (he has written more than 70) are The Most Important Thing: Stories about Sons, Fathers, and Grandfathers (Candlewick, 2016) and School of the Dead (HarperCollins, 2016). He said that he was rewritten and reedited each of his books as many as 70‒80 times, partly due to his dysgraphia, but also because he wants to use the best phrasing to tell his stories.
He ended his talk with advice for aspiring authors: "Writers have an obligation to do three things: Write as well as you can, be honest, and hold out a vision of life that is both a challenge and an achievement. A good children's book is a book of promises, and promises are meant to be kept."
Video
Avi on Reading