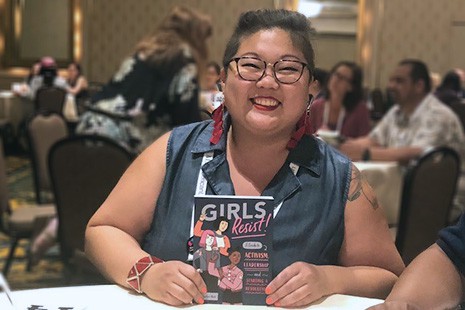 Each year at the American Library Association (ALA) Annual Conference and Exhibition, ALA's Young Adult Library Services Association (YALSA) division hosts the YA Coffee Klatch, a ticketed event featuring authors who write for teens. This year, more than 40 authors participated. Attendees sit at numbered tables, while authors switch tables every few minutes in a speed-dating-style round robin of brief, bookish conversations.
The discussion at table #20 commenced with a visit from author Cynthia Leitich Smith, who is a citizen of the Muscogee Nation. Cynthia discussed her forthcoming book Hearts Unbroken (Candlewick, 2018). She describes it as a book with diverse characters in a high school musical. It is also reflective of her relationship as a Native teen with her own Lebanese high school boyfriend. Since Cynthia is the person who coined the term "Diversity Jedi" in regards to Debbie Reese (founder of the blog American Indians in Children's Literature) and others, I asked if she would coin a special term for librarians working hard to be ambassadors of diversity. She replied, without missing a beat, that we could be Jedi apprentices. We'll take it!
Next was Meg Medina, who discussed her book Burn, Baby, Burn (Candlewick, 2016). Set in 1977, this book lends itself to fun discussions with teens about artifacts. Meg sometimes shows teens items such as an old rotary telephone, which, of course, they have no idea how to use. Her discussions with teens also encourage creative and critical thinking about items from today that they would want teens of the future to see and become curious about.
M. T. Anderson visited next, highlighting his forthcoming book The Assassination of Brangwain Spurge (Penguin Random House, 2018), written with Eugene Yelchin. He describes it as a spy fantasy novel and a political saga with warring elves … no, that is not a misprint (#freedobby). Local New Orleans author and photographer T.M. Causey stopped by next and gave us copies of her book The Saints of the Lost and Found (Roadrunner Press, 2016). T.M. takes the photographs for her own book covers and encouraged each guest to choose their own postcard-size photograph of hers to take home.
Continuing to work part-time as a librarian while cranking out her sixth work, Claire Legrand told us that her book Furyborn (Sourcebooks Fire, 2018) is the "love of her life." In this Game of Thrones-esque fantasy, she wants female teen readers to see her protagonist and think, "I am also a hot mess sometimes, but I can still be a hero."
Grace Ellis, co-creator of the Lumberjanes comic series (BOOM!-BOOM! Box), passed out copies of her latest comic Moonstruck (Image Comics, 2017), while Sam Maggs promoted her forthcoming Girl Squads: 20 Female Friendships That Changed History (Quirk Books, 2018) and passed out colorful signed posters. McCall Hoyle discussed her forthcoming book Meet the Sky (Blink, 2018), saying she loves to write about girls struggling to find their place in the world, because no matter how put together they are on the outside, they may be broken on the inside. KaeLyn Rich rounded out the theme with her new book Girls Resist!: A Guide to Activism, Leadership, and Starting a Revolution (Quirk Books, 2018), which encourages activism via multiple avenues and gives advice about getting started.
All too quickly, time was up, as not every table got to see every author. (Hint to YALSA to make the session longer in future!) Other visiting authors included Angela Johnson, S.K. Ali, Neal and Jarrod Shusterman, Courtney Summers, Laini Taylor, Nova Ren Suma, Mary E. Pearson, Joy McCullough, and many more.