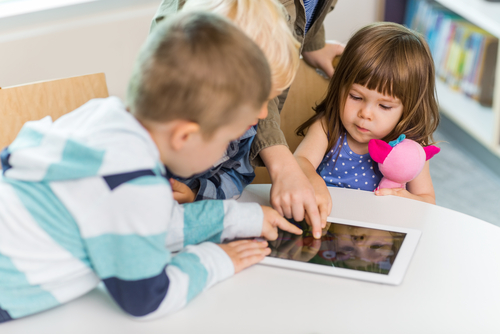 During the Young Children, New Media, and Libraries session on Sunday, Julie Roach, manager of youth services at Cambridge (Mass.) Public Library, moderated as J. Elizabeth Mills, PhD student at University of Washington iSchool (UW), and Amy Koester, youth and family program coordinator at Skokie (Ill.) Public Library, discussed the preliminary results of the Young Children, New Media, and Libraries survey (PDF).
The survey was designed in collaboration with the Association for Library Service to Children (ALSC), Little eLit, and the iSchool at UW to get a better understanding of if and how new technology was being used in libraries, specifically in relation to children ages 0-5. The survey looked at what kind of devices libraries were using (predominantly tablets) and what kind of funding was in place.
The survey, which began August 1, 2014, and closed after 18 days, got more than 400 responses from all over the country. The questions also looked at how new media was being used in programming.
Some of the preliminary findings are:
45% of respondents said they used tablets in their libraries, 85% of which were iPads.
59% respondents indicated they would be increasing their new media usage.
22% of respondents serve a legal service area of less than 5,000 people; 40% of these respondents plan to increase their new media usage in programming and services.
Some respondents indicated that they have new media for adults and teens but not young children; some didn't want to use screens in story times and want more research before they would incorporate them.
"There is strong evidence that libraries are in a position to be digital hubs, but less evidence of media mentorship. Our survey sets the stage for larger studies on media mentorship," Mills said, adding that much of the data was intriguing, like the usage of new media by smaller libraries, and needed to be teased out more.
Survey implications
"New media isn't going away and we're going to keep looking at it," Koester said. She also discussed how some of the findings from the survey aligned with Pew data on how American families are using new media.
75% of households own digital media, compared to 71% of libraries.
40% of families with children 8 or younger own new media and children use it.
"In general, libraries are on par with how families were using new media in 2013. Our data is 6 months to a year following the time of data collection. We're all seeing use of digital media go up. As families use it more and more, perhaps libraries will as well. Or libraries will recognize that families are encountering new media and respond by offering support," Koester explained.
Only 22% of responding libraries indicated that they did any mentoring on new media.
"But mentoring as youth librarians is what we do," Koester argued, through mentoring caregivers so they can promote reading to their children, by mentoring children, and helping with readers' advisory. "We feel very strongly that librarians should not think of new media as other, but as a new type of some of the things we've always been doing."
Koester and Mills argued that the data seems to suggest there does need to be media mentoring with so many families using it. "Mentorship is integral. A media mentor is someone who is knowledgeable about the resources, practices, and recommendations that pertain to how children and their families use new media," Koester said. "Every library needs to have a commitment to meeting families where they are in their technology use. We make no pretense at commenting on what is or isn't appropriate. We are simply granting access to the best resources possible."
Koester encouraged librarians to familiarize themselves with the research and various reports around new media, including resources from the American Academy of Pediatrics, the Fred Rogers Center, and the Erikson Institute's TEC Center, and to share those with families so they can make the best decisions for themselves.
"Emphasize our role as objective information professionals," she said. "This can be incendiary and personal for many people. Whatever our personal convictions, it's up to parents to make decisions for their families, so give objective information. It's the same way we do advisory on something we don't know about. We know the resources and it comes down to training."