Company announces new logo, new brand, and "all hands on deck" approach to customer service
SirsiDynix announced May 12 that the company is undertaking a massive overhaul that will include consolidating its customer support staff under one roof, launching a new website, unveiling a new brand, revamping its Customer Support Center, and expanding the firm's team of library relations managers around the world.
"By bringing our staff closer together, we bring our customers closer to the teams who develop and support their products, and give them resources to get better results out of products they already use," SirsiDynix CEO Gary Rautenstrauch told American Libraries.
In announcing the reorganization, SD unveiled plans for the SirsiDynix Technology Center, where development, support, and operations teams will "work side by side every day" under one roof in Utah, the company stated. By getting "all hands on deck" in one building, SD stated it was "confident we will be able to understand the challenges our customers face and respond quickly."
"We are offering relocation packages to all staff," SD media contact Julianne Hancock told AL. "Staff will grow in Provo significantly as we bring team members from our other offices online and grow our services and support offering from the Technology Center," she continued.
The new center will offer improved call routing and toll-free access to its 24/7 customer support for all customers, worldwide, with representatives trained to support the cultural and language needs of regions where the company doesn't have a physical presence. The plan also involves assembling a maintenance support development team to serve as a liaison between product development and customer support.
An integral part of SD's new customer support model will be the customers themselves: The company also plans to leverage its users' knowledge base into a new online Customer Support Center, to be launched in June (see image below). The groundwork for the new center is a "robust, indexed, searchable knowledge base," which will "encourage library staff to discuss their challenges and successes with thousands of their peers around the world," the firm said.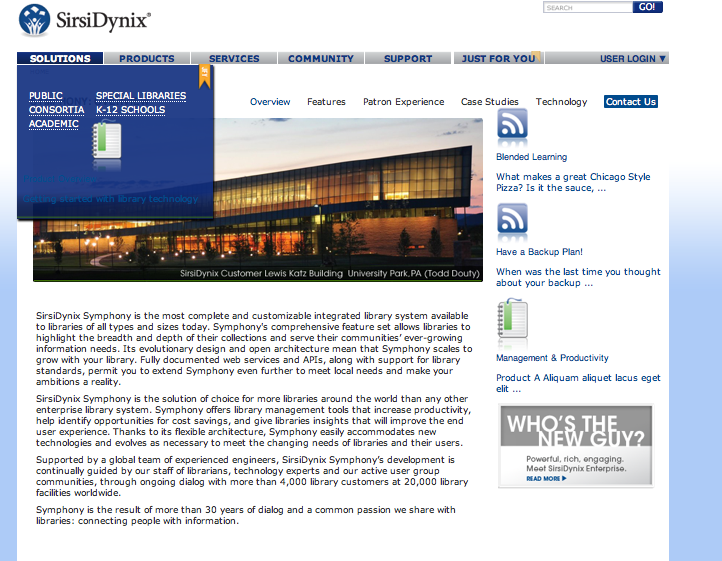 Screenshot of SirsiDynix's new beta website, to launch to the public in June.
Hancock told AL that the company did not anticipate any staff reductions as a result of the initiative. In fact, she said, the team of front-line Library Relations Managers would grow from six "to about 16." The growth will impact the company's European and Asian markets most. "Our LRMs have provided meaningful contributions to the customers they have focused on in the past; expanding their expertise to our global customer base will be a good thing for libraries and their users, as well as for SirsiDynix," Rautenstrauch told AL.
SirsiDynix's shift in focus reflects changes in libraries. ""We are inspired by the passion and dedication librarians continue to have for their users, even in these difficult economic times," said Hancock. "Especially in public libraries," she continued, "people have shifted. They have worked so hard to change focus quickly." Just as libraries are serving patrons with fewer resources and better results, SD plans to evolve alongside a shifting landscape.