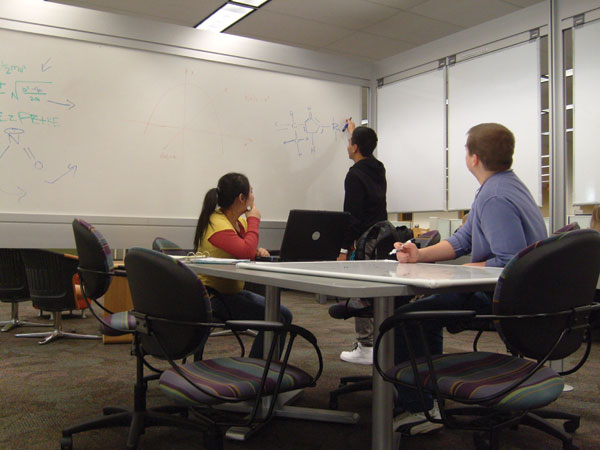 It's hardly news anymore: The library is no longer a place for (just) solitary silence. The following facilities have made a special effort to provide space for cooperation and collaboration, while still respecting other patrons' desires for silence.
North Carolina State University Libraries, D. H. Hill Library, Raleigh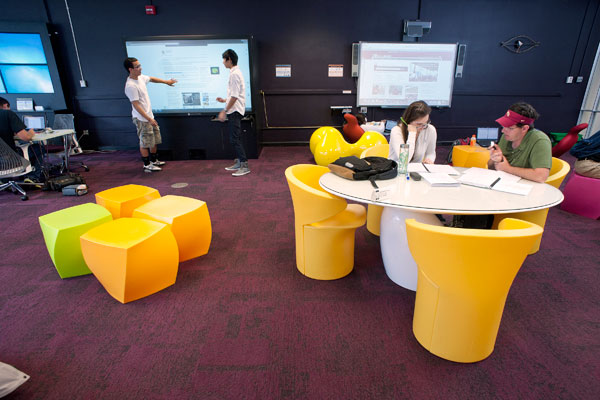 Collaborative Learning: The renovated Hill Library created spaces for several levels of collaboration. The technology sandbox encourages peer-to-peer learning in a laboratory with access to large-scale display and gesture-based computing tools. Faculty and staff can experiment with the space itself, particularly in ways that blend the physical with the virtual. The renovation also transformed the former print periodicals room into a silent reading room with marble-topped tables and ample access to power outlets.
Renovation
Architect: University Architectural Staff
Size: 13,600 sq. ft. renovated, 340,000 sq. ft. total
Cost: $910,380
Photo: Marc Hall, North Carolina State University
Columbia University Science and Engineering Library, New York City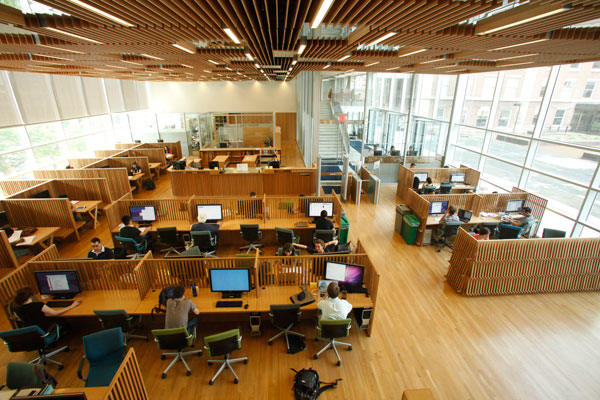 Collaborative Learning: Study rooms and shared work booths support students who wish to work together at Columbia University's Science and Engineering Library. The facility hosts more than 50 high-end computer workstations with specialized software to support user needs. Double-height windows fill the library's column-free space with natural light.
New Construction
Architect: Rafael Moneo Valles Arquitecto
Size: 13,000 sq. ft. (library only), 188,000 sq. ft. (full building)
Cost: $40 million (library only)
Photo: Michael DiVito
Spartanburg (S.C.) High School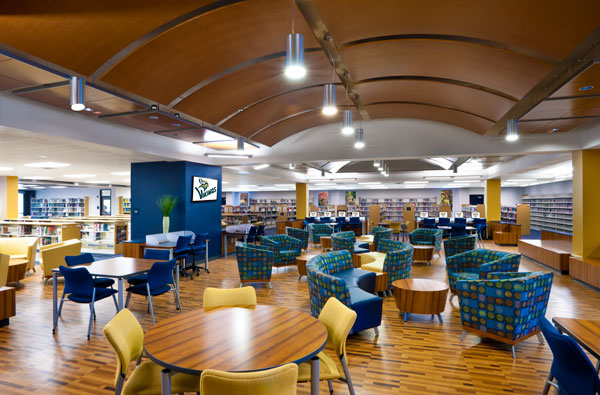 Collaborative Learning: When Spartanburg High School underwent a construction project to incorporate 9th-graders into the school's student body for the first time, administrators took the opportunity to modernize its library. The new floor plan incorporates an easy-to-monitor area for collaboration and socialization that can also host events for up to 50 attendees. Offices that lined the exterior wall were eliminated to improve daylighting, low ceilings were raised in many sections, and accent lighting, cork flooring, and wooden-veneer ceilings were used to add visual interest.
Renovation
Architect: McMillan Pazdan Smith, LLC
Size: 3,180 sq. ft.
Cost: $4.4 million (library and other renovations)
Photo: Fred Martin Photography, Inc.
Santa Cruz (Calif.) Public Libraries, Scotts Valley Library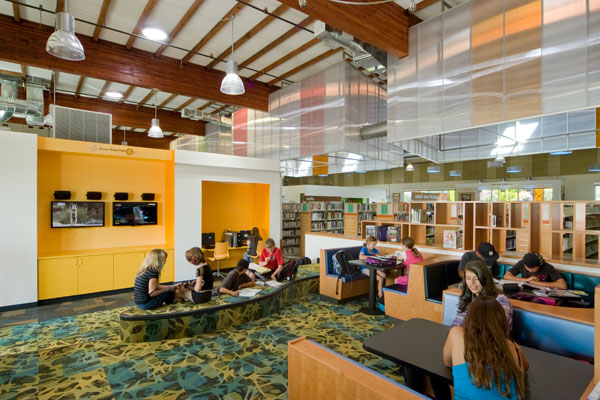 Collaborative Learning: Scotts Valley Library occupies a former indoor roller rink. The roller rink inspired the raised platform that forms the library's teen space, with booth seating that supports collaborative work and socializing. The children's library supports active learning, while small meeting rooms can be used for a variety of group activities.
Renovation
Architect: Group 4 Architecture, Research + Planning, Inc.
Size: 13,500 sq. ft. (library only), 22,600 sq. ft. (full building)
Cost: $2.7 million
Photo: Technical Imagery Studios
Centennial College Library and Academic Facility, Toronto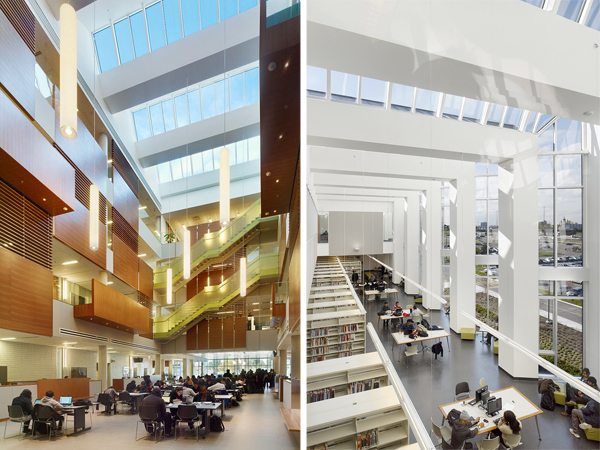 Collaborative Learning: The Centennial College Library offers 250 study, research, and collaborative work spaces for students, including workstations, small-group media-viewing carrels, technology studios, and video conferencing. An atrium with a living wall provides additional informal study and lounge space.
New Construction
Architect: Diamond Schmitt Architects
Size: 41,753 sq. ft. (library), 103,500 sq. ft. (full building)
Cost: $31.5 million
Photo: Tom Arban
Plano (Tex.) Independent School District, C.A. McMillen High School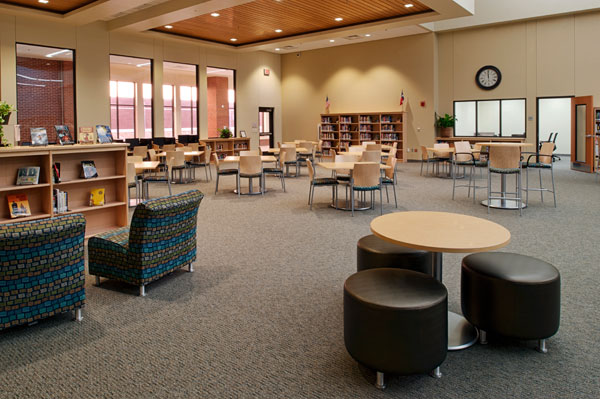 Collaborative Learning: McMillen High School's library includes a conference room for small team assignments and a production room for group projects. One of the conference room walls is coated with Idea Paint, which turns the surface into a dry-erase board.
New Construction
Architect: SHW Group
Size: 6,400 sq. ft.
Cost: $37 million (full building)
Photo: bkm Total Office of Texas
Pierce College Library, Lakewood, Washington
Collaborative Learning: Different zones at Pierce College Library encourage different types of usage. The Collaborate Zone promotes group work, while the Flex Zone allows students to reconfigure tables and chairs and the Design Studio provides a variety of software and technical tools for practical application of their ideas. Other zones offer spaces for quiet reading and study.
Renovation and Expansion
Architect: McGranahan Architects
Size: 61,000 sq. ft.
Cost: $8.5 million
Photo: Lara Swimmer Photography
Suffolk County (N.Y.) Community College, Eastern Campus Library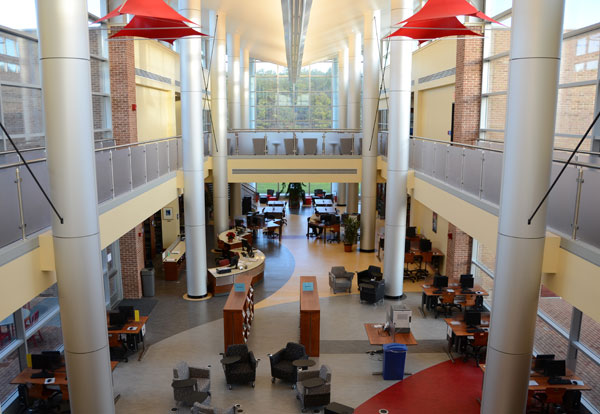 Collaborative Learning: Flexible options throughout the Eastern Campus Library support different learning styles. The library boasts both group study rooms and individual study carrels, as well as group work tables with multiple seating options. Two heavily used information-literacy classrooms have centrally placed worktables and computers around the perimeter to accommodate both group discussion and individual work.
New Construction
Architect: JCJ Architecture
Size: 33,000 sq. ft.
Cost: $14.5 million
Photo: Paul A. Turano, SCCC
Old Dominion University, Patricia W. and J. Douglas Perry Library, Norfolk, Virginia
Collaborative Learning: The learning commons at the Perry Library has six collaboration rooms, each designed to accommodate four to six people, with flat panel monitors, laptop hookups, and computer, as well as one larger room for up to ten people. Near the entry is a seating area with a large screen and computer designed for interactive presentations, while a separate room allows students to practice class presentations on the same equipment found in all university classrooms.
Renovation and Expansion
Architect: Clark Nexsen
Size: 216,592 sq. ft. total, 8,000 sq. ft. expansion
Cost: $12.9 million
Photo: Clark Nexsen
Sacramento Public Library, Colonial Heights Library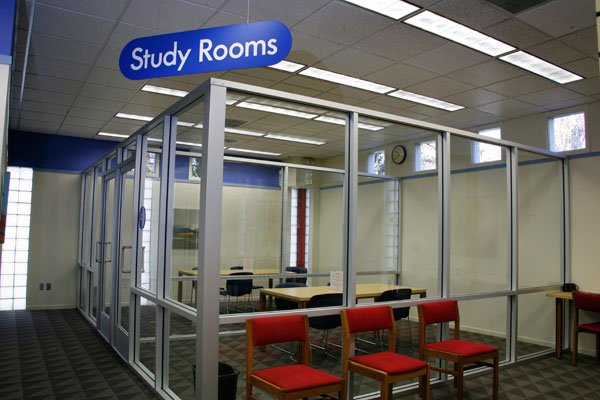 Collaborative Learning: The remodeling of the Colonial Heights branch focused on expanding area for teen and children's services and supporting a new homework coach program for youth. Two glassed-in study rooms serve the coach program and offer easily monitored space for small groups to study at other times.
Renovation
Architect: N/A
Size: 12,211 sq. ft.
Cost: $136,000
Photo: Don Burns, Sacramento Public Library
Oregon State University Libraries, Valley Library, Corvallis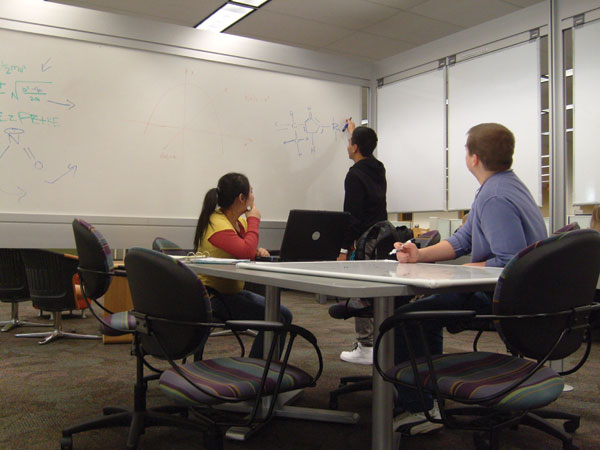 Collaborative Learning: The Valley Library dismantled its reference stacks in 2009, making room for collaborative workspaces on the main floor adjacent to the learning commons. Amenities include more than 160,000 square inches of fixed and mobile dry-erase surfaces, two media:scapes that allow students to display up to six laptops on large-screen monitors, and mobile tables, chairs, and screens that allow students to customize the space to their needs.
Renovation
Architect: SmithCFI
Size: 1,475 sq. ft. renovated, 335,000 sq. ft. total
Cost: $167,000
Photo: Victoria Heiduschke, Oregon State University Libraries