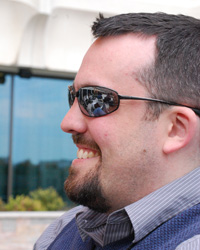 Standing outside the ice cream freezers at the local grocery store, a notion struck me from out of the blue.
"There ought to be a library-themed Ben & Jerry's flavor."
Alas, to this day, this has not come to pass. But this single serendipitous thought on an otherwise uneventful evening shopping trip is a testament to the surprising things that lead people down the path of library advocacy and activism. While some of my colleagues have picked up a megaphone, pounded the pavement going door to door, and orchestrated rallies, I have mostly worked within the confines of the digital world.
Personally, I think it's the natural next step in the evolution of library advocacy and activism. As society creates new gathering spaces online, so must librarians become a part of this digital social fabric. The diners, barbershops, and church fellowship halls that serve as common contact points for the community are now complemented (and sometimes replaced) by Facebook groups, Pinterest boards,  and Tumblr posts. In reaching out to the community, there is an online component that is hard to ignore.
Facebook is still the largest online gathering place in the world. It is where I founded and moderated the Save NJ Libraries (now We Support NJ Libraries) group, which at one point had more than 10,000 members. Today, that group serves other library issue groups such as Urban Libraries Unite and EveryLibrary. Tumblr, Twitter (where I have done the bulk of my promotion and publicity work), and other websites create places where people can gather to work together on issues.
In addition to websites like these, petition sites have risen to prominence. After HarperCollins announced its limited ebook lending policy in 2011, I crafted a petition on Change.org that gathered more than 70,000 signatures to protest the move. The petition was signed by people all over the United States and around the world. Through the We the People website, a petition asking for open access to publicly funded scientific research garnered the requisite number of signatures to elicit an official response from the Obama administration. This petition, a response to the defeated Research Works Act, put on the record politicians' stances on open access.
The barrier to participation in library advocacy and activism is deceptively low in the digital forum. It is not, however, without cost. While the internet affords a soapbox to any individual who seeks it, the mental marathon of waging public awareness and library campaigns is in no way diminished. In cutting through the cacophony of online discourse, it is still a matter of delivering the message to the people who can actually do something on your behalf. Whether it is reaching people in your voting district or service area, the challenge of converting them into library advocates still exists. But as the digital world continues to take shape and mold itself around the demands of its citizens, so too will our ability to create library advocacy spaces.
It cannot be stressed enough that this digital activism is not a replacement for face-to-face interactions, noisy rallies and protests, handing out pamphlets, and other advocacy efforts. Nor should it diminish the importance of those activities and their impact. But we cannot be stuck in a library advocacy rut where old tactics such as mailing postcards to politicians are used over tools that recognize, organize, and mobilize our communities online. Just as we work to engage our communities online, we must also work to create the next generation of library advocates.
ANDY WOODWORTH is a librarian in New Jersey. He's been actively advocating for libraries in his own fun way for five years. Read his blog "Agnostic, Maybe" at agnosticmaybe .wordpress.com and follow him on Twitter at @wawoodworth.