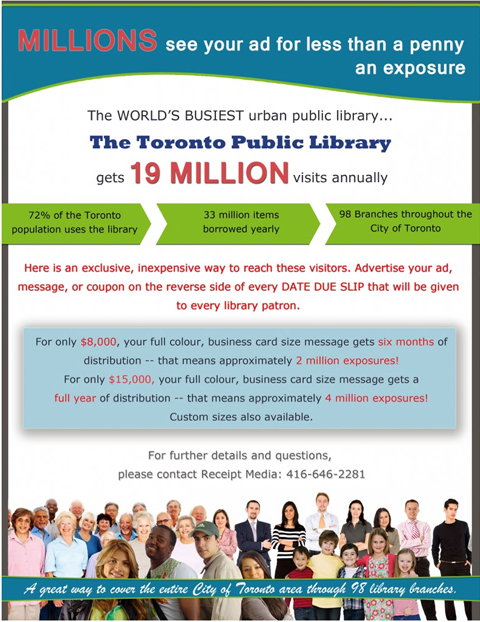 With the Great Recession still affecting public service budgets nationwide, libraries continue to pursue new funding avenues. The latest foray into fiscal triage, undertaken by at least two libraries—Toronto (Ont.) Reference Public Library and the Port Chester –Rye Brook (N.Y.) Library—is to allow commercial enterprises to advertise their products and services in the library.
In both cases, the libraries have accepted a quid pro quo from ad placement companies. The firms provide a product for free to the library. In exchange, the company keeps whatever revenue comes from selling the ads displayed on that free product.
Toronto Public Library's (TPL) arrangement with Receipt Media began this spring as a six-month pilot in which ads appear on the back of every date-due slip. The firm solicits the ads.
Administrators at Port Chester–Rye Brook Library decided to allow ads after having to reduce staffing and service hours in June 2012. Within two months, the library was receiving free two-ply bathroom tissue from the start-up company Star Toilet Paper, which prints on the toilet paper advertising it secures from local vendors. Trackable coupon codes delivered "great scan rates," company cofounder Bryan Silverman told American Libraries, and now it is "winding down with the library and venturing into larger venues."
In a March 11 interview on CBC Radio's "Metro Morning," TPL Chief Librarian Jane Pyper said the library will save $20,000 Canadian ($19,795 US) over the duration of the pilot—"our annual book budget in a small neighborhood branch." She stressed how the library board first established a policy that reaffirms TPL's mission to "provide a broad range of information in a neutral public space" and reserved the right to reject anything deemed "inappropriate," such as ads aimed at children. "The goal here is to raise revenue in a context that is sensitive to the library environment," Pyper said.
That's an outlook Martin Garnar, chair of the American Library Association's Committee on Professional Ethics, readily agrees with. "We do not advance private interests at the expense of library users, colleagues, or our employing institutions," he said, quoting Article VI of ALA's Code of Professional Ethics. "Is the loss of the library's reputation within the community worth the potential advertising revenue?"
So far, TPL's reputation seems to be intact. "There has not been a huge response one way or the other" from patrons, Linda Hazzan, director of communications, programming, and customer engagement at TPL, told AL. A few users have voiced philosophical opposition to any such arrangement; one man who filed a complaint with the board has been invited to present his objections in the fall (PDF file). Others say they are comfortable with "unobtrusive advertising that goes to funding programs and services."
One patron called the ads a "win-win" after finding a pizza coupon on the back of his date-due slip. Other TPL advertisers include a theater company, the Toronto Star, and a personal-injury lawyer.
Garnar cautioned that such arrangements could pose an ethical dilemma. "Would advertisers' messages appear to give them a place of privilege when a patron asks for a list of all local establishments in that line of business?" he asked.