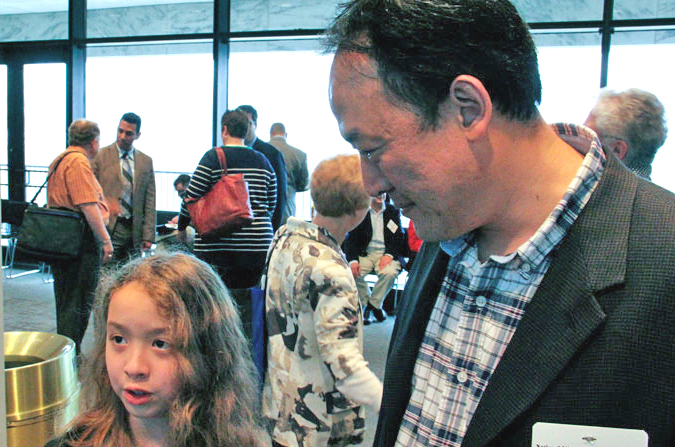 Library advocates gathered May 8 for a policy briefing in Washington, D.C., at the start of the American Library Association's National Library Legislative Day (NLLD). Close to 400 librarians, patrons, parents, educators, and other volunteers discussed key library issues with congressional representatives, and nearly 1,400 others contacted their legislators via phone calls, email, and social media as part of the day's virtual component. Now in its 39th year, NLLD focuses on supporting federal funding for the nation's libraries and other legislation that affects library services.
This was the 30th NLLD for Rhode Island advocate Joan Reeves and the first for 10-year-old Emma Chow, who came from North Carolina with her dad, seasoned advocate Anthony Chow. "It's really important for kids to use libraries," said Emily, adding that she came to tell legislators about how cool libraries are for kids. "Legislators see librarians all the time, but they rarely talk to the patrons, so I decided to bring my daughter with me," said Anthony. His state delegation plans to invite advocates from outside the library community to next year's NLLD, including county commissioners, business leaders, teens, and students. "We want to bring different people because you can't recreate stories. They have to be told."
The personal touch of such stories sets the library groups apart from the plethora of advocacy groups that meet regularly with Congress—not an easy feat since legislative offices meet, on average, with 10 groups every day. Perhaps that's why lawmakers considering a large appropriation "can't put a personal face on it," said Steven Potter, director and CEO of Mid-Continent Public Library in Independence, Missouri.
Speaking with Rep. Ron Barber's legislative staffer Jeremy Wilson-Simerman, Arizona State Librarian Joan Clark talked about the ways that libraries function as technology hubs for their communities. "As budgets tightened, we realized that people were just struggling to survive," she said. "During the economic downturn, many people canceled their internet and came to the only place in the community that could help them: the library."
Elsewhere, Harrisonville (Mo.) Middle School librarian Curtis Clark discussed some of the digital literacy issues that students face, using as an example how they now learn the US map and the names of state capitals. "Remember the map test?" Clark asked Erik Rust, legislative assistant to Rep. Ann Wagner. "Well, a lot of schools are moving tests like that online and students need help."
For weeks before NLLD, library supporters produced customized fact sheets and district-specific newsletters about library usage, and seeking new ways to align their Hill presentations with their representatives' policy initiatives. Nevada delegation member John Crockett brought along an iPad so legislators and staff members could interact first-hand with an online job assistance program available at libraries. Peggy O'Neal Ridlen, reference librarian at Fontbonne University in St. Louis, steered the conversation in Wagner's office to how libraries support working single mothers—a key constituency for the lawmaker.
Advocates made enduring connections throughout the day. "When we show up, it sparks an interest," said Brenda Brown, library manager of Chandler (Ariz.) Public Library. "People will share their own library memories during the meeting." Rep. Chuck Fleischmann, who once worked in a library, asked the Tennessee delegation, "Will everything be online?" After hearing how patron expectations have changed since the advent of online services, Fleischmann spoke to his staff about backing level funding for the Library Services and Technology Act.
"These meetings have a tremendous impact on congressional offices," said Emily Sheketoff, executive director of ALA's Washington Office. "We've seen that offices are much more open to hearing our message for months afterward." Citing the ALA texting service Mobile Commons, Sheketoff recommends that advocates also phone and email Congress about library issues throughout the entire year for maximum impact.
JAZZY WRIGHT is press officer for the ALA Washington Office.
---
The Legislative Agenda in 2013 for Libraries
Funding for the Library Services and Technology Act;

Passage of the Fair Access to Science and Technology Research

Act to ensure open access to scholarly journal articles written about federally funded research;

Inclusion of public and school libraries in all e-rate funding;

Ensuring that any reauthorization of the Elementary and Secondary Education Act includes a goal of access to an effective school library program for every student;

Passage of the Literacy Education for All, Results for the Nation (LEARN) Act to redefine "effective school libraries" as having certified school librarians and up-to-date materials and technology;

Funding for the Innovative Approaches to Literacy program, the only source of federal dollars for school libraries;

Inclusion of libraries in the Workforce Investment Act.