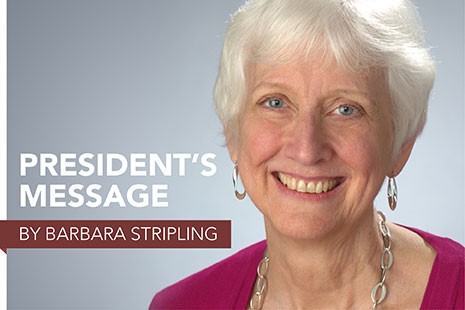 A career in librarianship constantly challenges us to reimagine our roles and revitalize our knowledge to meet the evolving nature of the information environment and the changing needs of those we serve. Becoming a librarian is a commitment to being a lifetime learner.
"Learning" is an action word. It means actively exploring new possibilities, beyond what is known and safe. Perhaps Conrad Cornelius o'Donald o'Dell in Dr. Seuss's On Beyond Zebra provides a mantra for us to pursue the unimagined:
"In the places I go there are things that I see
That I never could spell if I stopped with the Z.
I'm telling you this 'cause you're one of my friends.
My alphabet starts where your alphabet ends!"
Conrad exists within each of us. ALA is in the process of reimagining and realigning its services and support to enable all of us to push our thinking On Beyond Zebra.
Strategic Direction. The ALA Executive Board built on two years of member conversations to develop three strategic areas of focus: advocacy, information policy, and professional and leadership development. Budget and operational decisions will be made with those priorities in mind.
Summit on the Future of Libraries. ALA convened a Summit on the Future of Libraries in May at the Library of Congress. Leaders from within and outside of the library profession wrestled with the challenge of thinking differently about the needs of library users and their communities, the role of libraries in social change and lifelong learning, and the complexities of integrating ever-changing technology. The summit will help frame an ongoing dialogue about the future of libraries of all types—public, school, academic, and special—and give valuable context for ALA's Center for the Future of Libraries.
Center for the Future of Libraries. ALA's new Center for the Future of Libraries will provide essential support to the field as we envision the future of libraries. The center will help libraries identify emerging trends; provoke discussion on how to shape the future; build connections with experts and innovative thinkers; provide a forum for sharing ideas and exploring joint solutions to the challenges that face society; develop new mechanisms for the exchange of innovative practices; and provide an association-wide "incubator" for experimentation. The center should be well underway by fall 2014.
Leadership and Professional Development Opportunities. For the second year, ALA is offering a Leadership Development Institute for librarians of all types, with a robust curriculum that includes leading in turbulent times, exercising interpersonal competence, and creating an inclusive and transformational culture. The Emerging Leaders program continues to thrive, providing leadership development to early professionals. ALA is also engaged in a collaborative effort with the Harwood Institute for Public Innovation to enable library teams to boost community engagement skills. Over the past year, ALA and its divisions have offered hundreds of webinars to support the continued learning of all members, and e-learning opportunities will continue to expand.
Declaration for the Right to Libraries. The declaration will continue to be a pillar document for ALA members to transform their advocacy practices. Reimagining the future rests on the fundamental values of our profession. By engaging our communities in a conversation about the impact of libraries on their lives, we can ensure that our On Beyond Zebra world of libraries connects the past with the future and changes the lives of every person the library touches.
Thank you for the honor of serving as your president for 2013–2014. You have changed my life.
BARBARA K. STRIPLING is assistant professor of practice at Syracuse (N.Y.) University. Email: bstripling [at]ala.org.