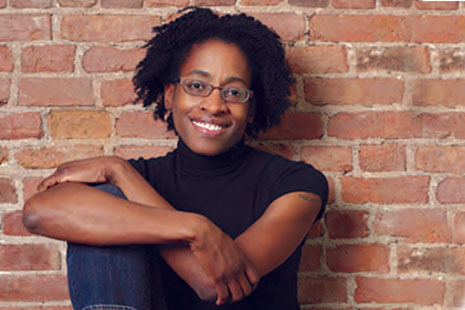 Jacqueline Woodson is no stranger to prestigious literary recognition. Her latest book, the memoir Brown Girl Dreaming, earned the 2015 Coretta Scott King Award (her second), a 2015 Newbery Honor (her fourth), and the 2014 National Book Award for Young People's Literature. Update: In June 2015, The Poetry Foundation named Woodson its Young People's Poet Laureate for 2015–2016, and in 2018 she was named the National Ambassador for Young People's Literature.
Having split her youth between South Carolina and Brooklyn, New York, her books explore themes of gender, class, and race, as well as history and family. She received the Margaret A. Edwards Award for lifetime achievement in writing for young adults in 2005. In an email to American Libraries, she discussed the importance of capturing the childhood experience, the significance of diversity in literature, and the role libraries play in shaping our collective sense of memory.
What attracts you to writing about young people?
I think there are two reasons—I've heard people say that one tends to write from the point of view they're stuck in. For me, it's those years between around six to 15 where I have the most memory and can access events and feelings I remember from those years. Also, I think it's about believing in and deeply respecting young people. Maybe this comes from remembering that time so deeply and knowing that there's a validity to those years—a current of understanding that runs deeper than adults give young people credit for. Childhood was/is an amazing time and being able to go back and be there again feels like the greatest gift one could be given. When I write for young people, I feel as though I've been graced with this gift.
What are your thoughts on the importance of diversity among authors and characters, especially in children's and youth literature?
You know—I'm just stunned that anyone even has to explain. It's such a basic concept—people need to see people who look like them in their worlds so that they can feel legitimized, validated, and visible. Their worlds are everything—every kind of media including literature. It's that simple. Imagine being one thing and having to spend your life reading about something else. Yes, you need that something else but you need who you are, too—so that you know you exist in a bigger world.
What was the experience of writing a memoir like compared with your other books?
I had to go deeper—from the inside out. With fiction, I work from the outside in meaning I figure out who my character is, then slowly develop them and figure out who they are as I develop them. With a memoir, I know the people deeply but the world doesn't, so I have to pull from them (through my memory) what I want the world to see so that the world understands why they exist and why I love them so. It was a much more internal process, deeply sad because so many of the people in the book have died and deeply rewarding because in putting them on the page, I was able to spend time with them again.
Given the historical elements of Brown Girl Dreaming, do you see a place for this book in broader conversations about race? If so, how do you think it might help?
I think when people understand the common bonds we all share, then race isn't so hard to talk about. Brown Girl Dreaming speaks to anyone who has ever loved or lost or had to move from one beloved place to a strange place that becomes beloved. It is my story but it's everyone's story because there is some part in the book that we all know—whether it's family or faith or sibling rivalry or believing in something that feels deeply unattainable. I think once people come together and begin talking about their own experiences, maybe using my experiences as a springboard, then true conversations can begin to happen. At the heart of it all, we all want the same thing—to be recognized as wholly human and to be loved.
You've said that you wrote Brown Girl Dreaming in verse because memory comes to people in small bursts. How do you think libraries contribute to people's sense of memory?
Libraries smell like memory to me. When I remember the library of my childhood (the Washington Irving branch, Brooklyn, New York), my heart jumps a bit and I have to pause. There is something so deeply visceral about libraries for me—rooms and rooms full of people dreaming and remembering. I think it's hard to walk into a library and not have a sense of deep respect for all that they hold and stand for. And the fact that the books are yours for a while—for free!!—what's not to love? Even writing this—It's about 10 degrees outside and suddenly I want to walk over to Grand Army Plaza library and just Be. There. Now.
Tell us your favorite story about a library or librarian. How do you think your experiences differ from young people today?
When I was a kid, you had to be quiet when you entered a library. I mean "I will call your mother at work if you don't behave" quiet. Our librarian knew she was doubling as a childcare worker. We had to go to the library after school and read and do homework until our mother picked us up there at 5:45 p.m. And although there was no speed-dial, our librarian knew our mom's work number and would call in a minute. Also—no mangling the books! There was this reverence for the books on the shelves—everyone felt it. We did not have much money so books were precious, precious things. And, I don't know, you know how sometimes there are those older women with the half-glasses in your family who are cranky as anything but you know they love you? Our librarian was that woman but without the love. She loved the books, but she didn't love us. Librarians are nicer now. They smile at you. It's different now. I don't know if the books get the same respect they once did. That's the only part that makes me sad—when I go into a library and see little kids pawing and ripping books and caregivers letting them. And snacks!! Oh man—I can't even imagine bringing food into the library of my childhood! You gobbled your snack on the way over and couldn't even come into the building with crumbs on your face! I don't know—maybe I've become my librarian…