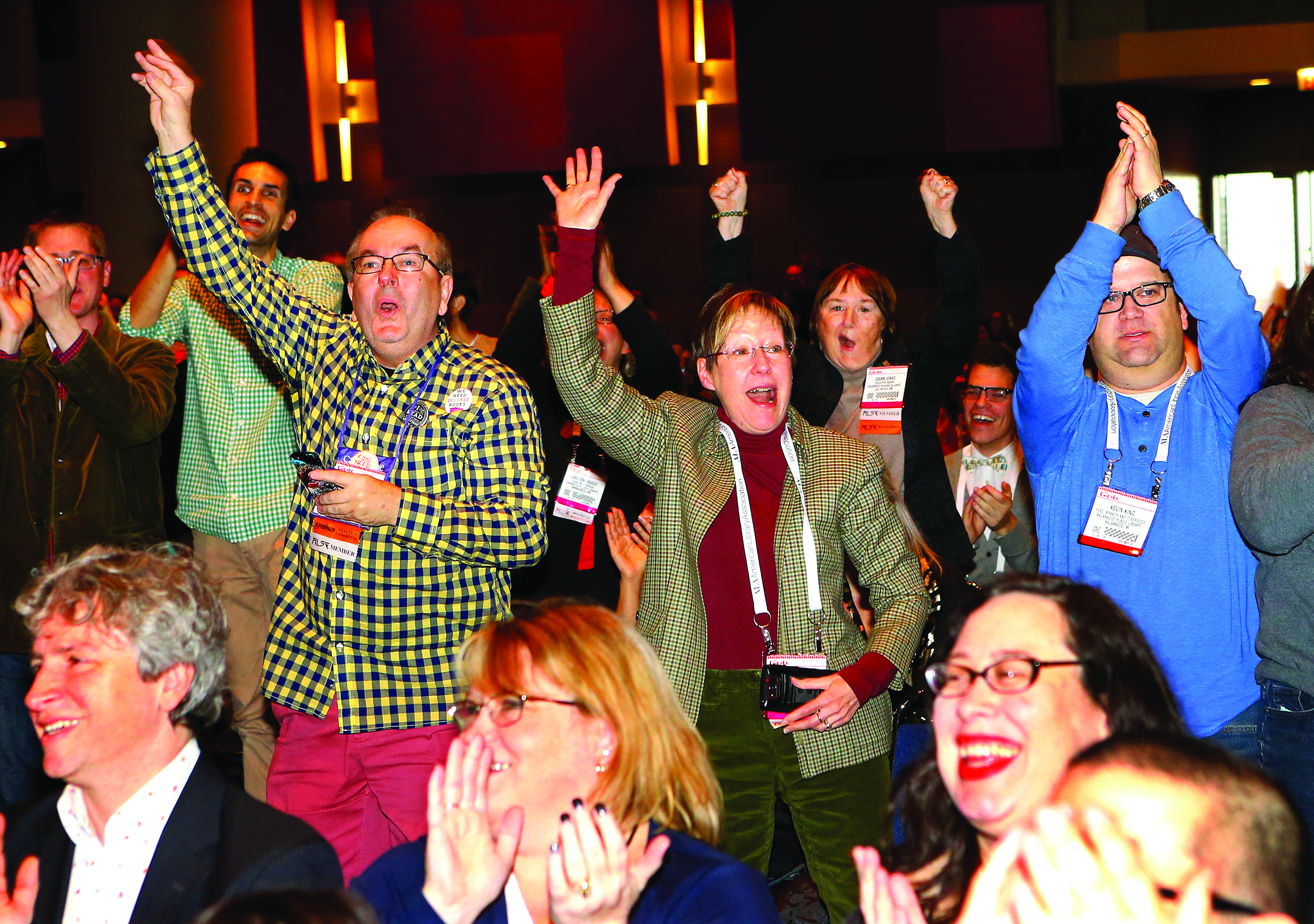 Chicago's fifth-largest snowstorm on record could not deflate the enthusiasm of more than 10,000 Midwinter Meeting attendees who came to the American Library Association's (ALA) headquarter city to discuss how libraries can better serve patrons as demographics rapidly shift.
Diversity was a major theme of this year's meeting. It culminated at the Youth Media Awards ceremony, where ALA President Courtney L. Young observed the need for all children to have access to materials that reflect their experiences. "Our country is a melting pot of cultures, yet the percentages of children's books released each year either by a person of color or with a multicultural theme fails to compare with the country's rapid shift in demographics," she declared.
As noted by Edith Campbell, assistant librarian at Indiana State University, in an Ignite Session, only 18% of the children's books published in the past 18 years were about children of color, even though 47% of children in the US are not white. Formal programming such as the Diversity League panel discussion on the exhibit hall PopTop Stage and the Day of Diversity hosted by the Association for Library Service to Children (ALSC) sought to address this issue. But attendees also carried this idea with them, discussing the need to buy, promote, and protect diverse books through in-person conversations and online under the #WeNeedDiverseBooks hashtag.
The Exhibits Round Table (ERT)/Booklist Author Forum highlighted how comics can promote both literacy and diversity in all forms.
"Ethnic diversity is hard to keep a secret because it's a visual medium," said Gene Luen Yang, author of the graphic novel American Born Chinese. "The same issues that face storytellers in other media face storytellers in comics. How do we represent groups we're not a part of authentically? You have to find a balance. We have to be willing to tell stories that we are uncomfortable telling."

"I can do with a picture so much more than I can do with words," said Cece Bell, author of the graphic memoir El Deafo, which earned a Newbery Honor this year. Simply writing about her experience growing up with hearing loss didn't ring true. "Being able to tell it in pictures is my way around that," she said. For example, she can use empty speech balloons to show moments when she could hear nothing, or balloons stuffed with gibberish to show when she could hear but not understand. While El Deafo is aimed at children, Bell said that hearing-impaired adults have told her, "I bought 20 copies of this, and I'm passing it out to all of my friends and all of my family so they can see" their experience.

Cornel West, professor of philosophy and Christian practice at Union Theological Seminary in New York City, delivered the keynote speech at the Martin Luther King Jr. Holiday Observance and Sunrise Celebration, sponsored by the Black Caucus of the American Library Association and the Social Responsibilities Round Table. "Martin Luther King knew that justice is what love looks like in public, just as tenderness is what love looks like in private," West observed. "Everybody loves him now that the worms have his body, but when he was alive, 72% of whites disapproved of him and 55% of blacks disapproved of him," because he was seen as antiwar, unpatriotic, a spokesman for Radio Hanoi, and an apologist for socialists.
Satia Orange, the former director of ALA's Office for Literacy and Outreach Services (OLOS) who began the annual observance in 2000, gave a call for action to all librarians: "Make libraries more relevant for people. Heed a call to leadership. More than ever, the people back home need us."
The Women in Geekdom panel addressed the need for more women in science and technology. Mo Fong, director of K–12 education outreach at Google, observed that only 18% of college graduates in computer science are women, down significantly from around 30% in the 1980s. Meanwhile, Emily Graslie, chief curiosity correspondent for science and education at Chicago's Field Museum, reported that only four women host science channels on YouTube—including her Brain Scoop web show.
The panelists agreed that libraries can provide a safe place for all people to discover and grow to love nerdy things, from comics to coding. Community is key. "We tend to think of membership as 'people pay dues and so they're part of this community,' " said Tricia Bobeda, cohost and executive producer of the Nerdette podcast. "But membership means more than people's dollars. It's about creating community, and that's what libraries do."
Librarians can successfully facilitate and participate in geek communities without being the expert in the room. That's especially true when working with kids. "As adults, being a beginner is a great way to engage kids because it makes them be the teachers," Bobeda said. Doing so will empower children to mentor each other.
Fong recommended two resources for librarians who want to create computer science programming but don't feel they have the expertise. CS-First.com offers tools to create and host clubs that can be run on an ongoing basis or in small snippets. Madewithcode.com is targeted towards girls and young women. Registrants sign up to host a "Made with Code" party and receive instructions and tools to encourage interest in computer science and coding.
Celebrity speakers delight
Actor and Reading Rainbow host LeVar Burton spoke passionately about encouraging children to read in any form or platform in his Auditorium Speaker Series presentation. "If your kid is passionate about superheroes, then dammit, buy them comic books!" he declared.

He paid tribute to fellow PBS host Fred Rogers, crediting him for showing that television had the power to be "part of a larger ministry" that could benefit children and all people. Burton read from his new children's book, The Rhino Who Swallowed a Storm, whose theme echoes advice that Rogers often gave: In any difficult time, there are always helpers who can get you through.
Burton credited his mother, Erma Jean, as his first storytelling mentor. "My mother not only read to me, she read in front of me, which is an incredibly important message to send," he said.
But perhaps most moving was the question-and-answer session following his speech, which was dominated by audience members thanking him for the inspiration they received from Reading Rainbow and his other projects. A deaf attendee told Burton of the impact Reading Rainbow had on her life, earning a hug from the speaker and happy tears from the rest of the room.
Actor and screenwriter Jason Segel shared Nightmares!, the first entry in his new children's book series, at his Auditorium Speaker Series talk. Segel suffered from night terrors as a child, dreaming that a witch was trying to eat his toes. The book stems from that experience, serving as a metaphor: Nightmares are a placeholder for any fear that holds us back, and facing those fears allows us to grow.
He also told of his admiration for creators like Roald Dahl, Tim Burton, and Pixar who can combine spookiness with humor. "It's a fine line. As a parent, you want your kid to be stimulated, but not too much," he said. "But kids like to be a little scared."

Somali-born author and human rights activist Ayaan Hirsi Ali presented the Arthur Curley Memorial Lecture as a question-and-answer session with Booklist Senior Editor Donna Seaman. Hirsi Ali's book Infidel describes her reaction to the September 11 attacks, which occurred while she was working at the Dutch Parliament, and made her realize that acts of violence were being carried out in the name of her religion.
The thought process that says people who commit terrorism in the name of Islam are fringe elements who misinterpret Islamic texts is a state of denial, Hirsi Ali said. She argues that the actual doctrine within Islam instructs Muslims to behave in this way. She added that change is never a call by the masses.
However, her new book Heretic comes from a more hopeful viewpoint. "In 2010, I didn't have much to go on in terms of Islam as a doctrine ever changing," she said. "But then the Arab Spring happened." If people are risking their lives to overthrow despots like Honsi Mubarak in Egypt, then it's only a matter of time until they get rid of other despots in their lives and begin questioning doctrines they previously thought unquestionable.

Tech trends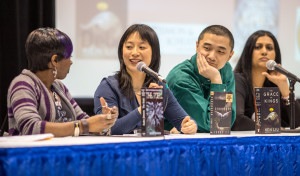 The discrepancy in computer science between boys and girls, and efforts to address it, was one of the trends identified by Library and Information Technology Association (LITA) Top Technology Trends Panelist Casey McCoy, program coordinator at Lincolnwood (Ill.) Public Library District. In the session, five panelists each offered two technology trends affecting libraries, including privacy and technology access.
Todd Carpenter, director of the National Information Standards Organization, observed, "2014 was the year of the hack," adding that there have been 72 breaches of information in public institutions since 2013. And while libraries have a long history of supporting privacy, they don't always have full control because third parties such as search engines use customer data to improve their results.
Consultant Marshall Breeding noted that access to technology is unbalanced. "You can talk about new and interesting things, but some libraries aren't even a part of that conversation," he said. He reported that banding together to share resources or joining consortia has proven to be a successful strategy for libraries without access to technology to gain some.
Library makerspaces remained a hot topic, and Mita Williams, user experience librarian at the University of Windsor (Ont.) Leddy Library, offered an introduction to the many types of creative spaces that libraries and communities are adopting. "Libraries have embraced the maker movement as their own," Williams said, "with people at the center, not technology."
While the original hackerspace ethic was independent and countercultural, modern makerspaces are more open to the arts and entrepreneurship. Incubators serve small businesses and entrepreneurs by providing tools to develop prototypes and new products. Fab Labs offer access to industrial-sized machines that would normally be beyond the budget of a private citizen. And the TechShop is a privately owned, member-based workshop that provides training and machine access to members.
Polly Thistlethwaite, chief librarian of the City University of New York Graduate Center's Mina Rees Library, and Chicago History Museum President Gary Johnson addressed digital migration at a breakfast hosted by ProQuest. Thistlethwaite highlighted JustPublics@365, an initiative that works to foster transformation on issues of social justice by connecting academics and activists through open access to scholarship. "What's a librarian to do? Get a repository going as quick as you can," she said.
Johnson focused on the experience and cost of digitizing collections. "If you've seen microfilm turned into a digital record, it's improved," he said, noting that the museum became a fan when it saw the impact of searchable records of the 264 boxes and 230,000 sheets of paper from Claude Barnett, the founder of the Associated Negro Press.
Ideas ignited
Midwinter hosted three Ignite Sessions—30-minute programs consisting of five-minute presentations, each accompanied by 20 slides that advance every 15 seconds.
Saturday's Ignite Session included presentations on diversity, website optimization, and partnerships. Joe Collier, business reference librarian at Mount Prospect (Ill.) Public Library, spoke about his fascination with Chicago's Graceland Cemetery. He was frustrated with a poor-quality map provided by the cemetery, but while he has the skills to compile and use data, he couldn't draw a map himself, so he collaborated with cartographer Jake Coolidge. "Librarians should be doing cool projects like this, so don't be afraid to partner with skilled nonlibrarians," he said.
Monday's session focused on low- and no-cost marketing opportunities. Mandi Goodsett, reference and instruction librarian at Cleveland State University, recommended tips for marketing to millennials, including recognition like digital badges, peer learning and teamwork, connecting the library to coursework through pop culture, and using digital content for teaching.
Tatiana Calhamer, readers services librarian at Gail Borden Public Library in Elgin, Illinois, shared how her library adapted Denmark's Human Library concept by reaching out to the community to find volunteers willing to share their stories, and establishing events where patrons could hear those stories by "checking out" the volunteers for 30 minutes.
T. J. Szafranski, virtual services and reference librarian at Lake Villa (Ill.) District Library, argued for adding fantasy football to library programming. Fantasy leagues are an untapped market of 33 million people that aligns with the library's mission to connect people with their interests—and they help build community and patron research skills.
Craighead County Jonesboro (Ark.) Public Library Director of Technology Ben Bizzle also addressed marketing in his Masters Series presentation. He encouraged the audience to "try things that are a little risky"—such as the library's SomeEcards-inspired billboards—but to back up entertaining promotion with quality programming.
Outreach to adults who struggle with basic English literacy is critical, argued OLOS Director Michelle H. Washington and ProLiteracy Executive Director Peter Waite at the Adult Literacy through Library Engagement session. They cited a 2013 Organization for Economic Co-operation and Development study that found that the US ranked 16th out of 26 countries in adult literacy. "That's a shocking indictment of where we are and where we need to go," Waite said.
Ten years ago, libraries faced increased pressure to do more with less, which led to a drop-off in programs related to adult literacy, Washington added. But with immigration reform on the national agenda, there is a growing need to teach English as a second language.
Troy "Trombone Shorty" Andrews and the New Breed Brass Band entertained the Wrap Up/Rev Up Celebration crowd with New Orleans Jazz, before Andrews talked with StoryMakers host Rocco Staino about his upcoming picture book autobiography, Trombone Shorty. 
---
Youth Media Awards
Attendees packed Chicago's largest ballroom for the traditional Monday morning presentation of the Youth Media Awards. This year's John Newbery Medal for the most outstanding contribution to children's literature went to The Crossover by Kwame Alexander. The Adventures of Beekle: The Unimaginary Friend, written and illustrated by Dan Santat, won the Randolph Caldecott Medal for most distinguished American picture book for children.
More than 20 awards were announced at the ceremony. Among the other winners were Brown Girl Dreaming by Jacqueline Woodson and Firebird, illustrated by Christopher Myers and written by Misty Copeland, which won the Coretta Scott King Author and Illustrator Book Awards, respectively, for outstanding African-American authors and illustrators of books for children and young adults; I Lived on Butterfly Hill by Marjorie Agosín and illustrated by Lee White, and Viva Frida written and illustrated by Yuyi Morales won the Pura Belpré Author and Illustrator Awards, respectively, for books that portray, affirm, and celebrate the Latino cultural experience; and I'll Give You the Sun by Jandy Nelson, winner of the Michael L. Printz award for excellence in literature for young adults.
See the full list of winners at bit.ly/AL15YMAs and go behind the scenes as some of the winners get the big news at bit.ly/BehindScenesYMA15.
---
Council discusses strategic directions
At ALA Council's first session, councilors divided into small groups to discuss the Association's Strategic Directions: advocacy, information policy, and professional and leadership development. For each topic, they attempted to define success, identify a way to achieve it, and provide resources that could help ALA achieve it.
In regards to advocacy, the groups reported that success would entail having community stakeholders and policymakers; more funding and job security—especially for school librarians; marketing and outreach to change stereotypes of librarians; ensuring students have access to certified librarians and well-stocked libraries; increased ALA member involvement; a unified message; and making patrons advocates.
For information policy, the councilors defined success as: creating transparency about ALA to the average member; developing an educated citizenry and legislatures (state and national) that are aware of and well-versed in library issues such as privacy and net neutrality; connecting to real world issues and how people use information in their daily lives; making sure library professionals understand these complicated issues; and having nonlibrary groups join ALA in speaking for libraries.
In regards to professional and leadership development, success was defined as: more ALA investment in leadership development—especially regarding diversity; a focus on addressing disparities in leadership development; creating a career path to leadership within the Association; beginning leadership training during LIS education; combining ALA and state chapter leadership development; creating post-LIS certificates in nonlibrary subjects such as policy or marketing; and having more training available for free or with membership dues.
In other business:
Loida Garcia-Febo, Julius C. Jefferson Jr., and Mike L. Marlin were elected to three-year Executive Board terms.
Council passed a list of FY2016 programmatic priorities (CD #13.1).
Council passed a motion to revise standards for LIS master's programs (CD#10). It also passed three action items put forth by the Policy Monitoring Committee (CD#17) addressing communication to ALA members by ALA committees and Council committees; the lifespan of membership initiative groups; and the copyright interpretation of the Code of Ethics.
Julius C. Jefferson Jr., president of the Freedom to Read Foundation, presented a report (CD #22) that updated Council on the litigation cases Antigone Books v. Horne and Arce v. Huppenthal.
Council referred a resolution to revise the committee composition description (CD #27) back to the Committee on Organization for additional work, and passed a recommendation from the Constitution and Bylaws Committee to place an amendment to the ALA Bylaws on the spring 2015 ballot that amends article XII to use Robert's Rules of Order instead of Sturgis Standard Code of Parliamentary Procedure (CD #25).
Resolutions recognizing the 70th anniversary of UNESCO, denouncing recent attacks on the freedom of expression such as the attack on French satirical magazine Charlie Hebdo, urging library directors to support United for Libraries memberships for trustees, and preserving public access to scientific and technical reports available through the National Technical Information Service all passed. A resolution on the destruction of libraries and schools in Gaza (CD#32) failed, and a resolution on ALA divestment from Caterpillar, Hewlett-Packard, and Motorola Solutions (CD #34) was withdrawn.