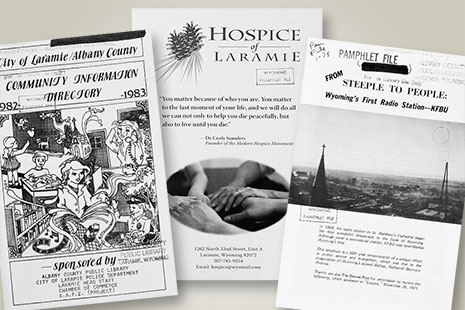 Public libraries gather a wide variety of materials to build a local history reference collection (LHRC), everything from cemetery records to hand-tied flies for anglers' poles to whatever patrons give them. Determining what to collect is probably the most important set of decisions to make and is, in fact, the place to start.
Where to begin
The patron base for your LHRC will help determine types of materials and subject matter to acquire. Another factor is how much space you have to house the materials. And, of course, your budget is an important consideration. What can your library afford?
You may have to build slowly, but that's okay. You may already have local history materials scattered throughout your library. Besides local history items, consider materials that provide context to your community's past, such as regional industrial histories, area ethnic studies, and national histories.
For example, if you are located in the Great Plains, an area that became known as the Dust Bowl during the 1930s economic depression, or if you are in a part of the US where Dust Bowl migrants sought employment, you may want to consider histories that examine that era on a broader national scale.
Let's look at what is usually found in a local history assemblage of published materials. You will most likely find:
printed/published materials on a geographic area
atlases
county histories
video/audio recordings
municipal histories
organizational histories
census records and indexes
histories of local industries
church histories
college catalogs
biographies
maps
local writers' published works
periodicals/journals
city and telephone directories
area guidebooks
business directories
organization directories
cookbooks (local history/biography)
church histories
local newspapers and serials
school yearbooks
genealogy how-to guidelines
publications about local institutions n locally produced family histories
You may not be able to house everything on this list. No problem. What you discover through talking with and surveying patrons can help you prioritize.
One note about locally produced family histories: You may find that some family members dispute facts provided by a relative's familial history. If an item such as this is part of your collection development policy, then it is still worth acquiring. The veracity of all the items in your library's collection is not within your purview. Resist the temptation to "amend" the item. Interpretation is up to the patrons; we just provide the resource.
Other categories to consider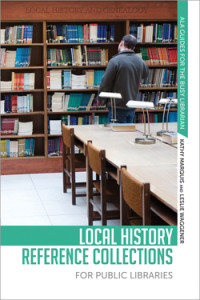 Clippings: We recommend caution with such materials. Don't accept large donations of random clippings or entire newspapers unless you have the labor on hand to sift through them to find local stories you want to copy and file. All in all, clippings are wonderful additions to vertical files, but they require work to locate, as well as time needed to duplicate the acidic newsprint onto copier paper. We recommend keeping the duplicated clippings and disposing of originals.
Oral histories: These are valuable resources and can be particularly successful in capturing your community's social history. However, there are considerations before taking on these materials from a donor.
Are there release forms signed by the interviewees making them aware that their words are becoming part of a research collection? What type of media are the interviews on—cassette tape, reel-to-reel, something even older? Can your library preserve this media or digitize it? Are there transcripts? Transcripts are often what a patron will most want to review. If there are no transcripts, do you have the budget or resources to create them?
Ephemera: Bumper stickers, political buttons, broadsides, playbills, brochures, pamphlets, and fliers can speak volumes about the personalities of past citizens and leaders who shaped your community and about the types of activities considered of importance to local residents. Storage and access are concerns. Although paper-based items are not so difficult to store—think vertical files—how to provide access to the vertical files must be considered. With items such as buttons, just throwing them all into a box may be a simple solution but will not go very far with their preservation.
Since theft can be a problem with small-sized ephemera, you will need to consider providing access under a watchful eye. Do you have the resources to do so?
Taking on oral histories or ephemera may enhance your LHRC, but they are not materials to acquire without forethought and planning. If you find yourself lacking the means to properly preserve and provide access to items such as these, it would be wise to direct a donor to another institution with better resources. If there is not one, or if a sister institution also does not take such things as ephemera, this does not mean you have to take it. Gone are the days when you can accept the advice of ALA President Charles Ammi Cutter from the late 1880s: "Every town library must collect exhaustively and preserve tenaciously every book, pamphlet, map, placard, poster, every scrap of written or printed matter relating to that town, and less exhaustively to the neighboring towns."
You may want to collect every piece of history in your niche, but libraries have limited resources.
How do we get materials?
Your library may already have local history resources in its collection. If you choose to do so, you can gather those materials into one section. You can also highlight electronic resources in a section of your library's website, but check to see if these materials are up to date. Printed and electronic materials are usually acquired through purchase in the case of books, serials, microforms, maps, databases, and DVDs, with funds often coming from the library's general acquisitions budget. Some LHRCs have endowment funds.
For newer titles, watch for publication information in local media. For older titles, prowl eBay and Amazon and review the catalogs of reputable used and rare-book dealers, as your selection budget allows. Let your local used booksellers know of your interests. Only purchase rare titles if you can provide security to warrant the expenditure.
If you are not in charge of acquisitions, your library's acquisitions department should receive a list of subjects and authors needed for the LHRC. A want list of rare and out-of-print materials should be maintained. This is a good time to discover what other local archives and libraries have in their collections. Coauthor Kathy Marquis was pleased to discover that the archival repository in her town was willing to scan and make available the out-of-print published local history in constant use in her library—and in danger of disintegrating at any moment. This was a great win for collaboration.
Although purchasing is common for acquiring local history items, donations can be equally important. Don't forget about your Friends group. They may have materials for you, or know of someone who does. Be specific when describing your needs for the collection to them.
We do not necessarily recommend an open call for donations. You may find yourself overwhelmed with "treasures" from Grandma's attic. Be selective.
Authors of local history may consider donating copies of their works to your library. Make it a win-win by publicizing their work as a new acquisition for your library or by hosting a book signing—your collection benefits and so does the author.
Publishers of local newsletters may be willing to put you on their distribution lists for free. Remind them that you can store their back copies for future reference.
Consider creating a display indicating your library's local history collecting areas. Showing potential donors what you are looking for often reminds them that their materials can be useful to others.
Don't forget to take advantage of casual conversations at the reference desk. When a local church historian finds your collection useful, ask for a copy of their resulting publication—maybe it's an anniversary booklet or an entire church history—for your LHRC.
We do not necessarily recommend an open call for donations. You may find yourself overwhelmed with "treasures" from Grandma's attic. Be selective.
What not to collect
When it comes to what not to collect, we will mostly refer to materials you commonly see in an archive or museum. Housing archival or museum materials requires additional resources in terms of secure storage, monitored reading room, and processing of collections.
Here is what we do not recommend you collect for an LHRC of mostly printed materials:
institutional records
organizational records, such as committee files, correspondence, financial records, minutes, and charts
personal papers, such as account books, diaries, financial records, letters, and unpublished memoirs
photographs
scrapbooks
artifacts (unless a use can be found for these as displays)
If you want to add these types of materials to your LHRC, you are moving in the direction of establishing an archive. If you're thinking about going in this direction, consult reference sources for establishing an archive and books within the Society of American Archivists' Archival Fundamentals Series II.
Your new best friend
Your library may already have collection development policies in place. Or maybe your library does not have these policies at all. We encourage you to think about establishing one for your LHRC. It's not as difficult as you might think, and it will come in handy as you build your history acquisitions.
An effective policy is:
reflective of the objectives and plans of your library
consistent
flexible
distinguishable from rules and procedures (policies allow latitude but rules and procedures remain firm)
Flesh out these basics a little: For what geographic area are you planning to collect and for what time periods? Will you collect everything about the history of your community or a representative sample, or are you trying to fill a niche, such as only genealogical materials or history of local businesses? What will you not collect in terms of subject and format? Who is the clientele for your LHRC? What types of programs will be supported by your collection—research, exhibits, community outreach, publications?
Will you take materials in languages other than English (consider the ethnic population in your area)? Will the materials be circulating or noncirculating? What about duplication of materials, especially fragile items? Can they be duplicated and, if so, who will be allowed to do it? Which staffers can make changes to the policy as the needs of the library change? How will staff handle gifts, purchases, exhibits, and special programs for the LHRC?
Again, do not think you have to answer these questions in a vacuum.
What are your sister libraries doing? What seems to fit best for your unique situation when it comes to staff, space, administrative buy-in, and so on? Once you have a policy in place, consider it again from time to time to see if adjustments are needed.
Your other best friend
You can benefit from a mission statement for your LHRC. It captures, in a few sentences, the essence of your library's goals and the philosophies underlying them. The best mission statements are clear, memorable, and concise and avoid jargon or stilted language. A mission statement is helpful not only as you think about what you're collecting, but why.
When you need text about your collection for brochures, websites, and presentations, or when someone asks you about the collection, the mission statement comes to the rescue. It's almost impossible to sell your LHRC to patrons if you can't explain its value. It can serve as a public statement about what people can expect from your LHRC. Once the statement is complete, you will find yourself turning to it again and again for various needs—and even for inspiration.
It's not easy to come up with a successful mission statement, but there are resources to help you create one. Mission statements are not unique to libraries, so, in addition to library-based resources, articles on writing them for businesses or nonprofit organizations often contain useful ideas and information. Once the statement is complete, you will find yourself turning to it again and again for various needs—and even for inspiration.
Ready, set, collect
We hope we've encouraged you to acquire a range of materials that is both easy to care for and useful to your patrons. No need to stretch outside your budget and resources to create a worthwhile LHRC. Everything you need is all around you—dig into your collections and community and find your history.
This is an excerpt from Local History Reference Collection for Public Libraries, by Kathy Marquis and Leslie Waggener (ALA Editions, 2015).