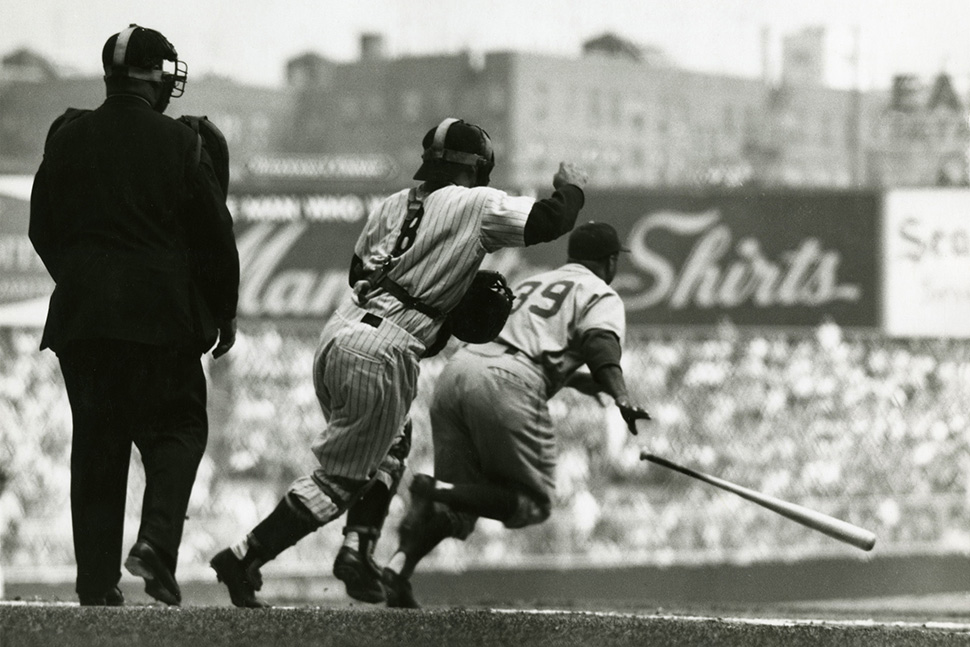 Editor's note: This article originally appeared in the March 1999 issue of American Libraries.

When Helen Derringer came to the National Baseball Hall of Fame and Museum in Cooperstown, New York, in early 1998, she discovered that the institution also had a library containing many old books and voluminous records about ballplayers. She asked Library Director Jim Gates, who was filling in at the reference desk, if he could find some information about her father, Paul Derringer, who played in major-league baseball for several years. "I told her, 'We sure can, if your father played baseball," Gates recalled. (Gates was later featured in American Libraries' Bookend section.)
The librarian headed first for the file cabinets that contained biographical records on every individual who played major-league baseball, and then to the library's collection of hundreds of thousands of photographs. The records Gates retrieved showed that Paul Derringer (1906-1987) played from 1931 to 1945 with the St. Louis Cardinals, the Chicago Cubs, and the Cincinnati Reds, compiling a 223–212 win-loss record and a lifetime earned average of 3.45.
Helen Derringer was thrilled, but confided that she had been born after her father retired and never saw him play. Gates said he would check the Film, Video, and Recorded Sound Department and its 14,000 hours of film to see if the library had anything on Paul Derringer.
The department retrieved a fragment of film showing Derringer playing for the St. Louis Cardinals in the 1931 World Series. Even more exciting, Gates located a five-minute instructional film, with sound, that showed Derringer teaching kids how to throw a baseball.
"Helen Derringer began crying," Gates revealed. "It was such a moving experience for her. I can go home happy at night when I make people feel like that."
Gates's reference-desk anecdote is not unusual at the National Baseball Hall of Fame Library, the country's busiest, largest, and most comprehensive sports museum library. Every one of the library's 17-member staff has a similar story to tell. That's why, they say, they work in the most interesting library in the country.
That claim may be hard to dispute. Imagine arriving at work early in the morning and the first thing you have to do is watch the baseball reports on ESPN. "Well, we have to know what happened in baseball the night before in case the media calls with questions," former Former Manager of Technical Services Corey Seeman, who is now the director of the University of Michigan's Kresge Business Administration Library, said with a grin.
Imagine rubbing shoulders with Hall of Fame inductees like Larry Doby and Don Sutton when they come to Cooperstown for the induction ceremony, and then sitting them down for an hour or two to record some oral history for posterity.
Fantasize about laboring over—okay, researching—captions for an exhibit on "Baseball's 100 Greatest Moments," and then watching it snake across the country on a hugely popular tour. Envision answering a reference question that involves a search of the collection for information to verify whether Stephen Douglas (of Lincoln-Douglas debate fame) ever had an ownership interest in a baseball team before or during the Civil War.
You can probably even sneak some company time to dig out the final word on whether the legendary Babe Ruth really pointed "home run" in that 1932 World Series game. "Our library contains every possible explanation for that famous gesture," Gates said. "But my favorite comes from George Brace, a photographer who sat in the photography box in the front row near home plate and saw Ruth make that gesture. I had lunch with George last summer and asked him about. 'Ruth just pointed two fingers at the pitcher to say that was two strikes," George said. 'The Babe used to do that all the time."
Being privy to such information about the game he loves while earning a living at it means that Gates has no regrets about giving up a tenured position at the University of Florida/Gainesville in 1995 to become director of the National Baseball Hall of Fame Library. "My university colleagues said, 'Jim, you're taking a chance, giving up a tenured job.' I said, 'Not really. I'm going to have the world's greatest job.'"
A librarian doesn't have to be a baseball fan to work at the Hall of Fame Library, Gates notes, but it helps. "I don't know who won the National League batting title in 1986, but I know where to look for the answer," he explained. "Working here, however, can be a lot easier and more enjoyable if you are a baseball fan. For instance, it can help you stay motivated when you have to go to work at the reference desk and try to answer 50 quick questions about baseball statistics."
As a nonprofit institution chartered in the state of New York, the library has served as the world's greatest resource on baseball since 1939, the year it was founded as part of the National Baseball Library and Museum. The library's mission may surprise some people: to preserve, organize, and make available documentation related to baseball in all its forms, not just the major leagues. "In no way are we affiliated with Major League Baseball," Gates stressed. "The majors constitute a commercial enterprise; our library is an educational institution that happens to have baseball as its focus."
The opening of the 30,000-square-foot National Baseball Library and Archives complex in 1993 shows how popular the library has become and how important is it to the mission of the Baseball Hall of Fame. Incorporating the best in library-design technology, the complex provides ample space for climate-controlled collection storage, public exhibits, educational activities, and office space for the administration and staff.
"Baseball at the Movies" and "Scribes and Mikemen" (the story of baseball writers and broadcasters) are two permanent exhibits located on the first floor of the new complex. In the library's 48-seat Bullpen Theater, adjacent to the atrium lobby on the first floor, visitors can view a daily schedule of baseball films, videos, and special presentations.
Educational activities include the annual Symposium on Baseball and American Culture, which has been held since 1988. For three days in June 1998, scholars and students of the game came to the museum from all over the country to hear presentations on such weighty topics such as "What Constitutes a Good Baseball Town? An Analysis of One- and Two-Team Cities, 1946–1996," "Women in the Stands: What Feminist Learning Theories Tell Us about Female Spectators," "America's Two National Pastimes?: Baseball and Sexuality," and "The Myth of the Tools of Ignorance: Why Catchers make for the Best Communicators."
"Among those in attendance was Eliot Asinoff, author of the classic Eight Men Out, a fictional account of the 1919 World Series "Black Sox" scandal. "The library is a national treasure," Asinoff explained during a break between presentations. "I've used the collection here extensively, and I can't see how anyone can write a good book about baseball without using it."
Baseball bibliophiles
Scholars and professional writers like Asinoff are not the only people who use the library. The estimated 65,000 requests for information the library receives annually come from grassroots fans, the media, genealogists, students of all ages, organized baseball administrators, the publishing and advertising industries, personnel from other libraries and museums, and even people working hard to have their attitudes adjusted.
"We do get calls from people in bars who disagree about something in baseball history and want us to give them the right answer," Gates revealed. "We will take the time to do that."
The finish of the World Series in October has no effect on the library's workload. "There is no such thing as a slow time of the year for us," Gates said. A librarian and a small staff of research assistants are available to assist patrons by telephone, email, letter, or in person. They urge scholars, students working on dissertations, and other researchers engaged in involved projects to make appointments well in advance. The library does wear many hats, but it still manages to find time to make daily tours available and each year to accommodate 19 student interns from universities around the country. "We want people not only to use our collection but to see it as well," said Seeman. "We are totally outreach-oriented."
Home-run holdings
To answer the flood of reference questions, the library staff makes use of a collection that seems overwhelming in scope. Their 35,000-volume book collection contains histories, encyclopedias, directories, biographies, poetry chapbooks, children's literature, and much more. Periodicals run the gamut, from the specific (Baseball Digest and Baseball Magazine) to the general (Sport and Sports Illustrated). Newspapers date to the 19th century, while the clipping files cover the Negro Leagues, women players, international baseball, baseball and politics, and even the physics of the sport.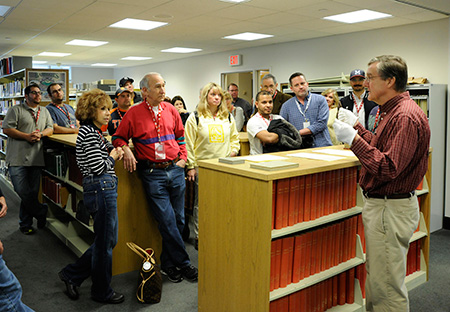 The score sheets document baseball's greatest moments: Don Larsen's perfect World Series game in 1956; Roger Maris's 61st homer in the 1961 season and Hank Aaron's 715th career homer, both of which broke Babe Ruth–held records; and Pete Rose's 4,190th hit, which topped Ty Cobb's seemingly invincible total.
Then there are baseball guides (for example, the baseball Blue, Red, and Green Books), team publications (programs, yearbooks, media guides, etc.), and players' contracts from 1900 to the present, as well as day-to-day statistics for—believe it not—nearly all the professional major- and minor-league games ever played.
Rule books from the 1850s provide fascinating data on the baseball's early evolution. In the baseball era that anarchists would have loved, every club had its own rule book, and before each game the opposing teams would huddle and organize a joint committee to decide on the rules to use for the game. The rules, in fact, varied from game to game.
The jewels of the game's royalty are here, too—the papers of such important figures as baseball pioneer Abner Doubleday, writer Roger Angell, and former commissioner and judge Kenesaw Mountain Lanid. The papers of former baseball commissioner Bowie Kuhn, which the library acquired in 1997, are also part of the library's collection.
The 3,000+ scrapbooks include many that are of more plebian origin. "The scrapbooks that the grassroots fans donate as just wonderful pieces of history, which is why we reject so little material that is offered to us," Gates revealed. "We rely a lot on a network of fans to help us document the game. Our collection has been accumulated almost completely from donations."
Yet despite the library's aggressive collecting efforts and the strong support of the baseball world and its fans, the collection still has many holes and gaps. Not surprisingly, it contains no film of a complete game from the Negro Leagues. "We have just a few bites and pieces," Gates said wistfully. "At this time, I doubt that a complete film exists."
Curve-ball cataloging
So how does the library catalog all of this material? The National Baseball Hall of Fame and Museum uses ABNER (American Baseball Network for Electronic Research) as its main form of online library cataloging. It holds about 30,000 of its 3 million records and can be found online at abner.baseballhalloffame.org/search.
Craig Muder, director of communications, said their current digitization project is under way.
"This will be a game-changer for us in terms of having access to the collection through baseballhall.org," he said.