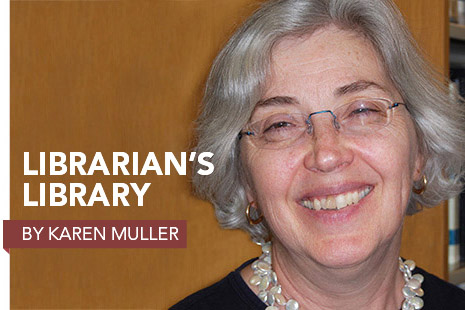 My first job in a library was in my college library's order department, verifying the bibliographic information for titles requested by the faculty. Listening to Miss Jacoby, the order librarian, think out loud about how to acquire those titles was my first introduction to the process of acquisitions. I learned about direct orders, blanket orders, approval plans, and what "in print" meant.
The textbook treatment, The Complete Guide to Acquisitions Management, 2nd edition, by Frances C. Wilkinson, Linda K. Lewis, and Rebecca L. Lubas, covers the essentials of the purchasing process for monographs, serials, and digital items as well as out-of-print and antiquarian materials. Several chapters focus on industry partners in the acquisitions process: the publishers and vendors who serve as the intermediaries between the publishers and the library. The authors also touch on ethics, the systems that support acquisitions, and functions such as binding that may be part of acquisitions in some libraries.
Indexed. Libraries Unlimited, 2015. 208 p. $60. 978-1-6106-9713-2. (Also available as an ebook.)
Guide to Ethics in Acquisitions, by Wyoma vanDuinkerken, Wendi Arant Kaspar, and Jeanne Harrell, provides a useful, brief history of the American Library Association Code of Ethics, along with a history of the development of the Statement on Principles and Standards of Acquisitions Practice adopted by the Association for Library Collections and Technical Services (ALCTS) board of directors in 1994. The authors highlight the ethical issues an acquisitions librarian may face in the workplace—selecting titles, choosing the vendor used to acquire those resources, and managing the acquisitions budget. The final chapter covers ­confidentiality—this is not just of patrons but also of business information in connection with vendor selection, contracts, and pricing.
ALCTS, 2015. 96 p. $35. 978-0-8389-8701-8 (Also available as an ebook.)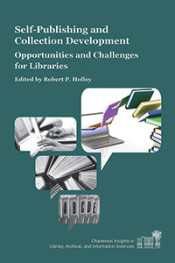 Purchasing books from small presses and self-publishers has always been a challenge for the acquisitions librarian. What's new—and why Self-Publishing and Collection Development: Opportunities and Challenges for Libraries is so important—is the sheer number of such publications today. Editor Robert P. Holley began his research after hearing an NPR report stating that up to 75% of new titles are self-published. These are not the vanity press titles of the past, but solid books authors have chosen for the indie route rather than an established channel. As such, the books do not gain entrée to the same reviewing and distribution routes, yet they are local authors, important alternative voices, and minority writers. Holley gathers essays on why these titles are important for library collections, how book vendors can be of help, where to find reviews, and perspectives from the indie author.
Indexed. Purdue University Press, 2015. 198 p. $29.95. PBK. 978-1-5575-3721-8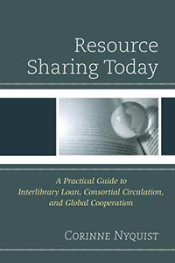 Related to acquisitions is resource sharing. No library can acquire everything its users might want, and librarians have developed cooperative processes to expand collection reach. In Resource Sharing Today: A Practical Guide to Interlibrary Loan, Consortial Circulation, and Global Cooperation, Corinne Nyquist begins by looking at what we learn (and don't learn) in library school. You do not learn how to do interlibrary loan (ILL), but you do learn its underpinnings: MARC and cataloging. She goes on to examine OCLC's role, the impact of serials cancellations, copyright issues, costs, and the value of reference service in leading the patron to ILL. She also explores the link between resource sharing and acquisitions: when an item should be purchased rather than borrowed and how this relates to patron-driven acquisitions. One of the appendices sums up the needed knowledge: guidelines and laws, technology, ­customer service, assessment, education, and networking.
Indexed. Rowman and Littlefield, 2014. 224 p. $65. PBK. 978-0-8108-8803-6 (Also available as an ebook.)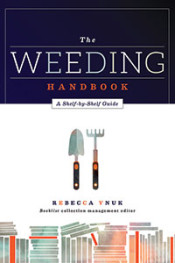 Finally, we get to the other side of acquisitions: weeding. Rebecca Vnuk's The Weeding Handbook: A Shelf-by-Shelf Guide combines detailed explanations of how and when to weed the collection with practical and useful discussions on the hazards of weeding. Vnuk masterfully combines tips for effective weeding and her own experiences in this definitive guide. Following some basic caveats—including the importance of keeping one's community informed—she reviews a possible timetable and considerations for each of the 10 Dewey classification areas. After pointers for weeding types of materials (reference, magazine, media), a sobering chapter titled "Weeding Gone Wrong" offers tips for engaging one's critics. The bulk of the book emphasizes applying the library's collection development plan to the process of weeding, using the plans, policies, and statements from six public libraries, two academic libraries, and a school library as examples.
Indexed. ALA Editions, 2015. 216 p. $45. PBK. 978-0-8389-1327-7 (Also available as an ebook.)