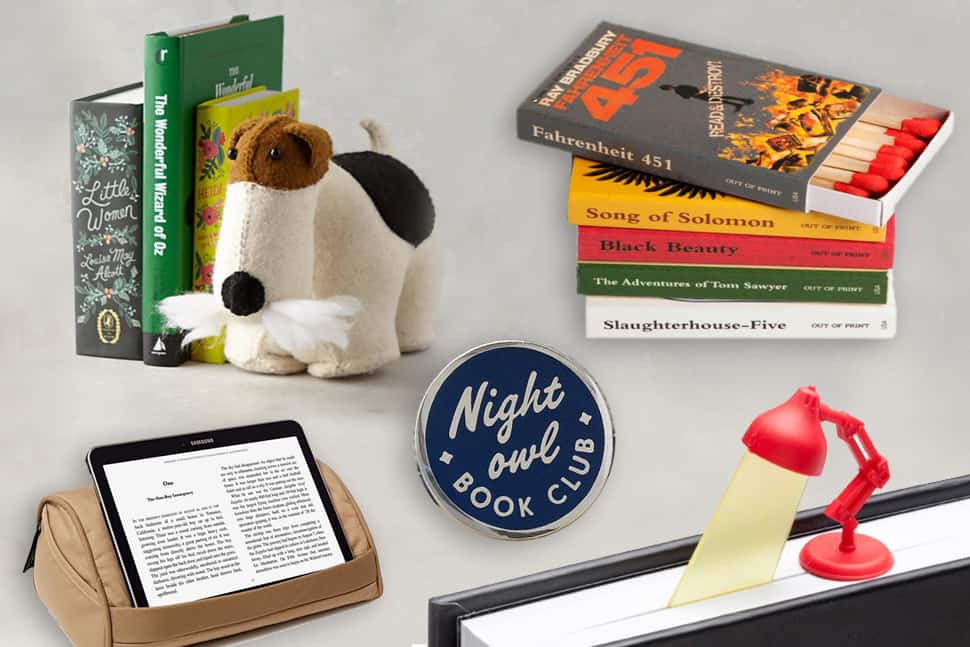 When it comes to holiday shopping, buying a gift card and calling it a day can be tempting. Finding that perfect, unique gift for a librarian or hardcore reader can be exhausting. But don't fret—you can show you care with this assortment of special somethings for the book-loving doodlers, comic nerds, fashionistas, hostesses, and storytellers in your life.
Gifts Under $20
Banned Books Matchbox Set ($8)
For the librarian who appreciates banned books—and has a dark sense of humor—Out of Print's Banned Books Matchbox Set includes the regularly challenged classics Slaughterhouse-Five, The Adventures of Tom Sawyer, Black Beauty, Song of Solomon, and, of course, Fahrenheit 451. Each tiny matchbox has a message on the back about banned books, and they all fit into a little bookshelf-style case.
Reading Lamp Bookmark ($9)
Peleg Design's Reading Lamp Bookmark shines a light where you left off. Its bright yellow plastic "spotlight" will ensure readers don't sleepily flip to the wrong page. The bookmarks are available in gray, white, and red.
Night Owl Book Club enamel pin ($10)
This Night Owl Book Club enamel pin celebrates those wee-hours readers who just can't put a good book down. Fasten this old timey-looking pin from AJB Design Shop on your blazer, tote bag, or backpack. The handmade pins come in both dark blue and black.
Funko Pop! Captain America Ceramic Mug ($14.50)
Comic book fans can feel as energized as Captain America when they have their first, second, or third cup of coffee with this Funko Pop! ceramic mug. Funko Pop! also creates other comic-related products, such as vinyl toys, bobbleheads, and accessories. And when you spend $10 at BoxLunch.com, the site provides a meal to a person in need through Feeding America.
642 Things to Draw ($16.95)
Know someone inspired to draw by adult coloring books but not sure where to start? Tube socks, pom-poms, and a black hole are among the ideas in Chronicle Books' 642 Things to Draw. The prompts will spark creativity for casual doodlers or experienced illustrators alike. The paperback book is the fitting companion for long car rides, days at the park, and never-ending flight delays at the airport.
White Tree of Gondor T-shirt ($17.99)
Lord of the Rings fans will recognize this White Tree of Gondor symbol on this dark gray long sleeve T-shirt. Others might just think it's a pretty tree. The handmade design from Library of Shirt also comes on white, light gray, and maroon shirts for the Tolkien-toting library fashionista.
Cotton Twill Tablet Pillow in Khaki ($19.99)
This Cotton Twill Tablet Pillow from Barnes and Noble lets your favorite librarian kick back with a favorite ebook, browse the internet, or watch a new film on their tablet in hands-free comfort. The lightweight pillow also comes with pockets that can hold a phone, cords, and other tech items.
---
Gifts $20–$50
Book Lovers Coaster Set ($20)
Book lovers won't have to worry about these books being overdue. These fun coasters from Cheltenham Road feature vintage library due date cards for classic children's books Black Beauty, Anne of Green Gables, The Wizard of Oz, and The Secret Garden. They're handmade, waterproof, and cork-backed to protect tabletops.
Papercuts: A Party Game for the Rude and Well-Read ($25)
Fans of Cards Against Humanity should check out Papercuts, a game for 4–8 players from Electric Literature. Players take turns being the editor or a writer. When the editor plays a question like "What did Robert Frost find on the road less traveled by?" the writers can respond with cards like "Slaughterhouses 1, 2, 3, and 4," "one-star Amazon review," or "Haruki Murakami's running shoes."
Stitch the Stars 2017 Calendar Kit ($25)
A calendar doesn't have to be just a reminder of upcoming deadlines and appointments—it can also be a DIY astronomy project with the Stitch the Stars 2017 Calendar Kit. Stitch a constellation each month with glow-in-the-dark thread on recycled card stock. All materials are included, and no embroidery skills are required on this crafty kit from Heather Lins Home.
Dead Writers Perfume ($30)
Microperfumery Immortal Perfumes "imagines vintage fragrances for the modern era" using a mix of jojoba, essential oils, and fragrance oils. Its Dead Writers Perfume creates the feeling of being in an old library and reading books by Hemingway, Shakespeare, Fitzgerald, and Poe. The historically inspired, unisex scent contains notes of black tea, vetiver, clove, musk, vanilla, heliotrope, and tobacco.
---
Gifts $50 and up
Fox Terrier Bookend ($68)
This Fox Terrier Bookend from Anthropologie will keep the books in any home library safely standing. The sand-weighted plush pup is made with eco-friendly materials; it serves as a sturdy bookend as well as a cute decoration. Also available in zebra.
New York Times Custom Birthday Book ($99.95)
For the history-loving librarian, a personalized New York Times birthday book collects front pages of the paper from his or her birthday each year to give a snapshot of what other memorable events happened that day. The book has a 20-page minimum, so those born in 1996 or later will have to wait a few more years.
Moleskine Smart Writing Set Paper Tablet and Pen+ ($199)
The Moleskine Smart Writing Set Paper Tablet and Pen+ can transport words and illustrations from a notebook to an iPhone or other device in real time. The Paper Tablet utilizes NCode technology to recognize the pen strokes, and then the companion app transfers the notes to the screen, where they can be shared, edited, and organized. Great for taking notes in class, brainstorming ideas in a meeting, or writing that novel at last.