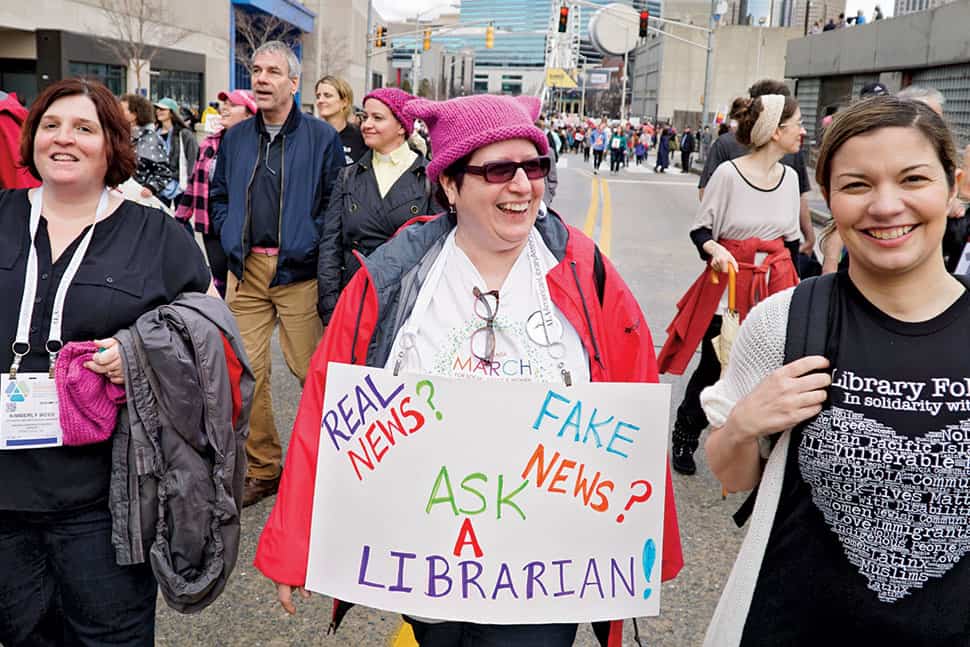 The American Library Association's (ALA) 2017 Midwinter Meeting & Exhibits in Atlanta, January 20­–24, coincided with the inauguration of a controversial US president and recordbreaking protest, so it's hardly surprising that the question of how libraries and librarians can and should react in times of political uncertainty was at the forefront.
One response was direct and immediate action, with at least 200 information professionals joining the Atlanta March for Social Justice and Women on January 21. That event was part of the Women's Marches series of protests, which drew an estimated 60,000 participants in Atlanta and as many as 4.6 million worldwide. Midwinter attendees gathered in a Georgia World Congress Center hall to create posters and distribute "Radical Militant Librarian" pins.
Civil rights leader and US Rep. John Lewis (D-Ga.) addressed the marchers. "We cannot afford to be silent," he informed the crowd. "We should be standing up, getting in the way, and getting into good trouble, necessary trouble. Don't let anybody turn you around."
Several Midwinter presenters echoed Lewis's "good trouble" theme. Kyle Kessler, community program manager at the Center for Civic Innovation in Atlanta, quoted it directly in his Symposium on the Future of Libraries presentation, encouraging attendees to "look the problems that the city faces directly in the eye and try to solve them."
Many ALA members expressed their concerns about the effects of the US election on the Association's policy and advocacy efforts in a town hall–style meeting held after the first Council meeting and moderated by Cheryl Gorman, senior fellow of the Harwood Institute for Public Innovation. The 32 individuals who stepped up to the microphones during the session offered views on intellectual freedom, funding, core values, community outreach, and other topics. Both a video and transcript of the meeting are available.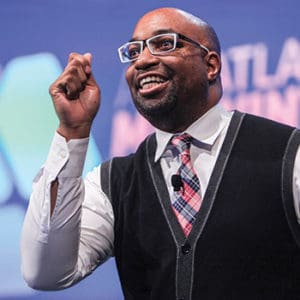 At Julie B. Todaro's ALA President's Program, Newbery Medal–winner Kwame Alexander acknowledged that he wasn't sure how to confront the current political climate in his speech—so he called a librarian friend for advice. "He said, 'One, we need you more than ever. Two, what would Martin Luther King Jr. do? Three, I need to know we're not going backward. Four, I need someone to tell me what to do,'" Alexander said.
His presentation urged attendees to "remember, recognize, and resist" and stand up against the injustices of racism, sexism, and xenophobia. Alexander recalled the impact of his dad, a school principal, taking him across the Brooklyn Bridge to march against police brutality when he was a kid—which he paralleled to taking his daughter to one of the women's marches the day before.
Daina Ramey Berry, associate professor of history and African and African diaspora studies at the University of Texas at Austin, keynoted the Martin Luther King Jr. Holiday Observance and Sunrise Celebration. "Slavery does not stop people from fighting for freedom," Berry said. In her book, The Price for Their Pound of Flesh, she wanted to explore the "faith and hope of those held captive. What can we learn from them?"
Patricia M. "Patty" Wong, county librarian and chief archivist of Yolo County (Calif.) Library System, offered the celebration's call to action. Her message to librarians was to "focus on the work" in the face of the "most difficult and unexpected change in our history." When people seemingly have "permission to say anything, without regard to facts or feelings or impact, we cannot accept this as the new normal."
Arthur Curley Memorial Lecture speaker Ryan Gravel, an urban planner who sparked the idea for the Atlanta BeltLine, a multiuse trail that will eventually connect 46 neighborhoods, declared: "People want to live in a place that has meaning."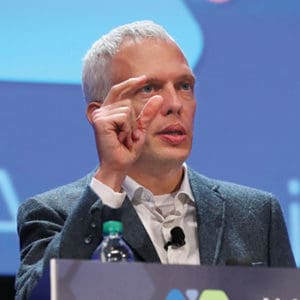 His graduate thesis at Georgia Tech proposed the BeltLine, a new type of development that supports health, equity, sustainability, and economic prosperity instead of prioritizing the car. He gave a nod to the library's role in nurturing the BeltLine and suggested its resources make a "perfect complement" to community-led urban development.
"We met in many, many libraries in Atlanta during the grassroots campaign to support the BeltLine," he said. "Because the public owns the vision, they came out to defend it."
The session "Towards a Less Normative Future in Library Services to Children and Teens," also part of the Symposium on the Future of Libraries, offered practical advice for undoing "the default of straight, white, and male" that may mark library collections and services. Angie Manfredi, head of youth services at Los Alamos County (N.Mex.) Library System, encouraged more diversity among book reviewers and more discretion among librarians who use reviews as they make purchasing decisions.
Manfredi recommended that librarians use online resources and create displays to find and highlight books by diverse authors, and buy books from small and independent presses—which may require change to library collection policies that require a certain number of reviews before a title will be purchased.
"Gatekeepers can open gates as well as swing them shut," Manfredi reminded the audience. "It will not be easy. We will make mistakes, and we'll get called out, but we still have to do it."
Symposium on the Future of Libraries
New at Midwinter was a three-day Symposium on the Future of Libraries, organized by ALA's Center for the Future of Libraries. The symposium's programming considered near-term trends currently inspiring innovation in libraries, and longer-term trends that will help libraries adapt to the needs of their communities in the future. It included plenary sessions that featured Atlanta-based social, civic, and educational innovators and nearly 40 concurrent sessions looking across areas of innovation.
Isha Lee, chief network officer at Welcoming America, and Darlene Gillard, chief community officer at digitalundivided, shared their visions for the future in Saturday's plenary session. Welcoming America focuses on opportunities for innovation when communities prepare themselves as spaces where new immigrants can thrive. Many attendees noted their libraries' participation in its National Welcoming Week program.
Gillard spoke about digitalundivided's BIG Incubator program for empowering black and Latina entrepreneurs, which has rethought supportive networks, education, and access to seed funding to better help women launch and sustain businesses. While not library-centered, the BIG Incubator could serve as a model for library efforts to create networks of knowledge-sharing community members that bring local experts together with interested learners in the library's space.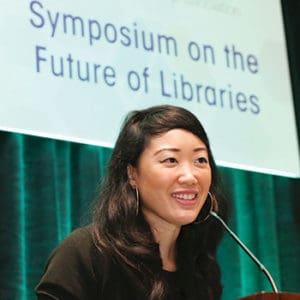 In Sunday's plenary session, Marian Liou, founder of We Love BuHi, joined Kyle Kessler to discuss how institutions can inspire civic innovation and help people reshape the communities where they live and work. We Love BuHi's mission is to support a livable, inclusive, sustainable community around Buford Highway, which stretches 50 miles between Atlanta and Buford, Georgia, but doesn't currently accommodate that community.
To help stitch the community together, Liou has organized events such as a bike tour and a series of film screenings in the area's international restaurants. These events are intended to help community members "reimagine how they use their streets," Liou said, and "encourage people to think about how infrastructure and design shape their lives."
For more on the Symposium on the Future of Libraries, read our full coverage on The Scoop.
Learning opportunities
For libraries to function as change agents, they first need to be trusted partners in the community. Several sessions provided practical advice for providing the top-notch services necessary for libraries to be local leaders.
In the "Reimagining the Research Library for the 21st Century" ALA Masters Series session, Catherine Murray-Rust, dean of libraries at Georgia Tech University, discussed her library's transformative Library Next project. This transformation included three basic components: renewing the library's buildings, building a collaboration with Emory University, and improving the library's effectiveness.
The third element was the most challenging, as it revamped the library's organizational structure. Librarians now go out into the academic community and become active partners in the research process from the beginning. Some staffers resisted that change and even quit, but librarians who stayed and new hires are energetic about their roles.
"We want to transform librarians into people who are a part of the process," Murray-Rust said. "We want to be influencers who add value and also have a seat at the table."
The Reference and User Services Association and United for Libraries cosponsored a session on best practices in proactive library advocacy. Donna McDonald, director of the Arkansas River Valley Regional Library System and secretary of United for Libraries, observed that many public library users are not aware of a library's funding challenges.
Elected officials can often be a "hard sell" because they are also looking at funding for roads, police, and other community essentials, she said. "But it could help to tell them that the library is only 4% of their budget," McDonald said. "Cutting a small segment of the budget by 10% is always more drastic than a larger segment."
She also advised librarians to try the "Pixar pitch" strategy to develop their advocacy message: Use the six-part structure that all Pixar movies follow to enforce the conciseness necessary for successful storytelling.
ProQuest's Midwinter breakfast provided advice on cybersecurity and privacy, with a stark reminder that libraries need to be diligent about security practices. A hack of St. Louis Public Library's computers stopped book borrowing and internet access at the library in January, forcing the library to wipe and reset its computer system to avoid paying a $35,000 ransom.
"We need to think of the library as a hub for privacy and security," said Daniel Ayala, director of global information security at ProQuest. He noted that while antivirus software was once a top action that could be taken to protect computers, there is now a need for more layering. He recommended Malwarebytes to remedy against malware, and many librarians in the audience said they use Deep Freeze to bring computers back to a clean slate after each use.
In the United for Libraries "Building the Future: Public Libraries and Their Trustees Making Future Policy Decisions Together" session, United for Libraries President Susan J. Schmidt and a panel presented techniques that directors, Friends, and trustees can use to keep their libraries technologically competitive and financially strong.
Peter Pearson, principal consultant at Library Strategies and retired former president of the Friends of the St. Paul (Minn.) Library, said that "strong, stable funding" is what will enable a library to meet its community's demands, but fundraising may be misunderstood. "Fundraising is thanking, nurturing, and asking for money maybe only 5% of the time," Pearson said.
"I totally fell in love with fundraising," added Sally Gardner Reed, United for Libraries executive director. "I love the nurturing part of it."
The "Libraries Transforming Communities: Models for Change" session discussed ALA's two-year Libraries Transforming Communities initiative, which began with training and review at ten libraries. In those communities, "Local media has helped change the narrative away from budgets and fines to services and programming," said ALA Public Programs Office Deputy Director Mary Davis Fournier.
Courtney Breese, managing director of the National Coalition for Dialogue and Deliberation, a partner in the initiative, encouraged attendees to think about the specific issues their communities are grappling with and the resources and abilities libraries and librarians have to help communities engage on those issues.
Big-name entertainment
Midwinter did offer a few opportunities for cathartic laughter at the news of the day, if not complete relief from it. Stand-up comic and host of CNN's United Shades of America W. Kamau Bell kicked off the conference with a comedic Opening Session speech that soothed burns still fresh from the contentious election. He joked that when he accepted the speaking slot several months ago, it didn't occur to him that it would fall on Inauguration Day, although he said that speaking at Midwinter held as much power as marching on Washington.
"People inherently understand how important you are and how important your profession is, especially in this current era," he said. Librarians' ability to help shape perceptions is vital now, as is physically going into the community and meeting neighbors to create bonds of understanding.
Actor, host, magician, and author of the forthcoming Magic Misfits children's book series Neil Patrick Harris gave a high-energy, humor-filled presentation to a packed auditorium at the Closing Session. "I would like to start off by saying that I'm not at all intimidated by the most literate group in America," Harris said at the onset of the program. "I stand here before you today with nothing but my wit, my good looks, and these 76 color-coded index cards," he said, spilling the cards to the stage floor.
Harris's new book borrows from his own childhood experiences feeling "different" from classmates in New Mexico who liked "football, basketball, and football," and he felt it was important to write something "aspirational in tone. I feel so many books speak down to young readers," he said.
Youth Media Awards
As always, one of Midwinter's highlights was the Monday morning presentation of the Youth Media Awards (YMA). Kelly Barnhill's The Girl Who Drank the Moon won this year's John Newbery Medal for the most distinguished contribution to American children's literature. Radiant Child: The Story of Young Artist Jean-Michel Basquiat, written and illustrated by Javaka Steptoe, won the Randolph Caldecott Medal for most distinguished American picture book for children, as well as the Coretta Scott King Illustrator Book Award.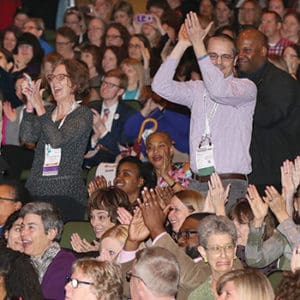 Two days after addressing the Atlanta March for Social Justice and Women, US Rep. John Lewis became one of the most recognized authors at the YMAs presentation. March: Book Three, by Lewis and Andrew Aydin and illustrated by Nate Powell, became the first book ever to win four YMAs: the Coretta Scott King Author Book Award, recognizing an African-American author of outstanding books for children and young adults; the Michael L. Printz Award, which honors the best book for teens; the Robert F. Sibert Informational Book Award, for most distinguished informational book for children; and the YALSA Award for Excellence in Nonfiction for Young Adults.
The ceremony announced more than 20 awards. For more YMA coverage, listen to the Dewey Decibel podcast's special episode or view a list of winners at The Scoop.
Council Addresses Gun Violence, Executive Director Search
Council passed a consensus resolution (CD#42.1) on gun violence affecting libraries, library workers, and library patrons submitted by the Intellectual Freedom Committee (IFC) and the Committee on Legislation. A resolution had previously been passed at the 2016 Annual Conference ALA Membership Meeting, but Council had deferred action until a working group developed discussion drafts for member comment.
After significant discussion, a resolution on the requirements for future ALA Executive Directors (CD#14) that would amend the educational qualification for the ALA executive director to make an ALA-accredited master's degree or a CAEP-accredited master's degree with a specialty in school library media strongly preferred but not required was rejected after a standing vote count of 75 votes in favor and 78 votes against.
Committee Chair Courtney L. Young introduced the ALA Executive Director Search Committee members (CD#10.2): Keri Cascio, Diane R. Chen, Joseph M. Eagan, Miguel Figueroa, Dora T. Ho, Julius C. Jefferson Jr., Ann M. Martin, Stefanie Metko, ALA President-Elect James G. "Jim" Neal, and Karen G. Schneider. Council also elected Amy Spence Lappin to the committee as chapter representative and Mario M. González as at-large representative.
In other business, Patricia M. "Patty" Wong, Lessa Kanani'opua Pelayo-Lozada, and Trevor A. Dawes were elected for three-year terms (2017–2020) to the ALA Executive Board.
A motion to add a fourth strategic direction—Equity, Diversity, and Inclusion—to 2015 ALA Strategic Directions (CD#35–35.2 and CD#37) passed with no objections.
The IFC report (CD#19) included revision of the form for reporting challenges to include hate crimes; six new library privacy checklists; a Q&A on makerspaces, media labs, and other forums for content creation in libraries; and guidelines to minimize the negative effects of internet content filters on intellectual freedom. A resolution on access to accurate information (CD#19.10) was passed with minor wordsmithing.
A resolution (CD#31) establishing family/caregiver status as a protected class in ALA volunteer work passed and was sent to the Policy Monitoring Committee for review.
ALA Senior Association Executive Director Mary Ghikas presented a report on the ALA Annual Conference remodel (CD#40). Statements from councilors included concerns about the jury selection process for conference programs and the ability for collaboration between units for joint programs.
A request to grant ALA Affiliate Status to Latino Literacy Now (CD#25) passed.
ALA Past President Sari Feldman nominated Ann K. Symons for ALA Honorary Membership (CD#34). The motion passed with no objections.