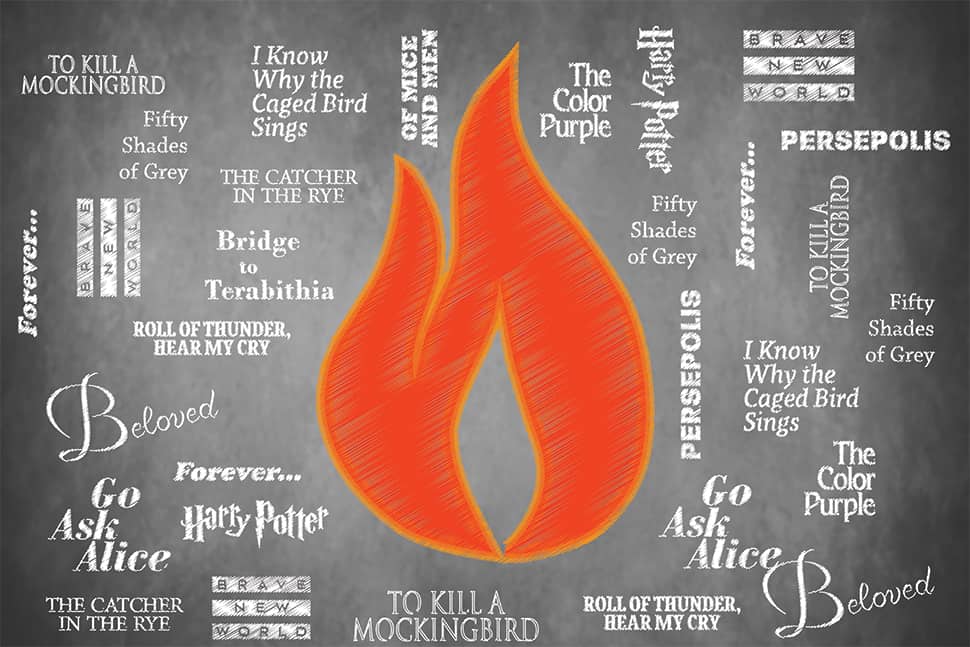 When you need the Office for Intellectual Freedom (OIF), you need it now. Many mornings in the office at the American Library Association (ALA) headquarters in Chicago begin with a panicked call or email: A school principal yanked a book from the shelf. People are protesting outside the library against a speaker. A board member objects to a display. A national coalition targets a database.
This December, OIF is celebrating 50 years of fighting for intellectual freedom: half a century of championing ­libraries, finding allies within the literary community, and aiding librarians in times of high anxiety. It's an evolving role to be cherished and safeguarded.
Lighting the flame
At the 1965 Midwinter Meeting preconference in Washington, D.C., the Intellectual Freedom Committee (IFC) recommended an ALA unit be established to "promote and protect the interests of intellectual freedom." Among its interim objectives was to create "positive mechanisms" that could defend intellectual freedom, collaborate with state intellectual freedom committees, and establish relationships with other First Amendment groups.
Expectations for the new office were high, but they also allowed for creativity and experimentation. To get the project off the ground and establish it as the voice of intellectual freedom in libraries, ALA needed a headstrong, daring leader, one who could persuade would-be censors and find allies within the literary community. It was Judith Krug—a 27-year-old reference librarian from Evanston, Illinois—who would not only transform OIF from an unsettled two-person team into a thriving office, but also completely alter the landscape of intellectual freedom for the better.
Three leaders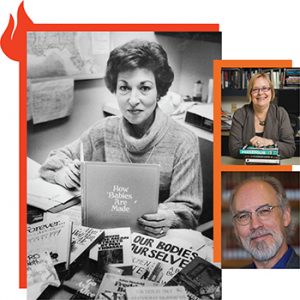 Fifty years since its founding on December 1, 1967, OIF remains an indispensable resource for librarians. It has had only three directors, each bringing a new vision to the office: Judith Krug, Barbara Jones, and, currently, James LaRue. When LaRue first arrived at ALA in 2016, he delineated three distinct roles for OIF.
Case support. OIF is there for library workers and governing authorities who face challenges to their services.
Thought leadership. Intellectual freedom, whether viewed as the fight against censorship or the impassioned defense of the right to question, is a fundamental library value. OIF carries the free speech torch in publications, webinars, workshops, and keynotes. It also works with intellectual freedom allies, such as the Freedom to Read Foundation (FTRF) and the Media Coalition, particularly in the area of litigation. OIF has played a key role in landmark decisions involving libraries and the internet, as well as patron privacy. See Ashcroft v. American Civil Liberties Union (2002), which ruled the Child Online Protection Act unconstitutional, and United States v. American Library Association (2003), which required schools and libraries receiving E-Rate discounts to install web filtering software.
Leadership development. Intellectual freedom needs a cadre of informed and skilled advocates. Those skills are developed and deployed through such ALA units as IFC, Committee on Professional Ethics, and Intellectual Freedom Round Table.
Case support
A mere two years after its founding, OIF was receiving 250 communications each month, half of them requests for assistance. Krug's desk became littered with piles of paperwork and case files. Although paper communication still floats around the office today, censorship incidents are now documented in a database, which tracks both challenges and the follow-up case support OIF provides. And instead of phone calls and letters—although those are still welcomed—the OIF website hosts a censorship reporting form, which allows staff members to efficiently reach out to librarians and provide next steps. In response to the spike in hate crimes in libraries after the November 2016 presidential election, the form now offers a category to report incidents of hate-based graffiti, property damage, and intimidation in libraries.
One of the most successful campaigns by both OIF and the publishing community is Banned Books Week.
OIF provides much of the same support it has since its beginning. OIF staffers write statements of support, locate people to speak at local school board meetings, gather book reviews and library policies, consult legal authorities, and visit communities. Sometimes, case support for librarians is simply "listening to them sob into the phone," as Bob Doyle, OIF's deputy director from 1980 to 1984, recalled.
"There were people calling up and saying, 'I'm scared. I want to do the right thing but I'm scared,'" said Doyle.
During a highly publicized removal of Marjane Satrapi's graphic memoir Persepolis in Chicago Public Schools, OIF staff not only sent a letter to Chicago's education leaders, but they also traveled to Lane Tech High School on the city's north side to protest in person.
"I had never had a staff as devoted and passionate about the work," said Barbara Jones, "that was willing to stand out in the freezing rain at Lane Tech High School to defend Persepolis. I'll never forget that. We're all standing out there in the drizzle. They had it in their guts."
The office also uses another tactic that only became widely available at the beginning of this century—the power of social media. OIF began testing social media platforms around 2010, and now uses them to remind readers of current challenges and rally support at the local level.
Shifting targets
Evolving societal values and the political landscape frequently shift the targets of challenged materials. In the 1970s, when the Watergate scandal shattered the illusion of trust between the government and its citizens, people turned their attention to local government institutions that they could control: schools and libraries.
"The scariest thing about becoming a school librarian was the possibility of challenges," said Helen Adams, current IFC chair and retired school librarian from rural Wisconsin.
Classroom materials for health and family classes were targeted in the 1980s, as well as books on Satanism. At the beginning of the decade, the number of challenges the office received tripled, largely due to the coordinated efforts of the Moral Majority, a Christian right political organization that led campaigns against specific books.
Parents have always been concerned about their children growing up too soon. Books continue to be challenged and removed from US libraries, but at the beginning of the 21st century, fears focused on the wild frontier of the internet. Parents and politicians imposed software filters on library computers. Soon there were protests against commercial databases, whose carefully selected indexes still might point schoolchildren to an occasional article about human sexuality.
Alongside the desire to preserve the innocence of children is another fear. In 2014, America was, for the first time, a majority nonwhite nation for children under age 5, according to the US Census Bureau estimates. In a Virginia high school, Toni Morrison's Beloved was challenged because of "graphic sex," but OIF Assistant Director Kristin Pekoll contends that race is a significant reason why the classic was threatened with censorship.
"There are so many issues in her novel that people are uncomfortable with," said Pekoll, who is usually the first staff person educators talk to when facing a challenge. "It's easier and less embarrassing to say 'graphic sex.'"
On college campuses, the "right not to be offended" is causing concern. "Now we are seeing a regrettable move toward censoring speech that offends," said Judith Platt, the recently retired director of Free Expression Advocacy for the Association of American Publishers (AAP). Recent speaker disinvitations have taken place at DePaul University, Virginia Tech, and University of California, Berkeley.
Thought leadership
In a 1987 monthly memorandum to state intellectual freedom committees, Krug and her team wrote, "The most effective safeguards for the rights of library users and librarians are an informed public and a library profession aware of repressive activities and of how to combat them."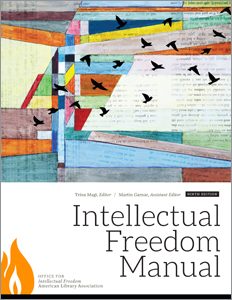 OIF has several publications that educate the public about censorship. The Intellectual Freedom Manual, first published in 1974, combines all interpretations of the Library Bill of Rights, the core document for the library professional. Frequent requests for up-to-date banned book information inspired Doyle and Krug to create a resource guide on censorship. What started as scribbles on index cards evolved into a 308-page tenth edition in 2017, complete with timelines and tweetable quotes. The office also carries on its 50-year tradition of distributing Freedom to Read and Library Bill of Rights statements.
Each OIF leader brought different allies to the intellectual freedom discussion. Krug worked on national alliances, initiating coalitions that coordinated efforts between booksellers, publishers, lawyers, and editors to defend the First Amendment. She also founded FTRF, a separate 501(c)(3) tax-exempt organization that focuses on litigation and public education.
"Krug provided a platform to take actions that the Association isn't willing to make, or can't make," said Doyle, referring to FTRF. "She invited diverse people to the table … who are thoughtful."
The Speaker
Krug transformed the image of librarians from quiet, behind-the-desk researchers to fierce "gatekeepers of the marketplace of ideas." This notion was put to the test with OIF's production of The Speaker, a film that divides ALA membership today.
The Speaker is set in a high school that invites a professor to explain the "theory of genetic inferiority" of African Americans, sparking backlash from the community and principal. OIF, IFC, and the AAP Freedom to Read Committee wanted to screen the 42-minute film at the 1977 ALA Annual Conference in Detroit and distribute it to schools, libraries, and governing boards.
Before the film premiered, there was a sense of uneasiness about its future. In 1976, AAP pulled out of the project. When the ALA Executive Board previewed the film, it voted to delay its premiere date in Detroit but quickly reversed its decision.
Despite the initial reactions, the film was shown at the conference. During the 45-minute discussion that followed the applause and hisses at the rolling end credits, some attendees argued that ALA should disassociate itself with the film. ALA Council voted against the proposal, a decision that triggered tension between free speech and social justice advocates.
Then–ALA Executive Director Robert Wedgeworth told American Libraries that there was a lot of pressure on him to fire Krug. Unsurprisingly, Krug stuck by The Speaker. In the accompanying discussion guide for the film, Krug and IFC Chair Florence McMullin wrote that they were proud of a project that addresses a sensitive topic: the toleration of ideas we find offensive.
"It's an issue that hasn't gone away," said Doyle. "I think Krug and others thought that the issue would stand the test of time." Jones revived The Speaker at the 2014 ALA Annual Conference in Las Vegas, with an accompanying panel program cosponsored by the Black Caucus of the ALA and the Library History Round Table.
America's racial divide and the tension around what speech can be tolerated continues in the Black Lives Matter movement, campus protests around controversial speakers, and reactions to the Unite the Right rally in Charlottesville, Virginia, in August.
Banned books and Choose Privacy Weeks
One of the most successful campaigns by both OIF and the publishing community is Banned Books Week. The celebration was launched in the 1980s, a time of increased challenges, organized protests, and the Island Trees School District v. Pico (1982) Supreme Court case, which ruled that school officials can't ban books in libraries simply because of their content.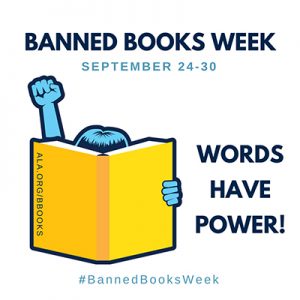 Banned books were showcased at the 1982 American Booksellers Association (ABA) BookExpo America trade show in Anaheim, California. At the entrance to the convention center towered large, padlocked metal cages, with some 500 challenged books stacked inside and a large overhead sign cautioning that some people considered these books dangerous.
Drawing on the success of the exhibit, ABA invited Krug to join a new initiative called Banned Books Week, along with the National Association of College Stores. The three organizations scrambled to put something together by the September show date and ended up distributing a news release and a publicity kit, hoping that with their combined membership of 50,000 people, they could continue to spark a conversation about banned books.
The initiative took off. Institutions and stores hosted read-outs, and window displays morphed into literary graveyards or mysterious collections of brown-bagged books. Major news outlets such as PBS and the New York Times covered the event, and mayors and governors issued proclamations affirming the week.
As Platt put it, "When the book community stood together on matters of intellectual freedom, we were unstoppable."
ALA is currently part of a national coalition to promote Banned Books Week, along with 13 other contributors and sponsors. OIF chooses its own theme each year for the initiative; this year's theme is "Words Have Power," to celebrate the power of readers to stand up to censorship and the power of banned books to create literary communities. Krug led the Banned Books Week efforts as OIF director until her unexpected death in 2009. Her legacy lives on in the Freedom to Read Foundation's Judith F. Krug Memorial Fund, a grant awarded to nonprofits to host Banned Books Week events.
Today, Banned Books Week coverage by mainstream media reaches an estimated 2.8 billion readers, and more than 90,000 publishing industry and library subscribers. The Banned Books page remains one of the top two most popular pages on the ALA website.
Another successful OIF initiative is Choose Privacy Week. Held annually May 1–7, the initiative encourages libraries to be champions of privacy rights in the digital age by highlighting tools they can use to protect the privacy of their patrons.
Team ALA
Krug made allies both within the profession and with other organizations, and Jones forged relationships abroad. While campaigning for intellectual freedom around the world, Jones recognized the courage it takes for librarians to stand up to censorship, especially without having a First Amendment to rely on.
"OIF was seen as the North Star," said Jones. "When I was there, the US was post–Patriot Act. Librarians would come up to me at international meetings and say, 'The US cannot fail at this. You can't fail. We look to you to argue to our governments that we need the freedom to read.'"
LaRue believes today's intellectual freedom challenges demand the attention of more than one ALA office. For instance, nine of the Top 10 Challenged Books of 2015 were written by authors of color or about diverse populations, a matter of keen interest to the ALA Office for Diversity, Literacy, and Outreach Services (ODLOS). OIF has teamed up with ODLOS to develop a new "Our Voices" initiative, which seeks to identify and connect to library collections a host of new and diverse writings from small or independent publishers and self-published works.
Attempts in 2016 and 2017 to mandate parental notification for books involving sex, even in Advanced Placement English classes, involved the ALA Office of Chapter Relations, the Washington Office, and the American Association of School Librarians division. In cooperation with the Office for Library Advocacy, OIF offers advocacy boot camps that highlight the role of intellectual freedom as the brand of librarianship. Issues related to free speech and universal access affect the entire profession, and require an Association-wide response.
Carrying the torch
OIF consists of five staff members who operate on an annual budget of about $500,000. The office is supported by a vibrant community of Association leaders, guest bloggers, and front-line librarians who speak out in publications, library board meetings, and courtrooms when First Amendment rights are challenged.
Leadership development begins with awareness. All librarians, staff, trustees, and interested parties can subscribe to the Intellectual Freedom Blog and receive a free e-newsletter on intellectual freedom.
LaRue contends that intellectual freedom is not the absence of dissent; success is not measured by silence. "Like every deep value," he says, "intellectual freedom must be poked, tested, and reapplied to the circumstances of each generation."
As Krug once said, "It is our responsibility and indeed our privilege to stand on the First Amendment, to challenge censorship, to keep the light of liberty alive and by doing so, to push back a new dark age."
Save
Save
Save
Save