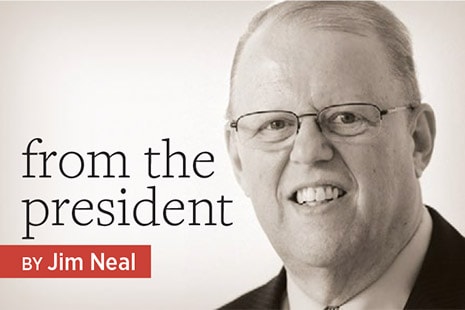 Our American Library Association's (ALA) governance/member and administrative/staff organizational structures and systems have developed over the last 50 years. But are they the right ones for the next decade? Recent interviews with executive director candidates highlighted a need to review and revitalize ALA's organizational effectiveness and agility for the 21st century.
A process of review must incorporate the perspectives, interests, and contributions of a wide variety of stakeholders and affiliated groups. It must be mission-driven and embrace our core values. It must focus on member development and engagement, and on encompassing the complexity of voices that enrich ALA.
ALA's governance structure includes a web of units: organizational leadership like Council and the Executive Board; professional values like intellectual freedom, international concerns, and diversity, and supporting legislation through ALA committees; type of library and type of work divisions; specialized round tables; discussion groups and assemblies for personal networking; task forces; affiliated organizations; and so on.
The ALA constitution lays out the basic structure of the Association, and the bylaws describe how it functions. Our Association might want to consider a comprehensive review of ALA's governance/member organization and a constitutional convention to be carried out over 12 to 18 months that will involve wide participation and input.
What do you think about this idea?
Disaster relief for libraries
The recent natural disasters in Mexico, the southern US, and the Caribbean demonstrate the catastrophic consequences, damage, loss of life, and economic devastation that can result. We will continue to face geological, water, and weather disasters, and the impact of wildfires, wars, terrorism, computer attacks, blackouts, pandemics, and social and civil unrest.
ALA offers information and training on best practices to prepare for and deal with disasters. ALA has headed up national fundraising initiatives to bring financial support to libraries in the US and around the world. We need to be better equipped to help ­libraries and archives to prepare for disasters and to provide financial and material relief. In the face of disasters, libraries are anchors, sources of accurate information, stable safe spaces, expert staff resources, community hubs, telecommunications centers, temporary shelters, and beacons of hope and normalcy.
One way we could help would be to consider establishing an ALA Library Disaster Relief Foundation, a collaborative initiative among the Association, the book publishing community, and vendors serving libraries. The foundation would raise funds and materials, and channel support to libraries and archives to help them recover from disasters; repair facilities; restore and replace damaged collections, technology, and telecommunications; and rebuild community programs.
What do you think? Your input on both these ideas is needed. Please email me with your thoughts at jneal0@columbia.edu.