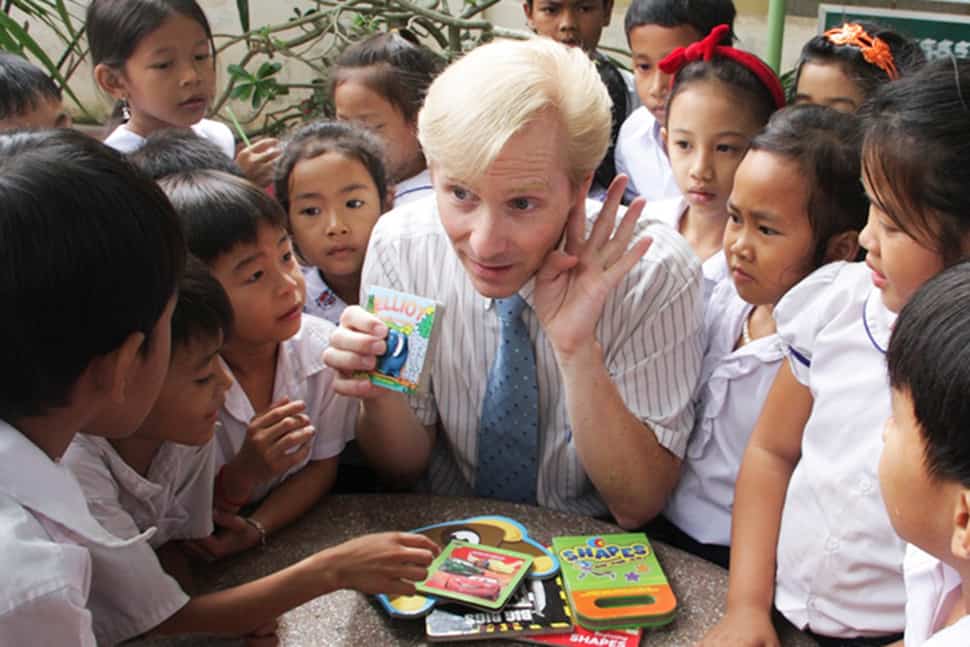 John Hickok's passion for more than 10 years has been to build and maintain library partnerships with libraries in Asia.
Hickok is international outreach librarian at California State University, Fullerton (CSUF). His initial role at the library was providing outreach and instruction to CSUF's international student population. That led to an "aha" moment.
"I realized for me to truly understand international students' library experiences, I needed to see the libraries in their countries," he says.
Hickok expanded his work in the early 2000s to research the library experiences that international students had before coming to the US. Because most international students studying at CSUF were from Asia, Hickok obtained a research leave to live there in 2005–2006, visiting hundreds of libraries in 15 countries of east and southeast Asia. During a later leave, he visited even more libraries. To date, he has visited more than 1,000 libraries in Asia.
During his travels, Hickok has built several partnerships.
In Vietnam, he teamed with the General Sciences Library in Ho Chi Minh City and the US Embassy to identify school and public libraries that needed more children's books in English. In partnership with CSUF's Vietnamese Students Association, the books were donated and brought to Vietnam on Hickok's annual visits. Likewise, Hickok and CSUF's Cambodian Student Association worked with Pañña⁻sa⁻stra University of Cambodia in Phnom Penh and the US Embassy to deliver more than 1,000 children's books to Cambodian school libraries.
"Shipping is expensive," Hickok says. "So I give up most of my airplane luggage space to pack all these books—squeezing in my socks and shirts as padding."
In 2016, Hickok partnered with two university libraries in the Philippines—University of Santo Tomas and Philippine Normal University in Manila—as a Fulbright Scholar to teach LIS classes. This included visits to dozens of school, public, and academic libraries as part of a comparative study of Association of Southeast Asian Nations libraries that he shared with the Philippine Library Association (PLAI) in PLAI Journal.
Hickok has created workshops at Chulalongkorn and Rangsit Universities in Thailand, and he has given presentations to the Singapore Library Association, the National Library of Singapore, and at universities and conferences in Malaysia. He also participated in librarian exchanges at Southeast University in Nanjing, China. The enthusiasm he finds abroad is infectious, he says.
"These were amazing partnerships," Hickok says. "There is incredible passion among the upcoming generation of librarians."
Librarians who want to build partnerships with international libraries can start the process without leaving the US, Hickok says.
"Visiting libraries abroad isn't mandatory. You can get started right in your own library," he says.
Hickok recommends that academic libraries work with their international office to identify predominant sending universities and email their libraries with collaboration ideas. For public libraries, he recommends seeing if your city has a "Sister City" relationship with a city abroad and emailing its institutions with exhibit exchange proposals.
For more tips, visit IRRT's Sister Libraries and International Connections pages online.