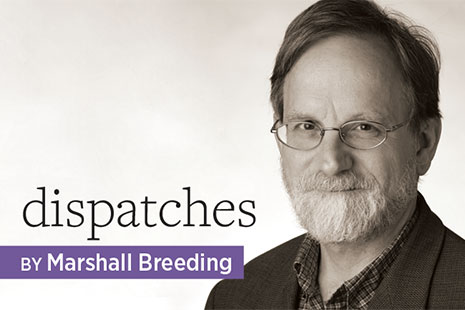 Throughout much of the history of library automation, online catalogs were the primary subject-based search tool for academic libraries. But because of their complex interfaces, many libraries moved away from catalogs when internet search engines—sporting simplified interfaces and sophisticated search-and-retrieval technologies—came on the scene. Libraries today have many different options to enable their users to discover and gain access to their collections of information resources.
An academic library can assemble several combinations of products, depending on the ways in which it organizes its website and discovery environment and the types of resource management systems it has in place. One critical debate has recently emerged: Should discovery services be bundled or acquired à la carte? Perspectives differ regarding the benefits of pairing a discovery service (for example, Ex Libris Primo or OCLC's WorldCat Discovery Service) with the resource management system from the same vendor (Ex Libris Alma or OCLC's WorldShare Management Services).
Two arguments prevail. From one point of view, discovery services should be selected independently. Libraries want the most appropriate patron-facing service based on usability, content, and other criteria. They should be able to evaluate and acquire preferred products in each category and not be locked into a bundled package. Ideally, a library's technical infrastructure would be modular so that it can assemble the most suitable components. Each of the discovery services offers distinctive capabilities, justifying the additional effort needed for systems integration.
Others contend that discovery services and resource management systems from the same provider are better integrated in ways that improve the patron's experience and produce search results with more reliable linking to full text. User profiles govern such functions as circulation within the resource management system as well as requests, fulfillment, and personalized features in the discovery service. Many libraries are offered financial incentives to accept the discovery service bundled with a new library services platform (LSP), rather than purchase a product from another vendor that would require extra system tinkering.
Should discovery services be bundled or acquired à la carte? Perspectives differ.
Academic libraries that are replacing existing systems currently tend to select an LSP paired with a discovery service from the same vendor. Acquiring a discovery service as part of a broader suite of products is a growing trend. Discovery services represent a relatively small portion of the investment in the core automation environment. Resource management systems can be expected to cost three to five times more than a discovery service. This differential could mean that, for some libraries, the choice of a resource management system may drive the selection of a discovery service.
In the future, we will likely see academic libraries moving away from older integrated library systems and adopting newer LSPs, which will naturally come with an increased pairing of components from the same vendor.
Yet this scenario is still hazy. Though important, the broad search capabilities powered by an index-based discovery service may not be the primary way that most users gain access to library resources. Many studies reveal that only a small portion of research begins at the library website.
Even the most compelling search service delivered through the library's website is unlikely to affect the relatively high number of researchers who prefer Google Scholar or discipline-specific search tools. The limited amount of research conducted through vendor products is likely to reduce the financial and technical resources that academic libraries devote to them.