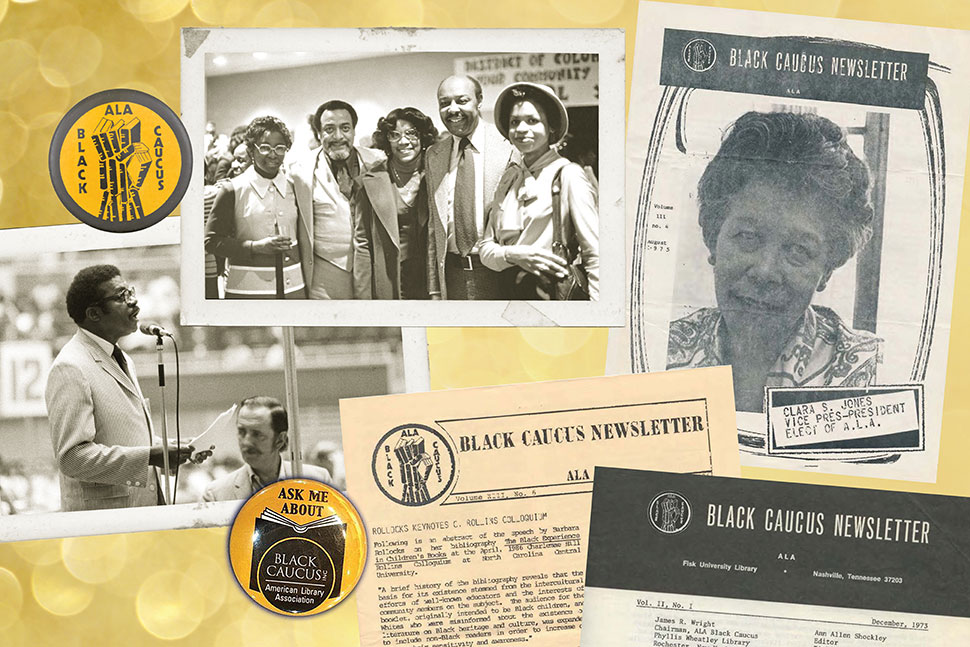 At the American Library Association's (ALA) Midwinter Meeting in 1970, then-councilor E. J. Josey challenged the Association to better serve the needs of black library professionals. This spurred the formation of the Black Caucus of the American Library Association (BCALA), which has worked for 50 years to advocate for the recruitment and professional development of African-American librarians and promote library services and resources in the African-American community.
How has the situation of African Americans in the profession changed since BCALA's founding?
Well, "it hasn't gotten any worse," says Trevor Dawes, vice provost for libraries and museums and May Morris University Librarian at University of Delaware, as well as past BCALA executive board member and BCALA liaison to ALA until last year. "We still have a lot of systemic oppression of people of color and certainly black people in the profession, and so an organization like BCALA is still necessary to advance the mission of inclusion."
Meet five black librarians doing just that.
"This is what a librarian can look like."
Kirby McCurtis draws black people to the library
The first time Multnomah County (Oreg.) Library Branch Manager Kirby McCurtis went on an outreach visit to a Head Start classroom—which happened to consist of all African-American students—even the teacher was surprised.
"He was like, 'You're the librarian? All right!'" remembers McCurtis, who is president-elect of the Association for Library Service to Children. "Yes, this is what a librarian can look like. The kids were like, 'This is awesome!'"
Changing the perception of libraries as white spaces is a major goal of McCurtis, who started a Black Storytime group at the library in 2012 to affirm the experiences of African and African-American children and to help the black community feel welcome. "The community was really responsive, really excited," she remembers. "It was a nice way to have conversations with people about their experiences and to make sure that people felt like the library was their space."
After a white mother asked whether she could bring her child to that storytime to learn about race (answer: yes), McCurtis also realized the need to develop a curriculum to help parents from all backgrounds talk about the subject with preschool-age children. Because if you don't? Then "your kid's going to say something horrible because they don't have the language, they don't have the tools."
She now frequently presents "Talking about Race with Preschool-Age Children" at conferences, and it's also delivered as a four-week course at the library. Other programs and webinars of hers include "We Speak Your Language: Strengthening Early Literacy for Diversity" and "Cuddle Up and Read: Storytimes for Pregnant and Parenting Teens."
"I always say the BCALA has become my family," McCurtis adds. "Every conference, every Midwinter, I've got cousins and aunties and uncles looking out for me. There's a shared language and a shared experience; there's solidarity in numbers. Not everyone is on the mission to change the world for black kids, but this group—that's our path."
"It shouldn't be something scary."
Jessica Bratt talks to kids about race
Though kids at storytime may look like they're busy enjoying the book (and wiggling around), they're also absorbing societal norms. That's why Grand Rapids (Mich.) Public Library Youth Services Manager Jessica Bratt works to make it a place that celebrates differences—like race.

"Society tells children that they need to be able to live alongside others, but we never give kids tools to do that," Bratt says. "If we can get comfortable disrupting biases in an age-appropriate way, then when we transition into conversations around consent or police brutality, they already have the tools to lean into discomfort to help them process the world around them."

To that end, she developed a toolkit for storytime leaders called Let's Talk about Race. Best practices include selecting books that depict a diverse range of characters and actively pointing out characters' varying skin tones and hair textures. "Having different skin colors is a normal thing. It shouldn't be something scary," she points out.

Her goal: "Getting librarians to not just say, 'We have these books,' but really supporting social-emotional intelligence around race and belonging." Tips from the toolkit include choosing books that refrain from stereotyping African Americans as entertainers or civil rights activists; emphasizing to parents and other caretakers that it's okay to talk about race; and adopting a tone that indicates comfort with the material.

Bratt is also creator of the library's Social Justice Book Club and cofounder of Librarians 4 Black Lives, a group of library-based advocates who support Black Lives Matter (the latter group has since merged into the Public Library Association's Task Force on Equity, Diversity, Inclusion, and Social Justice).

For her, BCALA membership has been a major source of support in an overwhelmingly white field. "I hope we can continue being a voice for change within ALA," she says. "You can find support and networking around a large conglomerate of other black librarians. And it's intergenerational, so you don't lose the history of how the profession was made and shaped."
"They want to challenge everything now."
Cicely Lewis raises students' social consciousness
"I'm up here talking about magical wizards, and my students are suffering." That's what Cicely Lewis, educator and library media specialist at Meadowcreek High School in Norcross, Georgia, remembers thinking in 2017. Though her Harry Potter–focused reading program had been successful, she wanted to address topics like police violence, immigration restrictions, and other injustices, particularly since her school has a large population of students of color. Thus, Read Woke was born.
Lewis curated a list of books that challenge a social norm, provide information about a disenfranchised group, or feature a protagonist from an underrepresented or oppressed group: The Hate U Give, I Am Not Your Perfect Mexican Daughter, The Librarian of Auschwitz, Girl Mans Up, and many more. Students who read at least four books from the list win a T-shirt, but even students who don't win prizes are excited "just to have these conversations," she says. "And I feel like my students are little social justice warriors because they want to challenge everything now."
The Young Adult Library Services Association awarded Lewis the 2019 Margaret A. Edwards Award for Best Literature Program for Teens for Read Woke, and the program has spread to other schools and libraries. Meanwhile, at Meadowcreek, Read Woke has expanded: There are plans for a social justice–oriented field trip in the works—perhaps to Selma, Alabama, to visit the historic civil rights sites there—as well as a potential initiative to distribute books from the Read Woke list to local foster children.
Being a librarian of color, Lewis adds, has helped her show students that libraries are for them. "Not to say that a white librarian can't be welcoming, but we do need more representation," she says. "That's one barrier that can be broken down."
"It's a great outcome for everyone."
Rudolph Clay makes libraries more diverse
In a field that's more than 85% white, Rudolph Clay, senior lecturer in African-American studies at Washington University in St. Louis and head of diversity initiatives and outreach services at the university's libraries, is making his library and librarianship in general more inclusive. "We're dealing with a more diverse student population, and we want to have a welcoming environment," he says, "so that when students enter the library, they see librarians and staff members that resemble their own background, and they feel comfortable asking questions and are more interested in exploring. When you have a diverse staff, it's a great outcome for everyone."
Not only do he and his team make sure that library staff are equipped to address the needs of students of color, but they also invite those students to consider academic librarianship as a career via paid summer internships. "What we're hoping to do is help them see many facets of librarianship that they might not have seen before, and help them see what the role of the academic library is in the larger community," he says.
A few years ago, for example, after police fatally shot Michael Brown in Ferguson, Missouri—a town only a few miles from campus—Clay helped create an online archive of digital media captured by community members around the incident. "The idea was to ask people who participated in marches or protests if they would not mind uploading to our archive," he recalls. "We thought this would be a useful resource, and it's freely available."
A BCALA member for more than 30 years, Clay currently sits on its executive board and serves as exhibit chair for its conference. He lauds the caucus for its mentoring opportunities, which help encourage young African Americans to think about becoming librarians. "Many times, they don't really know what librarians do, and I think they don't know the breadth of what we do," he says. "We want people to think about the role of librarians in their communities, especially communities that are struggling."
"What does it mean to be Black Diasporic?"
Ana Ndumu broadens perceptions
Nicaragua native Ana Ndumu, assistant professor of information studies at University of Maryland, College Park, has spoken Spanish since birth—but that doesn't stop people from asking where she learned the language. "There's always been a lot of explaining," says Ndumu. "I've always had to toggle between my Latinidad and my blackness." Add to that her marriage to an African immigrant who grew up in London, and the scope of her insight into multiple facets of black identity becomes clear.
Breaking down what she calls the US "homogenization of blackness" is a passion for Ndumu, who researches the obstacles black immigrants to the US face when accessing information. "There's a specific template of an immigrant—non-English speaker, forcefully displaced," she says. "Black immigrants don't always come from that background. You may have refugees, but you may also have highly skilled immigrants. Seventy-five percent of black immigrants [to the US] speak English, and about 40% of them arrive degreed. Within libraries, they are grossly ignored."
In contrast to the perception that all immigrants suffer from an information gap, Ndumu finds that black immigrants tend to instead be overwhelmed by the volume of information. Those and other findings are reflected in the free online resource she has created, Toolkit for Library Services to Black Immigrants.
In addition, her book Borders and Belonging: Critical Examinations of Library Approaches toward Immigrants is forthcoming (Library Juice Press, May). "I am trying to expand awareness of blackness," she says. "What does it mean to be pan-African or Black Diasporic? Then there's the hope to strengthen LIS curricula so we can have more tools and teaching tactics that amplify the value of black librarians."
Ndumu, a member of BCALA's executive board and chair of its professional development committee, says that the caucus's 50th anniversary presents the perfect opportunity to broaden its priorities. "What are we missing?" she asks. "We haven't had the best coverage of immigrants. How about LGBT issues? Anyone who has ideas on how to expand issues of identity and social inclusion—this would be helpful. For people who want to disrupt norms and really get into the work of addressing why there's a lack of representation, it's a good time to get involved."