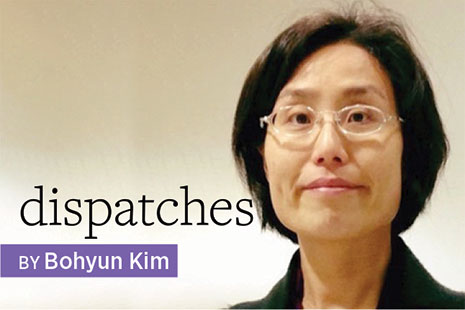 In the May issue of American Libraries, without seeking her permission, this column ran with a photo of Professor Kim in all editions. After publication, she notified us of this mistake. We were not able to correct  the print edition of the May issue. We have corrected it in the online, PageSuite, and PDF editions of the column. We apologize for the error.  
The fourth industrial revolution is well underway. Recent breakthroughs in machine learning and artificial intelligence (AI) enable machines to handle tasks previously restricted to humans, including image classification, translation, speech recognition, and medical diagnosis. In every corner of the world, technologies are disrupting industries and bringing rapid changes to the way we live, work, and interact.
Amazon Go, Amazon's brick-and-mortar store, is a good example of this digital disruption. Outwardly, it is not much different from other physical stores where food items are placed on shelves for shoppers to browse and purchase. But digital technologies—such as sensor fusion, computer vision, and deep-learning algorithms—allow the store to function without a cashier and checkout line. Cameras and sensors detect changes when a shopper takes a product from the shelf or returns it and then keeps track of the picked-up item in a virtual cart. Amazon Go shoppers simply grab items to buy, and Amazon charges their credit cards when they leave.
The Amazon Go store may appear to simply reduce shopping time. But this is a more important trend. For the first time in human history, machines are performing not only physical and mechanical work but also cognitive tasks.
Demand will increase for library professionals who are knowledgeable and skilled in data analytics.
Klaus Schwab, author of the 2016 book The Fourth Industrial Revolution, emphasizes that what differentiates the current revolution from the previous digital one is not merely a multitude of novel technologies, but their fusion across multiple physical, digital, and biological domains.
What does this mean for libraries?
Librarians have embraced digital technology since the dawn of the internet. To adapt and succeed in an era of digital disruption, libraries must continue to explore and evaluate emerging technologies and adopt them when appropriate.
New and emerging technologies, such as extended reality, the "internet of things," synthetic biology, blockchain, Big Data, and AI, which are fueling many platform businesses, may seem remote to many library professionals. But they will bring fundamental change to the information and knowledge industries. For example, AI may soon begin to generate content and services whose value equals or surpasses those produced by humans. It will also have an impact on information-seeking, learning, and teaching. AI has the potential to automate the labor- and time-intensive cataloging, abstracting, and indexing processes; improve information discovery and retrieval; extract key information from a large number of documents; and extract details from visual materials such as historical maps.
As Big Data technologies and automation trends mature, librarians will be asked to play a larger role in developing services, programs, educational offerings, systems, and apps that focus on quantitative information. Libraries will be asked to manage, store, and preserve massive real-time data sets. Demand will increase for library professionals who are knowledgeable and skilled in data analytics. As more sensors and devices are integrated with library services, new ways to serve library patrons and achieve operational efficiencies will emerge.
One way to prepare library staff for this digital disruption is to provide the time and resources for professional development. Libraries can also make intentional efforts to cultivate curiosity, open-mindedness, and confidence; encourage experimentation; and facilitate staff collaboration. This will allow staff to create innovative programs and services.
But no matter what technology we adopt, the library's mission to empower people and support their information-seeking and learning activities will not change.
Adapted from "Moving Forward with Digital Disruption," Library Technology Reports vol. 56, no. 2 (Jan./Feb. 2020).