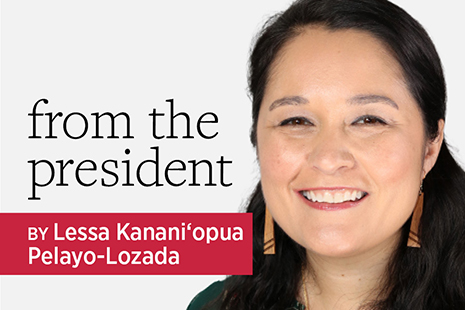 The interconnectedness of our world has been highlighted for many of us over the past few years. Although countries and regions may have different governments, values, and characteristics, we all have the same basic human needs and share many of the same challenges.
For me, this was on full view during my international travels representing ALA last year. When other library workers and I attended the International Federation of Library Associations and Institutions' World Library and Information Congress (IFLA WLIC) in Dublin, Ireland, in July, we heard from Mary Robinson, the first female president of Ireland who now works as a climate activist. She outlined the following five injustices of climate change during her IFLA WLIC talk:
Racial. Climate change disproportionately affects communities of color.
Gender. Women disproportionately bear the extra burden.
Intergenerational. The effects of climate change are inherited by the young.
Development. Pathways to becoming "developed" countries are often built on fossil fuels.
Nature. Climate change erodes biodiversity and increases the chance of extinction on our planet.
Setting the stage for a global conference within the context of climate injustice and its realities emphasized not only the moral imperative we have in tackling climate change but also a practical one. If we don't change our course and engage in collective action, we will not have a world in which to live freely. It would be a world devoid of libraries and library workers.
Although many of our international colleagues are halfway around the world, the issues we face are the same.
The topic of our interconnectedness came up again when I keynoted the Sharjah International Library Conference and Book Fair in the United Arab Emirates in November. There, I heard ­presentations and saw posters on the importance of fighting misinformation around the pandemic and COVID-19 vaccinations, promoting literacy among middle schoolers in a hybrid school environment, and recruiting new voices into the library field, all topics I have heard addressed at recent ALA and chapter conferences.
Late last year, when I traveled to Mexico to attend the Guadalajara International Book Fair—the largest book fair in the Americas—the enthusiasm for representation and voices across Spanish-speaking countries and communities was incomparable. The connections made by librarians from the US, many sponsored by ALA to attend the event, were ones that will cultivate and affect communities far beyond what publishers could imagine. Presses and publishers, both big and small, were able to share stories and journeys from around the world.
It is often easy to forget that we are part of all these communities, regardless of where we live, work, and create. Although many of our international colleagues are halfway around the world, the issues we face are the same. Sharing on a global scale lets us know we are not alone and activates us toward collective action.
The measures we take on behalf of our local communities are also felt at the state, national, and international levels. For instance, consider the efforts of ALA's Committee on Sustainability and the International Relations Committee's UN Sustainable Development Goals Subcommittee, both of which help implement this core value through policies, procedures, and practices.
As library workers in the US, we are inspired by and inspiring to library workers and libraries across the world. Our professional values and standards set the model for work not just at ALA but also for libraries around the globe.