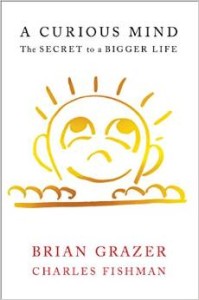 Publisher Simon & Schuster announced it would donate a free ebook copy of Academy Award–winning producer Brian Grazer's new book, A Curious Mind: The Secret to a Bigger Life (coauthored by journalist Charles Fishman), to school and public libraries for every ebook or hardcover book sold at retail, up to 5,000 copies. The book and the promotion launch April 8, and the promotion will continue through National Library Week (April 12–18).
After a series of pilot tests beginning in 2013, Simon & Schuster came fully into the library ebook market in 2014 and now is making a creative initiative to expand its presence.
"From our first conversations with publishers, we have worked to find win-win opportunities for readers, authors, libraries, and publishers—and this is a wonderful way to engage and explore together the 'Unlimited Possibilities' theme of National Library Week," said American Library Association (ALA) President Courtney L. Young. "Library lending promotes literacy, creativity, and innovation—feeding curious minds and driving lifelong reading habits. I am excited to celebrate these shared values and National Library Week with Brian Grazer and Simon & Schuster."
A Curious Mind provides a peek into the weekly "curiosity conversations" that have inspired Grazer to create some of America's favorite, iconic movies and television shows—including 24 and A Beautiful Mind. From scientists to spies, adventurers, and business leaders, Grazer has met with anyone willing to answer his questions for a few hours. The book is an homage to the power of inquisitiveness and the ways in which it deepens and improves us.
"It sounds a lot like a day spent in a library!" said Carolyn Anthony, cochair of the ALA Digital Content Working Group (DCWG) and director of the Skokie (Ill.) Public Library. "Today your library card also unlocks a digital wealth of ebooks, streaming audio and video, magazine and newspaper subscriptions, language learning, and research resources."
"It should be no secret that your digital public, school, or college/university library are open to you online whenever—and wherever—you're curious about something," said Erika Linke, cochair of the DCWG and associate dean of university libraries at Carnegie Mellon University.
Grazer agrees: "People of all ages can expand their world—and possibly change the world—by exploring their curiosity. There's no better place to learn more about anything that interests you than a library."
The ebook will be given away under the standard one-year license from Simon & Schuster. The ebooks will be distributed on a first-come, first-served basis to the first 5,000 libraries that sign up. If fewer than 5,000 libraries register, multiple copies will be made available to the participating libraries. OverDrive will administer the distribution through its site for library clients, which also includes this further commentary from Grazer:
"When I was a kid, my mind would wander. That's why I always loved the library at Riverside Elementary. In the classroom, I had to keep my eyes on the board and follow along, but in the library, I could explore, picking up whatever book caught my eye. Even when I was no longer a daydreaming little boy, I continued to follow my innate curiosity and ultimately became a film producer and, now, an author. In my book, A Curious Mind, I write about how my restless, inquisitive nature led me to produce films about mermaids (Splash), rappers (8 Mile), and space exploration (Apollo 13).
"It thrills me to think that with this ebook donation program, my book might now appear in library collections alongside the classics that inspired my childhood imagination. Libraries are the safe place for dreamers of all ages to learn more about whatever piques their interest. I hope their curiosity leads them to my book, but if instead they discover a book about mermaids, or rappers, or something else that inspires them, then mission accomplished."
Indeed, curiosity is a kissing cousin to the serendipity that library lending enables at every moment—in which one exploration opens the door to another new and unexpected discovery. ALA looks forward to its continuing dialogue with Simon & Schuster and other publishers to evolve the library ebook market in mutually beneficial ways. ALA continues its efforts on improving the terms for ebook lending and accommodations for archiving and preservation, people with disabilities, and privacy, among other issues.
Sponsored by the ALA and libraries across the country each April, National Library Week is a time to celebrate the contributions of our nation's libraries and librarians and to promote library use and support. All types of libraries—school, public, academic, and special—participate. Learn more about one of our nation's most important resources at ilovelibraries.org.