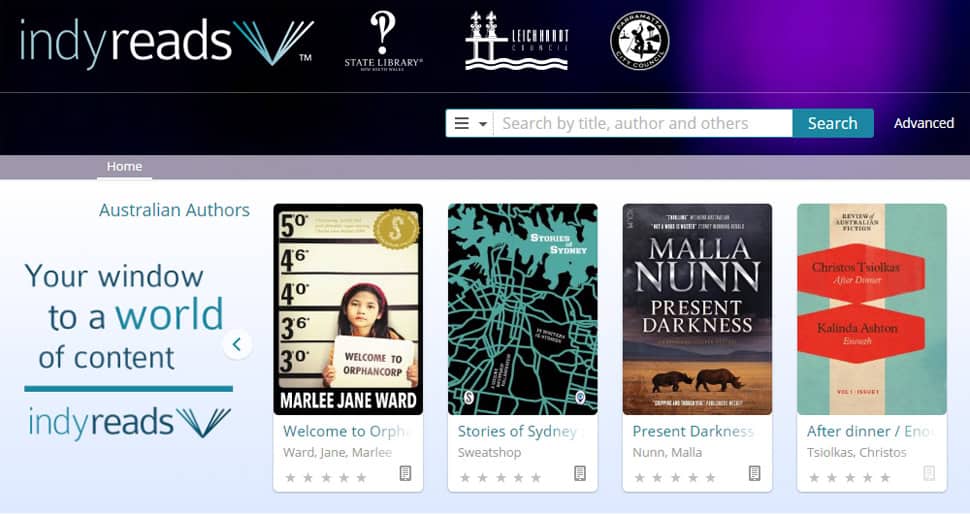 Ross Balharrie, services delivery coordinator for the State Library of New South Wales, informs me that a new e-content management platform is up and running at two public libraries: Indyreads. (Note, too, the secure address.)
Like the United States and Canada, Australia has struggled with ebook prices that are too high, platforms with unpredictable fees, and licenses that are hostile to libraries, users, and authors alike. Inspired by various examples in the US (the Internet Archive, Douglas County [Colo.] Libraries, Califa Group), the good people at New South Wales established their own server in a pilot program at two public libraries, Leichhardt Library and Parramatta City Library. With software provided by Odilo, they began building a unique collection of digital content.
And it is unique. Indyreads' virtual bookshelf topics include:
Australian authors
Australian fiction
local history books from various publishers
national law and citizenship
"indy ideas" (featuring everything from prison letters to studies on pornography)
much more, including children's books and the usual commercial offerings
Indyreads is important for several reasons.
First, it shows that libraries can build and maintain their own platforms, directly negotiating with publishers to secure better prices and terms. That means more content for users. Librarians don't have to passively endure the dictates of the marketplace. We can change the market.
Second, Indyreads demonstrates the power of particular focus and support to literature in one's backyard, the literary equivalent of the locavore movement. In a time of emerging global culture, we look for what is specific to our neighborhood. But because it's a global culture, now those highly specific stories can find wider audiences—a boon for both readers and researchers. The library is discovering, celebrating, and disseminating content in a way that will encourage other libraries to explore emerging voices. This puts libraries at the heart of the revolution, not at the fringe.
Third, it forms a new alliance with writers. While authors have always loved libraries—that's where they fell in love with books, that's where they go to write them, that's where they find readers—a new generation of Australia's independent and self-publishers are discovering in the library a natural ally. When funding gets tight for libraries, it can't hurt to have the most articulate people in the region on your side.
Here's hoping that we'll see more of these varied, lively, regional library experiments.
Updated May 17: Indyreads is currently being tested at two public libraries and has not rolled out statewide at this time.