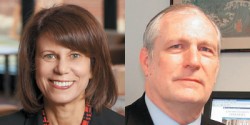 On December 1, Publishers Weekly lauded ALA Digital Content and Libraries Working Group former cochairs Sari Feldman and Bob Wolven in the publication's annual "Publishing People of 2014" recognition for their role in advocating for fair library ebook lending practices.
In 2011–2014, Feldman, ALA president-elect and executive director of the Cuyahoga County (Ohio) Public Library, and Wolven, associate university librarian at Columbia University, led meetings with some of the world's largest book publishers.
In the Publishers Weekly article, Andrew Albanese writes:
Publishers say discussions with ALA leaders and the DCWG have been instrumental in moving their ebook programs forward. And more importantly, direct lines of communication are now established between publishing executives and library leaders—which Feldman says is unprecedented—and those open lines will prove vital as the digital discussion moves beyond questions of basic access to ebooks.
Congratulations, Sari and Bob, for your well-deserved recognition!
JAZZY WRIGHT is the press officer of the ALA Washington Office.