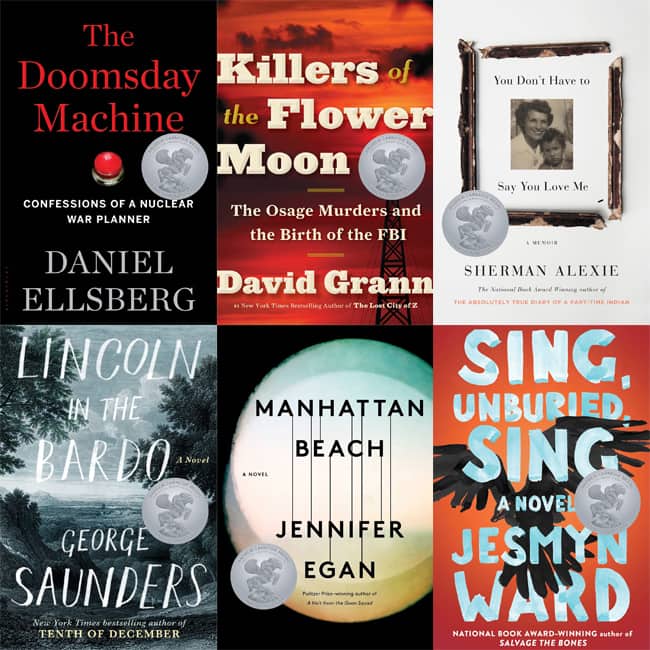 On October 25, the American Library Association (ALA) announced the six books shortlisted for its Andrew Carnegie Medals for Excellence in Fiction and Nonfiction, awarded for the previous year's best books written for adult readers and published in the United States. The two medal winners will be announced February 11, 2018, at the Reference and User Services Association's (RUSA) Book and Media Awards during the ALA Midwinter Meeting & Exhibits in Denver.
The 2018 Andrew Carnegie Medals for Excellence in Fiction and Nonfiction shortlist titles include:
Nonfiction

The Doomsday Machine: Confessions of a Nuclear War Planner, by Daniel Ellsberg (Bloomsbury). In a mix of memoir and exposé, Ellsberg recounts long-hidden facts about the US government's inadequate control of nuclear weapons—an arsenal that endangers all life on Earth—and calls for the dismantling of this Doomsday Machine.
Killers of the Flower Moon: The Osage Murders and the Birth of the FBI, by David Grann (Doubleday). Grann's true-crime history takes readers to early-1920s Oklahoma, where oil was discovered beneath the Osage territory and where members of the Osage Indian Nation were murdered, a riveting story that includes the accruing of power by J. Edgar Hoover and the FBI.
You Don't Have to Say You Love Me: A Memoir, by Sherman Alexie (Little, Brown). Alexie presents a courageous, enlightening, anguished, and funny memoir told in prose and poetry that pays tribute to his Spokane Indian mother and reveals many complex traumas and tragedies of reservation life as well as his own struggles.
Fiction
Lincoln in the Bardo, by George Saunders (Random House). Saunders's boldly imagined, exquisitely sensitive, and sharply funny historical and metaphysical drama pivots on President Lincoln's grief over the death of his young son, Willie, as the cemetery's dead tell their stories in a wild and wily improvisation on the afterlife.
Manhattan Beach, by Jennifer Egan (Scribner). From New York mobsters to the first woman diver at the Brooklyn Naval Station during WWII to the archetypally motley crew of a merchant-marine ship in U-boat–infested waters, Egan's insightful and propulsive saga portrays complex and intriguing individuals navigating the rising tides of war.
Sing, Unburied, Sing, by Jesmyn Ward (Scribner). In telling the story of a Mississippi family—siblings Jojo and Kayla, their troubled mother, Leonie, and their legacy of grief and spiritual gifts—Ward explores unresolved racial tensions and the many ways humans create cruelty and suffering. A novel that is both down-to-earth and magical.
Carnegie Medal winners will each receive $5,000. All the finalists will be honored during a celebratory event at ALA's 2018 Annual Conference in New Orleans.
The awards, established in 2012, serve as a guide to help adults select quality reading material. They are the first single-book awards for adult books given by the American Library Association and reflect the expert judgment and insight of library professionals and booksellers who work closely with adult readers.
The medals are made possible, in part, by a grant from Carnegie Corporation of New York in recognition of Andrew Carnegie's deep belief in the power of books and learning to change the world, and are cosponsored by ALA's Booklist and RUSA.