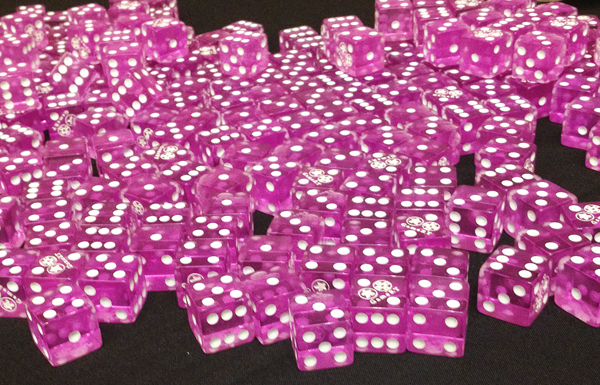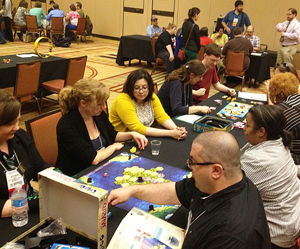 ALAPlay has grown up since it first debuted here in Chicago in 2009. Originally focused solely on gaming, it has evolved to encompass a cross-section of shared interests and culture including: graphic novels, makerspaces, and cos-play. This year's event did not disappoint; it featured librarians and publishers who shared their resources and expertise.
Paizo Publishing came to showcase their upcoming Pathfinder Adventure Card Game, a cooperative deck-building game of leveling adventurers and fighting monsters.
I demoed the upcoming historical game I developed. Also a cooperative game, Freedom: The Underground Railroad casts players as abolitionists working to help bring down the institution of slavery.
Matthew Murray ran a Cthulhu role-playing game set in 1930s Chicago, a decade in which the city hosted both the World's Fair and ALA Annual in the same year (1933).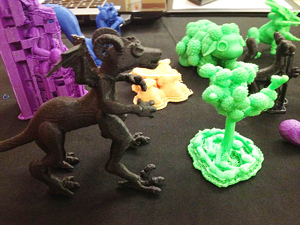 Jeff Ginger demonstrated some great maker technology: 3D game-bits printing, laser cutting, and people-scanning technology.
Scott Nicholson had his hands full manning his face-painting stand as well as running a mini-game design contest in which attendees created and judged tiny games designed around the Games and Gaming Round Table's custom dice, made specifically for the event.
It was one of the best ALAPlay events yet, with strong attendance throughout the evening despite competition with Booklist's YA dystopian literature discussion taking place next door. Take that, sad fictional societies!
BRIAN MAYER is gaming and library technology specialist at the Genesee Valley (N.Y.) Educational Partnership.