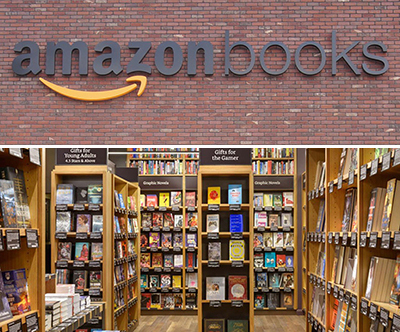 Only for you, gentle reader, would I stand in line outside to get into a bookstore.
Okay, I confess—I was insanely curious. When I got an email confirming the rumors that the new building at the University Village shopping center was, indeed, the first brick-and-mortar Amazon bookstore, I had to go, if for no other reason than to say I was there on Day One (November 3). Plus I don't get to do much original reportage here, so what the heck.
The U Village, an increasingly upscale place (a BMW took over my parking spot), isn't far from my house, so off I trooped mid-afternoon to see what there was to see. There it sits, where the sushi place used to be, just up from Banana Republic and across from Tommy Bahama and the newish dumpling place.
I did indeed have to wait, though for only a minute or so, which I think was a fire-code thing. In typical Amazon fashion, the place was all secrecy, unlabeled, with brown paper on the windows until the night before (when the impending opening was covered on the local news).
Then overnight, signs go up, paper comes down, and … drumroll … it looks like … a bookstore. More or less. High shelves, all the categories you'd expect, including some classics, award winners, series, local interest, even magazines. Picks from Goodreads. Also a shelf labeled "If Robots Ruled the World." (Don't say you weren't warned.)
All the books are face-out, with customer reviews and occasional five-star ratings on labels. No price tags, though each shelf label has a barcode that you can scan with the handy Amazon app or at price-check stations. There's a kids' area, with a rather bland mural high up on the wall, and a couple of chairs.
In the middle of the store is an area dedicated to showing devices like the Fire, demoing services, and so on, along with an area helpfully labeled "Amazon Answers." Think Apple Genius Bar without the nightclub vibe. The décor, in fact, incorporates actual bricks and mortar, which is either just a reasonable design choice or a knowing wink at the whole enterprise. A small sign in the corner tells the interested that the music is streaming from Amazon's Prime service. There is also, no kidding, a small suggestion box.
So it's a bookstore. There used to be a huge Barnes & Noble at the U Village, which closed a couple of years ago under somewhat murky circumstances, replaced by a schmancy furniture store, among other things.
It's a nice bookstore, not overdone at all; it was busy, as you'd imagine on the opening day, and people were in fact buying things, as I could tell by the stream of people carrying Amazon shopping bags (!) as I approached.
Whatever this thing is, it certainly bears watching.
However, the space isn't sterile, but it's not cozy either. The shelves are pretty close together, making navigation a bit tricky, and the only space to sit is along one wall, a padded bench up an oddly intrusive concrete step. People sat there, though it wasn't exactly inviting. It's not the sort of place you can imagine lingering in. No coffee shop, though there are four—count them, four—Starbucks in the U Village, including two within sight, so caffeination isn't an issue. The staffers, diverse and numerous, were also quite restrained. I wandered around for at least 15 minutes and nobody said boo to me, though many were engaged in talking with customers.
I don't know what I was expecting exactly. It somehow managed to be subtle, which one doesn't generally associate with Amazon. One particular issue, from a book-lover perspective, was the face-out deal. That exposes the books, makes them easier to see, but also means that fewer books are stocked. I counted four by Terry Pratchett, and only the first Discworld, in paperback. So it seems meant to encourage browsing, but only up to a point—though no doubt the point is to encourage you to continue your browsing on the website.
The question, of course, is why? We all know that Amazon was, and is, only incidentally a bookstore. Its major competition is Walmart, not B&N. Building a physical store is rife with irony and open to all sorts of cheap shots, but living in its shadow means we know they should never be taken lightly. Toe in the water? Whose water? Whatever this thing is, it certainly bears watching.
A few days after my visit, I found myself in a small public library, not much bigger than the Amazon store, up in Blaine, Washington, within blocks of the Peace Arch and the Canadian border. I was mostly passing through and ducked in to snarf up some free Wi-Fi for a few minutes. It looks like any number of other small public libraries (though I loved what seemed to be a repurposed restaurant booth as the "teen area") and yet it felt way more welcoming, genuine, and frankly interesting than the store. The Amazonians might learn a thing or three there.
As I was getting ready to leave the Amazon store, I was trying to think what was missing, and I chuckled to myself that there was no "staff favorites" shelf. Wouldn't that be funny? Naturally, I then ran smack into it near the door. Lo and behold, whose five choices grace the top shelf but Mr. Amazon himself, Jeff Bezos. His favorite book of all time is there (Remains of the Day), so it says, along with The 5 Love Languages and a couple of others. The choices have to be genuinely his; no PR person in his or her right mind would choose The Gift of Fear for him. We can all have a field day with the insights to be gained there … but that's another story.
Updated Nov. 12, 2015.