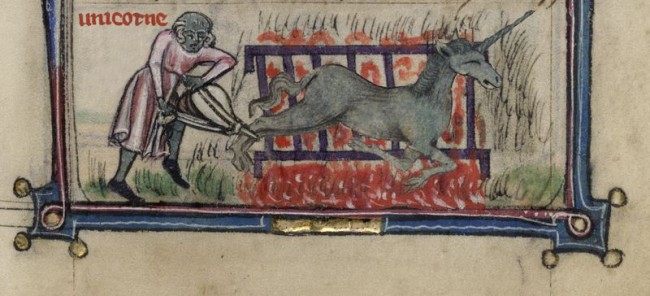 April Fools' pranks and librarians have a strong tradition. Here are some of our favorite hoaxes from the LIS world this year:
Grilled Unicorn: Professor Brian Trump of the British Library's British Medieval Cookbook Project reported a near-miraculous find of a long-lost 14th-century cookbook with recipes for hedgehog, blackbird, and unicorn. (If you've got a hungry family full of picky eaters, the book suggests marinating unicorn in cloves and garlic before roasting. Absolutely delicious.)
No More Midwinter Desserts: The Scholarly Kitchen broke the sad news that Elsevier would no longer sponsor the Elsevier Dessert Reception at Midwinter. Librarians were shocked and dismayed, with one anonymous source commenting, "For weeks before Midwinter, I dream of dipping ripe red strawberries into their chocolate fountain…. Please come back, Elsevier. Please, please, please?!" Even more interrobang-worthy: ALA is negotiating with Elsevier to save the event in time for 2013, but if not, Starbucks has submitted a proposal to take it over—with a $45 admission charge.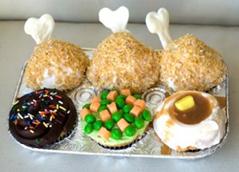 Foolish Cupcakes: Even more food-related joking, although this one is less prank and more mirth, both Brookfield (Conn.) Library and Sewickley (Pa.) Public Library hosted April Fools' cupcake decorating programs for teens. Fortunately, both programs made cupcakes that looked like mashed potatoes, popcorn, or peas and carrots, rather than tasted like them. (Although meatloaf cupcakes aren't nearly as bad as you might expect, however bad that may be.)
It's Alive: Shelf Awareness reported on how Amazon.com achieved consciousness. The mainframe first ousted Jeff Bezos as CEO before launching its campaign for president of the United States, developing affiliate programs that would allow it to run on both major parties' tickets.
Fake History: Sacramento (Calif.) Public Library hosted a lecture on local history by the Royal Sacramento Lyceum and Hall of Antiquities, Curiosities, Rare Tomes, and Manuscripts. All subjects were guaranteed to contain wild fabrications, so guests were encouraged to bring "friends of a trusting disposition."
Google Really Advanced Search: Google searches fall short in a lot of ways, and this is an admirable effort to correct that. You can narrow your results by font, textured background, grammatical error, or rhyming slang. One unfortunate omission, however: It fails to allow the user to search for books by their color. That would make Google a truly useful tool.
Copyright Demands: Finally, may we humbly point you to our own copyright law–related offering?
What were your favorite April Fools' jokes this year? Share in the comments.