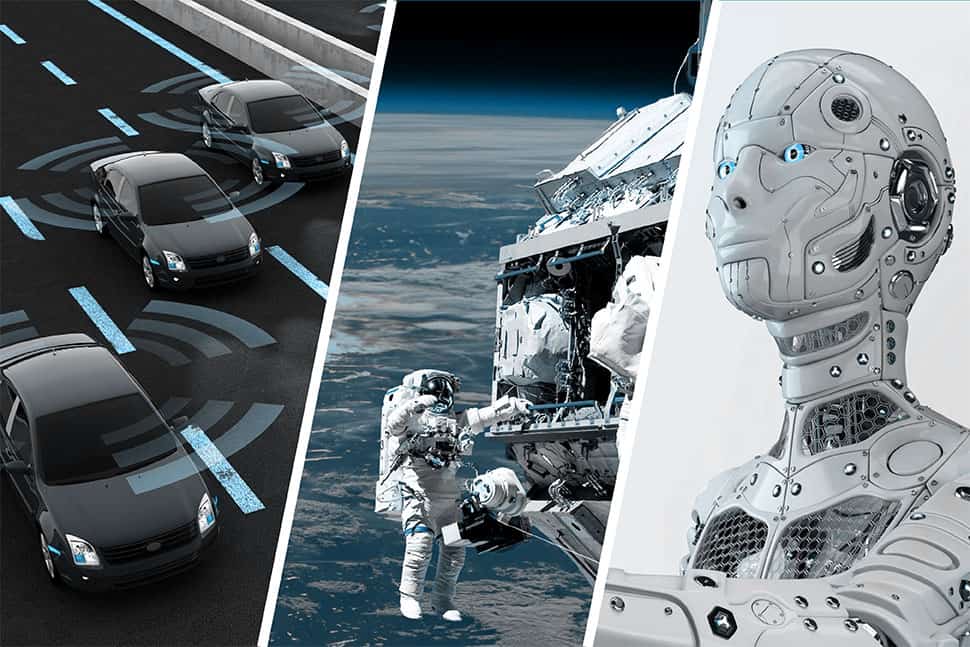 Today's library professionals cover a lot of ground—STEM education, workforce development, interdisciplinary research, play, community connection, and more—bringing together a world of information and learning for users. Keeping track of our future means taking a broad look at changes across sectors and industries.
The American Library Association's Center for the Future of Libraries' work around futuring and foresight has helped reinforce the importance of looking outside our immediate context to help better understand and prepare for our futures. Two recent AtlanticLIVE events showed promising glimpses into the future: What's Next and the Future of Work Summit.
Interconnectedness was a central theme at What's Next, held October 4–5 in Chicago and presented with Boeing as part of its centennial celebration. A quick series of presentations introduced an array of topics—space exploration, human genome sequencing, play, higher education, artificial intelligence, self-driving cars—to map the next waves of innovation and exploration. Dava Newman, deputy administrator for NASA, started her presentation with an undeniable enthusiasm for exploring Mars. But Newman's hopes for Mars are contingent on a next generation of NASA team members, especially young women, who will bring together science, technology, engineering, math, and the arts to make the next great leap into space.
Jean-Lou Chameau, president of King Abdullah University of Science and Technology (KAUST) in Thuwal, Saudi Arabia, helped illustrate the globalization of innovation. A French civil engineer, Chameau held leadership positions at Georgia Institute of Technology and California Institute of Technology before becoming president of KAUST. Founded in 2009, KAUST has quickly become one of the top-ranked universities in the world. Chameau sees its success rooted in faculty and students' broad focus on the world's future needs rather than the defined limits of individual disciplines.
Two of the most interesting presentations featured entrepreneurs who have approached their sectors with an eye toward the more complicated intersections of technology. Carol Reiley, president of Drive.ai, was one of several speakers to focus on autonomous vehicles and artificial intelligence, but her insights revealed the true innovations of these technologies. While human drivers rely on an established set of visual cues and gestures to let other drivers and pedestrians feel safe and noticed, driverless cars will have to build that trust through design. This means that along with people who have backgrounds in technology and engineering, driverless cars will need experts in design, psychology, communication, and other fields before they are ready for the road.
Jessica O. Matthews grew Uncharted Play out of a class project at Harvard, envisioning a future where play could be directly tied to young people's understanding of science and technology and be a tool to address social issues globally. Matthews's toys include a jump rope and soccer ball that generate power through play. Play translates into greater understanding of science, technology, engineering, and math and inspires future innovators to design deceptively simple technologies that people around the world can use. Bridging education, design, and social enterprise, Uncharted Play has gained the attention of investors who see a promising future for these globally focused, educational toys.
Disrupting the future of work
At the Future of Work Summit on October 26 in Chicago, disruption was front and center. Artificial intelligence, the sharing and gig economy, and coworking have the potential to radically change our traditional notion of a school-to-work-to-career trajectory.
Michael Chui, a partner at McKinsey Global Institute, addressed one of the most persistent and troubling visions of the future—robots. Chui presented a cautious view. As much as 45% of professions could be automated, but adoption rates for that automation could take decades, tackling some tasks quickly but spreading broadly over time. As expected, physical and repetitive tasks that take place in predictable environments are most likely to be automated. But that automation could free professionals to take on more important tasks, such as in journalism, where computers are increasingly used to gather facts and data for stories while reporters would be freed to focus on investigative and long-form journalism or commentary and analysis.
In another session, a panel of experts looked at the many sides of the gig economy. Arun Sundararajan, professor at New York University's Stern School of Business, had the audience consider these changes as "crowd-based capitalism," where the world's economic activity is moving toward a decentralized crowd of people whose personal and professional roles blur as casual behaviors like driving become sources of income. Sara Horowitz, founder and executive director of the Freelancers Union, emphasized the need to reinvest in policy work that can make future models of work palatable. Just as unions and lawmakers had to work together to build our current system of labor—insurance, vacation, medical leave, and retirement—that iterative process will also need to come to the gig economy.
Coworking, and now coliving, start-up WeWork helps entrepreneurs find communities to work with side by side while also compiling resources, such as insurance, invoicing, payment processing, and financing, that owners need to grow a successful business. David Fano, WeWork's chief product officer, talked about how that strategy is now growing beyond a shared space to create a platform of support unbound by geography. As WeWork starts to grow WeLive, it is bringing together the attractive elements of living—fitness centers, lounge spaces, and kitchens—and reducing the friction point of security deposits and other barriers for young people.
The diverse audiences for both of these events included business professionals, educators, nonprofit administrators, and government and policy people all translating the wealth of information to their own sectors. Without directly addressing each individual sector, it was clear audience members were starting to pivot their approaches to maintain relevance in the new futures being illustrated on stage.