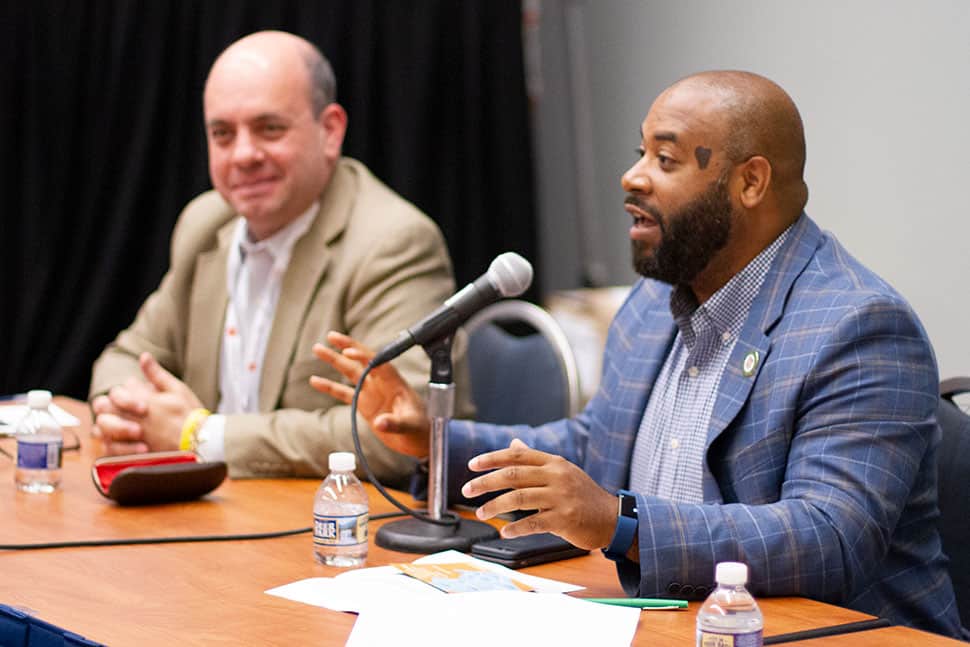 "Who here has the phone number of your town supervisor?"
Koran Saines, Sterling district supervisor for the Loudoun County (Va.) Board of Supervisors, asked the question at the beginning of "A Successful Budgeting Process," a June 23 panel at the American Library Association's 2019 Annual Conference and Exhibition in Washington, D.C., to illustrate a simple but important point: Librarians should be having ongoing conversations with their local officials.
"You need to be open," Saines said. "Talk to your council persons, talk to your town supervisors, and have that dialogue so they'll be able to make those decisions come budget season."
Saines was joined on the panel by fellow county leaders—Chang Liu, director of the Loudoun County Public Library (LCPL); Tim Hemstreet, county administrator; and Mark Miller, chair of LCPL's board of trustees—eager to share with attendees the inner workings of their budget talks, civic collaborations, and professional relationships with one another.
In one example, Saines recalled that Miller had approached him about an idea for eliminating fines on overdue materials at LCPL. At first the idea was met with confusion, because the fees contribute to county revenue. But once Miller explained how the charges adversely and disproportionately affect lower-income people, many of whom live in the Sterling district, Saines championed the proposal to other board supervisors.
"[My constituents] have to make the decision to pay a fine, put food on the table, or put gas in the car," Saines said. "Everybody got the idea, we voted for it, and the measure passed."
Not all decisions, however, benefit the direction and vision of the library. Miller said he is realistic about the roles of Hemstreet and county administration, whose priority in the budgeting process is to review performance measures and maintain existing library service levels before approving new expenses. (According to Hemstreet, of the county's approximate $3.3 billion budget, about $20 million is allocated for LCPL operating expenses.)
"Personally, elected officials are there to say no," quipped Miller. "Anyone can say yes and give out money; it's hard to say no."
Liu sees it a little differently: "I always tell my staff that I'm a fiscal conservative and a conservationist of resources," she said. "Because we've been steadfast about only asking for what [the library] needs, I think we have a very trusting relationship with Tim's office and the board of supervisors."
Beyond the budgeting process, Liu believes it's important to log face-time with local officials. "Process is one thing," she said, "but in terms of spirit, it's about trust and competency. You demonstrate that with numbers and stories."
Miller agreed that the board of supervisors needs to hear about library milestones and accomplishments. He noted that, because of the 35-year age differential among supervisors, some don't know all that modern libraries have to offer patrons.
"Some of them grew up in 'shhh!' libraries, some of them grew up in 'aaah!' libraries," Miller joked, to a laughing room. "If you're 68 and you don't have grandkids, then you might not understand. You need the champions to say, 'Well, this is how it works.'"
Saines corroborated this notion, and pointed to makerspaces and recording studios across LCPL. "Our libraries are very vibrant and active. The two libraries in Sterling are like teen centers; kids are off the streets, with peers and good mentors," he said. "Who's going to say no to extending hours for a teen center? That's how I can help and fight for the library."