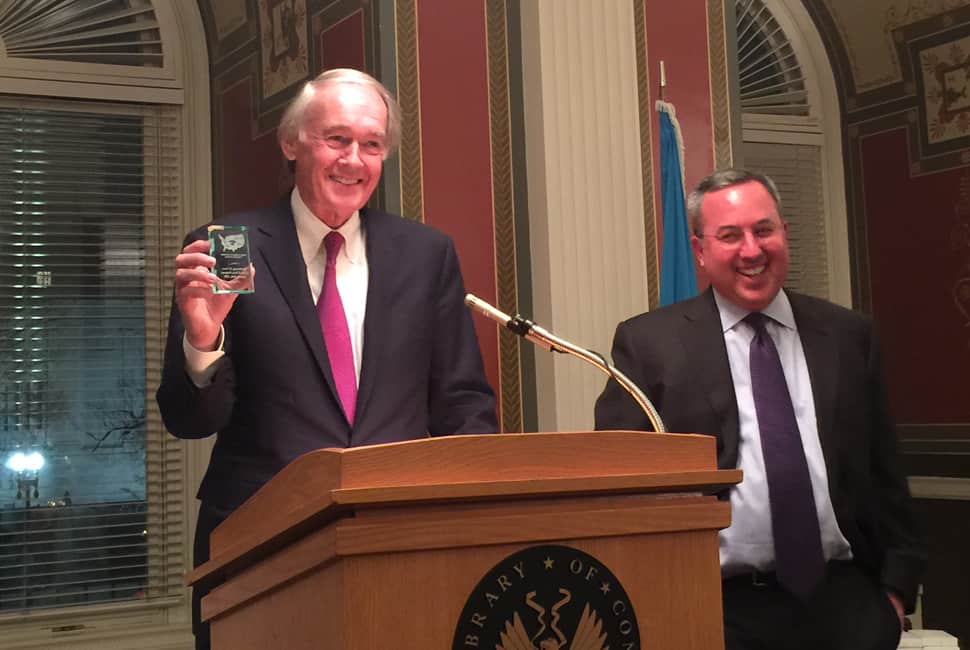 January 24 marked the 20th anniversary of E-Rate, the landmark program that provides affordable internet access to US schools and libraries. That day the National Coalition for Technology in Education and Training (NCTET) and the American Library Association hosted advocates and activists from all corners of education, technology, telecommunications, and libraries for "Twenty Years of Connecting Schools and Libraries: A Celebration of E-Rate."
The event brought retired senator and E-Rate champion John Rockefeller (D-W.Va.) back to Washington for the first time since January 2015. "How could I not be here for this?" he said.
"The start of E-Rate was an amazing effort," Rockefeller said. "It was a day of bipartisanship, and E-Rate was the most bipartisan program ever developed. The glory of libraries … I could go on forever."
In addition to Rockefeller, E-Rate cosponsor Sen. Ed Markey (D-Mass.) and three Federal Communications Commission (FCC) commissioners charged with continuing their legacy—Mignon Clyburn, Jessica Rosenworcel, and Brendan Carr—spoke about E-Rate's past, present, and future.
"E-Rate is a jewel of government action. We were working to democratize access to opportunity," said Markey. "As we move from bricks and mortar to clicks and mortar, we have to continue to do this."
Kentucky State Library's E-Rate expert
Putting a human face on the impact of the E-Rate program, an expert panel shared its perspectives from the field. Lauren Abner, technology consultant and librarian at the Kentucky Department for Libraries and Archives, addressed the many ways in which E-Rate empowers libraries to provide online opportunities for all Americans. She also pointed to the horizon, noting that a need to be connected will only grow in the years to come.
"Libraries now have to think ahead about what people in our communities are going to need going forward, like telehealth and streaming services," Abner said. "E-Rate is absolutely essential to our future."
Abner's remarks support recommendations made in ALA's newest brief, Libraries and E-Rate: Leveraging Broadband to Provide Opportunity Across the Nation, released at the event.
E-Rate history
Since its implementation in 1998, E-Rate has played a key role in ensuring nearly all libraries and public school classrooms gained basic internet connectivity.
"Distance learning, science learning, computer skills—think of all the kids that were mesmerized by their talents and abilities being realized by the magic of E-Rate," said Rockefeller, reflecting on the past 20 years.
E-Rate is part of the federal universal service program, a support mechanism created in 1934 to ensure rural consumers had affordable phone service. The program was cofounded by then-Rep. Markey and now-retired Sens. Rockefeller and Olympia Snowe (R-Maine). Championed by a bipartisan group of lawmakers and authorized under the Telecommunications Act of 1996, E-Rate was designed to provide libraries and schools with deep discounts on broadband, internet access services, and internal Wi-Fi.
To meet growing demand, the FCC increased E-Rate's annual funding cap to $3.9 billion in 2014. E-Rate funds are not appropriated; they are collected—along with other universal service programs—from consumer phone bills.
Praise from FCC commissioners
At the event Clyburn and Carr spoke about the importance of high-speed broadband connections at public libraries and schools to close the digital divide, and Rosenworcel pushed for an increase in efforts.
"Connecting our schools and libraries is not enough," Rosenworcel said. Because preparing the next generation for digital success now requires connections not just at school, but at home. More can be done to address the homework gap. Carriers across the country are pitching in by making available low-cost broadband service. Libraries everywhere from Maine to Missouri are loaning out wireless hotspots. These efforts deserve applause. More importantly, they deserve expansion."
In today's high-speed world, information has become a more valuable commodity, and broadband connectivity is more important than ever before.