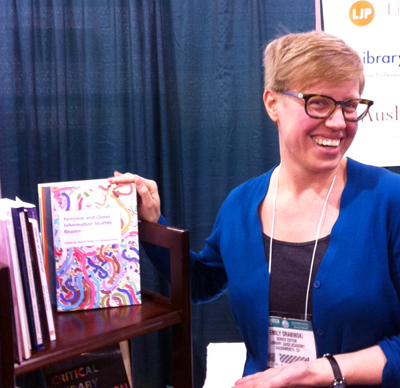 My Midwinter conference really began with lunch at Reading Terminal. It's exciting that the Convention Center is located so close to a plethora of amazing food options. I hope that many impromptu lunch meetings with my colleagues will end up there.
I came back to the Convention Center in time for the exhibits opening. Maybe I'm just more acquainted with the vendors, but I thought that the exhibit hall was much more manageable than some previous conferences. Some of the smaller vendors were strategically placed near a few high-traffic areas like the Book Buzz theater and the What's Cooking Stage.
The meet-up for the previous and current Emerging Leaders class was after the exhibits opening reception. Even though I've never been an Emerging Leader, I always enjoy hearing about the new projects these young professionals are embarking on. I hope that the high spirits of the day continue on throughout the conference; if they do, I will leave inspired and recharged.
LAUREN BRADLEY is systems librarian at the Center for Jewish History in New York.
---
See, hear, and read more about what's going on at Midwinter—in real time and after.
Twitter: @alamw and #alamw14
Facebook: https://www.facebook.com/events/512164432210368
YouTube: youtube.com/user/AmLibraryAssociation
Flickr: flickr.com/groups/2422196@N23
Pinterest: pinterest.com/alamidwinter