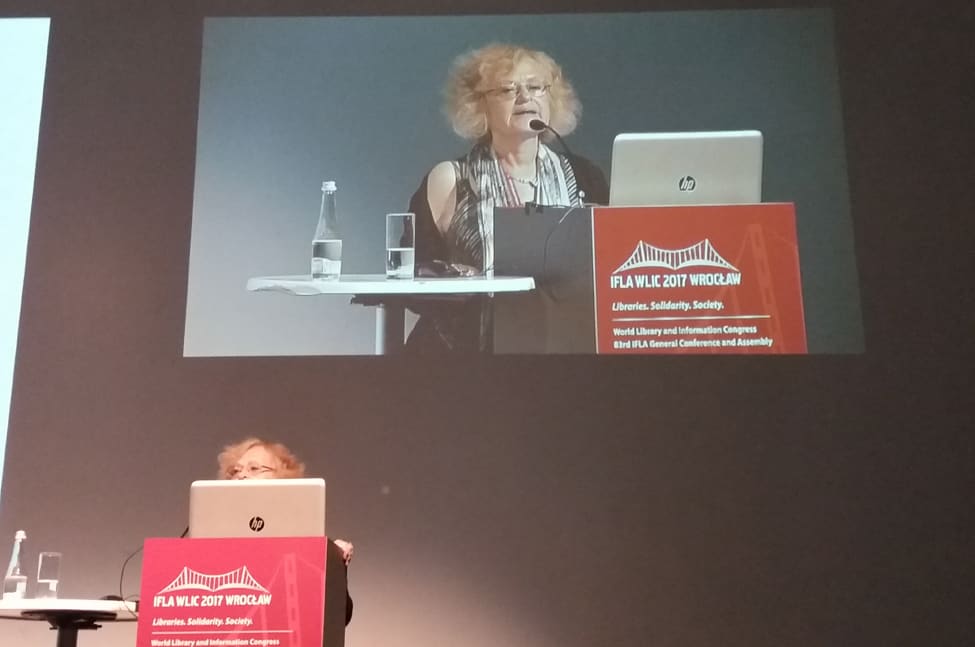 "More Than Green." That was the theme of a community-of-practice session presented by the Environment, Sustainability, and Libraries Special Interest Group at the International Federation of Library Associations and Institutions (IFLA) World Library and Information Congress on August 23. The program explored what it means for public libraries to be sustainable and how their efforts can further the United Nations' 2030 Agenda for Sustainable Development.
In her session "A Few Things Libraries Can Do About Climate Change," Veerle Minner Van Neygen, a Madrid, Spain–based district manager for the Climate Reality Project, warned of the environmental impacts of a warming Earth and highlighted a handful of mitigation efforts that libraries should pursue: reducing the library's carbon footprint, building green collections, conserving energy, and being proactive about educating colleagues and patrons on climate change.
"You would be surprised how many people think [climate change] is caused by totally natural causes," said Van Neygen. Aside from a lack of awareness, she said misinformation and denial are also prevalent. Libraries can turn the tide by hosting programs and events to educate the community. The organization that she volunteers with, Climate Reality Project, offers live presentations free of charge, available in more than 100 countries. Many environmental films, such as Leonardo DiCaprio's Before the Flood, can be screened for free.
"I hope you will be convinced, when you get out of here, to start doing something," said Van Neygen. "I will tell you one thing—there is hope," she said, referring to the technological advancements that have been made in the field of renewable energy.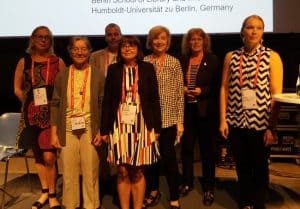 One of the libraries out there "doing something" is the Vaggeryd Public Library in Sweden. The library installed a Green Corner with the purpose of providing information on sustainable development, said Library Manager Lo Claesson.
Vaggeryd is particularly creative in its approach to education. The library has hosted events where children make their own toys from recycled materials, started a campaign to educate patrons about superbugs, planned activities for Earth Hour, suggested alternatives to the waste created by Christmas decorations, and introduced the community to vegetarian and sustainably produced food.
"We don't buy anything extra," says Claesson, who told attendees that the Green Corner is a low time and cost commitment.
Other presenters included Medard Emmy Muhumuza from Busitema University in Uganda, who summed up his colleagues' research regarding the emerging role that LIS professionals are having in combating adverse environmental effects; and Ritva Hyttinen of Turku University of Applied Sciences and Satu Salmela of Seinäjoki University of Applied Sciences (both from Finland), who described a program that uses art-based methods to bring job skills and a sense of inclusion to teens, aligning with the UN 2030 goal of sustainable growth and jobs.
The session closed with the announcement of IFLA's 2017 Green Library Award. First place honors went to the Stadtbibliothek Bad Oldesloe in Germany, for its "Harvest Your City" program, a three-year sustainable library commitment that combines urban gardens with makerspaces and community building efforts.
Science misinformation in media
"Science reporting is very popular," Ewa Bartnik, biologist and researcher at the University of Warsaw, told attendees at her plenary session, "True or False: Science in the Media." But with that popularity comes exaggerated discoveries, stories that overpromise findings, and the confusion between correlation and causation, she said.
Bartnik—who was awarded the Polish Association of Journalists' distinction of "most media-friendly scientist"—gave lighthearted, ripped-from-the-headlines examples of lurid claims and misinformation that even high-profile media outlets like The Economist and Wall Street Journal are guilty of publishing.
"Most scientists use jargon," which accounts for why facts may be lost in translation, Bartnik said. But it is often the media's reliance on what she referred to as the "eating/drinking wine/bacon/chocolate increases/decreases the risk of heart disease/cancer" story that drives sensational misinformation. Journalists' reliance on press conferences, rather than consulting published scientific papers, is also problematic.
What can libraries do, Bartnik asked, in an era where everyone thinks they're a scientist thanks to the "University of Dr. Google"? Direct patrons to credible science blogs and videos, and recommend good, simple books on science for patrons—including children.
"The earlier the better," said Bartnik. "Some [science books] are as good as mystery stories."