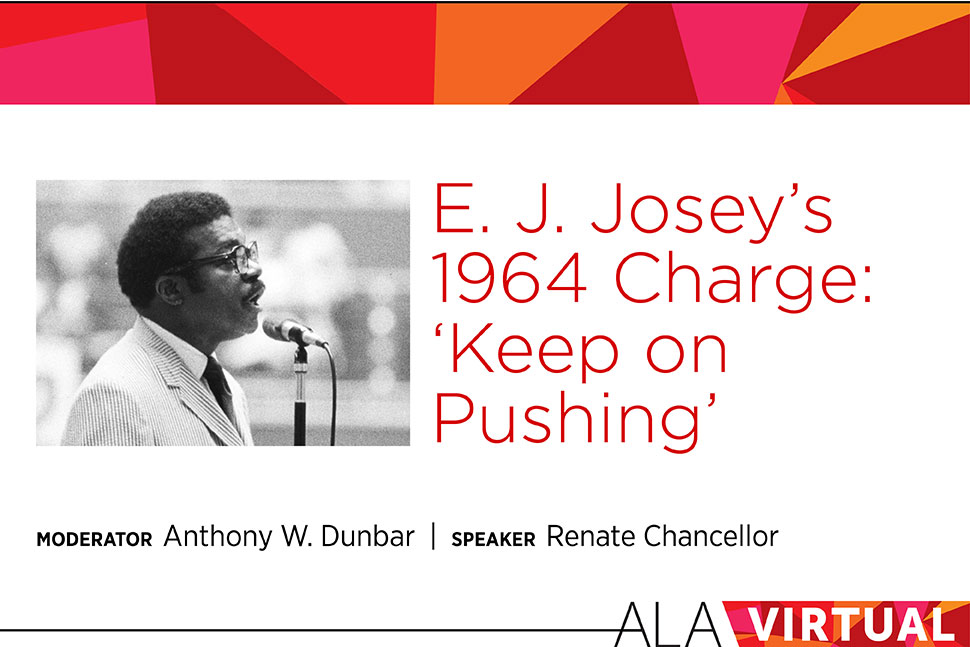 The Black Caucus of the American Library Association (BCALA) honored the legacy of a trailblazing librarian—and celebrated its own 50th anniversary—at a live-streamed event at ALA Virtual June 26.
"E. J. Josey's 1964 Charge: 'Keep on Pushing'" charted the life of E. J. Josey (1924–2009), librarian, educator, author, activist, founding member of BCALA, and 1984–1985 American Library Association (ALA) president.
The session opened with images of Black life from the late 1800s to the present and the American civil rights movement, backed by the Impressions song "Keep on Pushing." The montage paralleled the session's format, which juxtaposed Josey's life and career with events in US and civil rights history.
The session was moderated by Anthony Dunbar, librarian, sociology professor, and equity-diversity-inclusion consultant at Lewis University in Romeoville, Illinois. He began by asking speaker Renate Chancellor—associate professor in the Department of Library and Information Science at Catholic University of America in Washington, D.C., and author of E. J. Josey: Transformational Leader of the Modern Library Profession (Rowman & Littlefield, 2020)—to briefly encapsulate Josey before they moved into the breadth of his work.
"He was a transformative force and leader," Chancellor said. "A lot of younger librarians may not be aware of his contributions to the profession."
Chancellor went on to chart major historical events that affected the world, civil rights, and librarianship. Early highlights included the founding of ALA in 1876; the 1936 ALA conference in Richmond, Virginia, where segregation prevented Black librarians from fully participating, leading the Association to adopt a resolution against holding future conferences in segregated cities; the assassinations of Malcolm X and Martin Luther King, Jr.; and the Voting Rights Act in 1965. These events, along with personal struggles with racism in the library profession, influenced Josey's life and career, Chancellor said.
1964 was a pivotal year for Josey, Black librarians, and civil rights, Chancellor said. At the 1964 ALA Annual Conference in St. Louis, Josey "did something extraordinary" by putting forth a resolution to prevent the Association from working with Southern state library chapters that refused membership to Black librarians. "All hell broke loose," said Chancellor, quoting Josey, but the resolution passed.
"Josey was so passionate about equal rights and equality," Chancellor said, describing how those issues drove much of his life's work, from working with the student chapter of the National Association for the Advancement of Colored People while employed at Savannah (Ga.) State College; cofounding BCALA in 1970; and eventually becoming ALA president in 1983. One of Josey's strengths, Chancellor said, was his ability to see the bigger picture.
"He was able to see beyond the library world and make connections with outside entities to make ALA stronger," she said.
Moving the conversation to the present day, Dunbar drew parallels between the Jim Crow era of 1865–1964 and the current one afflicting the US. "It's Jim Crow on steroids," he said, noting the attacks on Black people by police, the Unite the Right rally in Charlottesville in 2017, and the COVID-19 pandemic disproportionately killing people of color. National leadership is lacking, he said: "E. J. Josey stood out as a transformative leader that we could use right now."
Chancellor agreed, noting that Josey's persistence and boldness would resonate in today's environment. "He didn't care what people said," she said, "because he was convinced of his rightness."