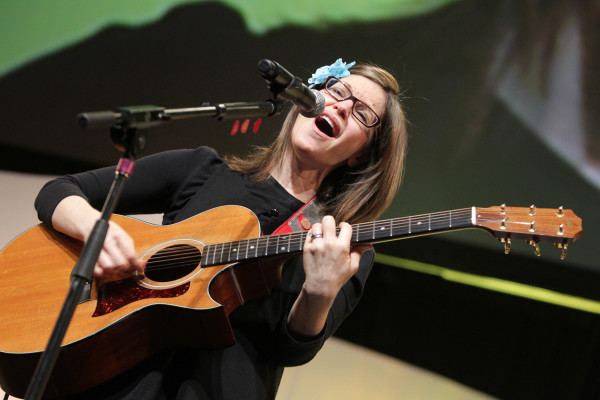 Pop musician and children's recording artist Lisa Loeb entertained nearly 400 people at the Wrap Up/Rev Up Closing Session Monday afternoon at the 2012 American Library Association Midwinter Meeting in Dallas. The Grammy-nominated singer said she had recently returned from another convention, oddly enough in Anaheim (where ALA Annual will be held), for the National Association of Music Merchants. Loeb said that the types of friends she made at that convention included the guitarist for the heavy metal band Def Leppard. "This is a little bit of a different crowd," she joked.
Loeb grew up in Dallas and said that school was important to her and her family. During the summers, her mom would drop off young Lisa and a friend at the library "for fun," she said, and Loeb would spend time reading Encyclopedia Brown books, among other favorites. She also looked back somewhat fondly at a school library "mishap" she had in the 8th grade in which she got in trouble for laughing and cheerleading in the library. (She denies the cheerleading charge.)
The pop star performed nine songs during the course of the closing session, including her popular "Stay" (a Twitter request), "I Do" (an audience request), and several songs from her children's sing-along books such as "The Disappointing Pancake" (from her latest album, Lisa Loeb's Silly Sing-Along: The Disappointing Pancake and Other Zany Songs). She also performed a couple of camp songs (such as "The Bear Went Over the Mountain"), which she said inspired her second album of sing-along music.
Loeb, who is well known for her cat-eyed glasses—which many fans refer to as her "sexy librarian look"—joked that she was "glad to see that there is sexy librarian eyewear in the audience."
She thanked librarians for "doing what you do" to promote the freedom to read and sparking imaginations, especially in life.