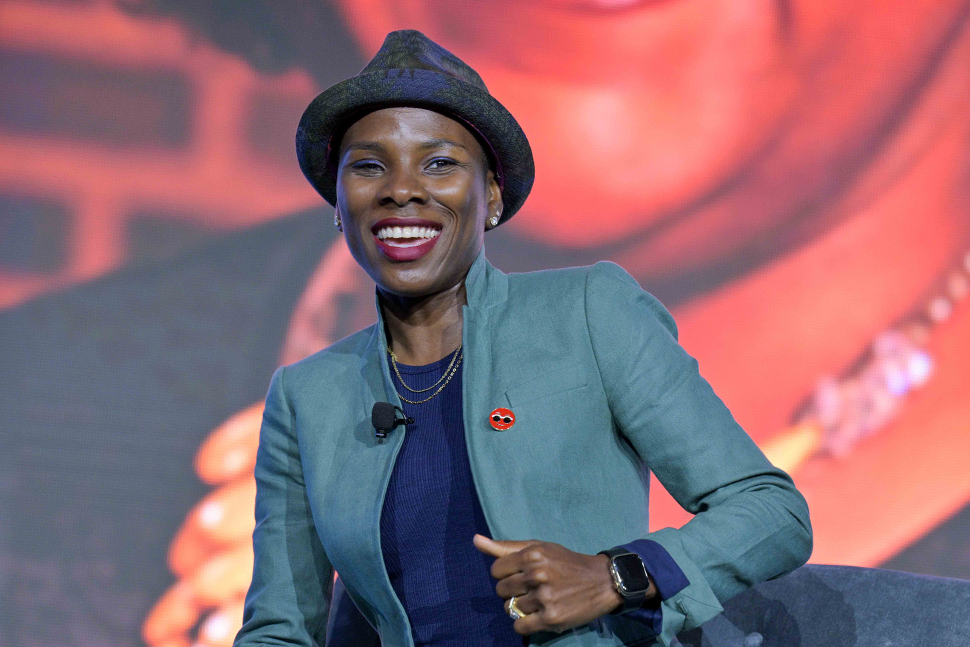 Bestselling author, speaker, and podcast host Luvvie Ajayi Jones knows that the world feels like a dumpster fire right now. And she's got a way to fix it: disruption.
"Disruption of this world is how we're going to get to the place we actually want to get to," Jones told attendees at the June 28 Closing Session of the American Library Association's 2022 Annual Conference and Exhibition in Washington, D.C. "Maybe it wouldn't be a dumpster fire if Batman wasn't the one you had to wait for all the time?"
In her conversation with Nicole A. Cooke, Augusta Baker endowed chair and associate professor at University of South Carolina's School of Information Science in Columbia, Jones urged attendees to make "good trouble"—the kind that civil rights activist and late US Rep. John Lewis advocated for.
"I am a proud, professional troublemaker, and I'm trying to recruit the next generation of troublemakers," said Jones, who talked about her latest book, Rising Troublemaker: A Fear-Fighter Manual for Teens (Philomel Books, May). "Many of us are just learning that our voices are necessary."
Jones explained that speaking up in the face of injustice is not an intuitive skill, and people often don't do it for one of three reasons: They don't believe it's their charge ("not my circus, not my clown"), they are afraid of punishment, or they're always the person who is speaking up ("I'm not going to do it today"). She asked the audience to move beyond those reasons and ask themselves: "Am I leaving my privilege behind and ignoring the power that I'm wielding?"
"If you have that piece of power in that room, use it," Jones said. "Any room that you're in is your business. Anything you're seeing is your business."
She also discussed the difference being nice and being kind. "'Nice' is weaponized, especially against women…. They use it to reduce us, dismiss us, to say that we don't belong in the room for whatever reason," said Jones, who noted that men are never tone-policed for not being nice. Kindness, on the other hand, is action-oriented. "It's thinking about how my decisions affect you," she added.
That kindness should extend to workplaces, Jones said, where Black and Brown people deal with daily biases, dog-whistles, and exclusion. For instance, if someone's tone, expression, or style doesn't match those in power, they are often labeled a bad cultural fit.
"You're literally considering me culturally aggressive," said Jones. "You wonder why you can't retain your Black and Brown employees who are also exhausted from the world each day." Organizations must "kill the fragility" and be responsible for their biases if they expect to keep their employees of color, she said.
Jones concluded her talk on a note of self-care for those accomplices doing the work. "That whole 'put your mask on first' thing? It's real," she said. "Hope exists; build your heart up a little bit."