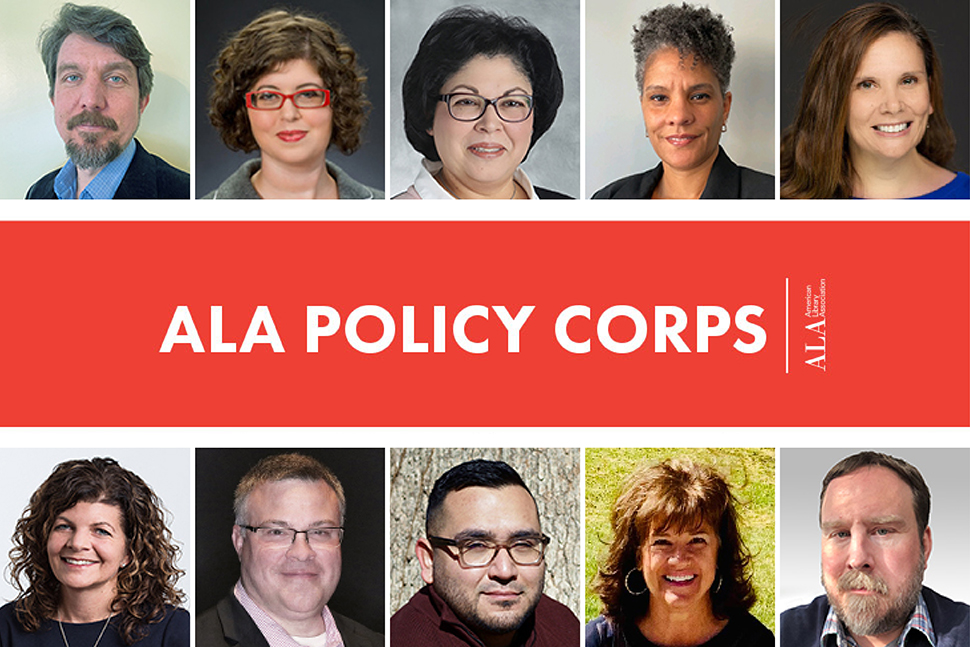 On February 17, the American Library Association (ALA) announced the new members of this year's Policy Corps. Policy Corps members advocate for national public policies that advance the interests of libraries and librarians.
"ALA welcomes our fourth Policy Corps cohort of library professionals dedicated to advocacy," said ALA President Patricia "Patty" M. Wong in a statement. "From continued lack of affordable access to digital content to the unprecedented volume of book challenges, the past year has shown the imperative for library advocates to protect our core values. Thanks to the persistence of library advocates nationwide, we also have more opportunities than ever to address problems such as digital inequity that our communities face."
Wong continued: "Working with policy experts and ALA's vast advocacy network, Policy Corps members will help ensure that our profession rises to the opportunities and challenges in the current environment."
Meet the 10 individuals of this year's Policy Corps class, representing different library types and experiences.
Jensen Adams
Energy and sustainability officer at Kansas City (Mo.) Public Library
Two decades of experience as a sustainability professional with public utilities, government, schools, and libraries have convinced Adams that public policy is a vital part of social and institutional change. He is a charter member of ALA Council's Committee on Sustainability and an appointed official with the Kansas City Environmental Management Commission. Adams is keen to leverage the Policy Corps to elevate libraries in the national strategy for climate change preparedness, education, and resilience.
---
Audrey Barbakoff
CEO of Co/Lab Capacity in Bainbridge Island, Washington
Barbakoff is passionate about community. She brings more than a decade of public library leadership and a doctoral degree in organizational change and leadership to her consulting practice, Co/Lab Capacity. Through her company, Barbakoff helps libraries develop their ability to center their communities for greater equity in planning, programs, and services. With the Corps, she is excited to deepen her engagement with policy issues and help all communities thrive through libraries.
---
Becky Calzada
District library coordinator at Leander (Tex.) Independent School District
A lifelong Texas educator, Calzada serves as director-at-large for the American Association of School Librarians, is a past chair for the Texas Association of School Librarians, and has served on the Texas Library Association Legislative Committee for the past seven years. In those roles, she has leveraged opportunities to advocate on behalf of school librarians at the local and state level. She hopes her time in the Policy Corps will help her to hone these advocacy skills and offer ways to learn from other library leaders.
---
Tiffeni Fontno
Head librarian at Boston College's Educational Resource Center in Chestnut Hill, Massachusetts
Fontno has been a classroom teacher and a school librarian. She recently served as chair of ALA's Committee on Literacy and as a member of the board of directors for Digital Commonwealth. Fontno cares about equitable literacy development practices and access to information for marginalized communities. While in the Corps, she looks forward to learning how to advocate for libraries as a bridge to learning for patrons by strategically navigating local, state, and national government institutions.
---
Ursula Gorham

Senior lecturer and director of the MLIS program at University of Maryland in College Park
Over the past decade, Gorham has been conducting research that sits at the intersection of library science and public policy, touching on issues ranging from digital inclusion to the role of libraries in promoting access to justice. She brings her dedication to information literacy to every class she teaches and, through the Policy Corps, hopes to translate this dedication into effective advocacy at local, state, and federal levels.
---
Christy James
District library and media services coordinator at Charleston County (S.C.) School District
James has 25 years of experience as a librarian and teacher and serves as Charleston County School District's library and media services coordinator. An active member of the South Carolina Association of School Librarians, she is passionate about equity and access. James is excited to connect the advocacy efforts of school librarians with other library professionals to better serve communities.
---
Tim Miller
Executive director of Western Plains Library System in Clinton, Oklahoma
Miller is the president-elect of the Oklahoma Library Association and a longtime advocate for rural and small libraries. He looks forward to broadening his advocacy skills toolkit during his time in the Policy Corps.
---
Miguel Ruiz
Librarian supervisor at Arlington (Va.) Public Library
Ruiz's professional expertise is in community engagement, public library advocacy, and equity. His partnerships with nonprofit, government, and private sector institutions make him an enthusiastic voice for articulating the value of libraries in communities. He hopes the Policy Corps will provide skills and strategies for library advocacy as it relates to funding and addressing critical policy issues.
---
Tammy Westergard
Project SANDI coordinator for the Nevada Governor's Office of Economic Development
As the project coordinator for Supporting and Advancing Nevada's Dislocated Individuals (Project SANDI) through the Governor's Office of Economic Development, Westergard's multiyear charter includes additional integration of 3D and virtual reality content to advance labor market literacy. Prior to this, she served the Nevada State Library as a librarian, division administrator for archives and public records, and deputy state librarian. Westergard is keen to improve her skills and gain a wider perspective from Policy Corps peers and ALA leadership about pressing issues and the work ahead.
---
Bradley Wiles
Head of special collections and archives at Northern Illinois University in DeKalb
Wiles has worked in academic, public, and corporate library and archives settings for 15 years and believes that institutions play a crucial role in building social capital and encouraging civic participation. His primary advocacy and policy interests are education, informed voting, workforce needs, information security, cultural development, and digital citizenship. He believes that library advocacy is most effective at the local level and hopes to bring his community-based experience to the Policy Corps.
---
Launched in October 2017 by then–ALA President Jim Neal as an extension of the Libraries Transform campaign, the Policy Corps is designed to build on other ALA professional development programs. The initiative is guided by an advisory group of ALA members and staff and cochaired by Neal.
In addition to cultivating issue expertise, the cohort will receive training in other skills—such as public speaking and media engagement—to be effective advocates. Corps members will begin their orientation and training via virtual sessions and come together for the first time at a workshop in Washington, D.C., this spring.