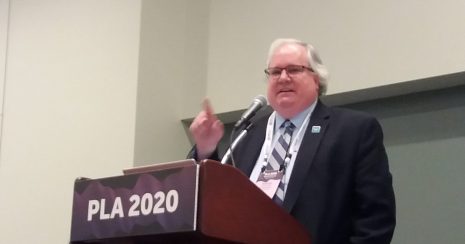 Starting March 12, the US Census Bureau will begin mailing reminders to residents to take part in the decennial count that determines the allocation of congressional representatives, the reapportionment of political districts, and up to $1.5 billion in federal funding to states and localities.
"It's a critical civic effort, it affects everything political and economic in communities," said Larra Clark, deputy director of the Public Library Association (PLA), at "2020 Census Countdown: What You Need to Know," a February 28 program at the PLA 2020 Conference in Nashville.
"The census doesn't happen in the quarters of Washington—it happens here," added Burton Reist, assistant director for communications at the US Census Bureau, motioning to the librarians and library workers in the room.
Reist and Clark, who recently presented on the topic at the American Library Association's Midwinter Meeting & Exhibits, joined fellow panelists to address the importance of filling out the form and how libraries can support complete counts now that the form has gone online.
"We are a trusted voice in our community," said Bernadette Calderón Hugan, statistical analyst for Nashville Public Library (NPL). "As such, libraries can educate citizens about the importance of a complete count."
NPL is promoting and preparing for the census in variety of ways, including designated computer terminals at its 21 locations, taking iPads and mobile hotspots out into the community, and filming an in-house puppet-show PSA.
Hugan recommends that libraries train staff on 2020 Census best practices, seek out their local Complete Count Committees, and prepare for an increase in public computer usage. "Twenty-four million Americans do not have high-speed broadband access at home," she stated.
Frequently asked questions
In an effort to convey the best information, panelists opened up the program to a vigorous Q&A. Some questions that were addressed:
When does internet self-response start?
The form will be available online starting March 12 (when reminders begin mailing).
Who gets included on the form?
"Include everyone under the roof—it's the most important message we can get out there," said Reist. Children under 5 years of age are especially undercounted, he shared.
Does a person need an address to fill out a census form?
No. There is an "I do not have a street address" option listed on the form for people experiencing homelessness or people who may have a rural address, said Reist.
I live in an area with a large percentage of snowbirds. What address should they use?
If the person splits their time equally, it should be where they live and sleep on April 1. "If you spend more of the time somewhere, answer it that way," said Reist.
How would you encourage someone who doesn't trust the government or library to fill out the form?
Hugan suggested turning to faith-based organizations or religious leaders who may be on your locality's Complete Count Committee as a way to reach different types of people.
Will people in ICE detention centers be counted?
Yes. Reist said detainees will be counted in the Census Bureau's group-quarters operation.
How do you convince a person who doesn't care about the form?
Fabian Bedne, neighborhood development planner at the Nashville Mayor's Office, suggested connecting the dollars to the services that person uses. "They understand funding for police, getting streets fixed, good schools," he said. "Every person that gets counted … translates to better services."
Are census resources available for libraries?
Reist and Clark recommended ALA's Libraries' Guide to the 2020 Census and the upcoming American Libraries Live webinar "Libraries and the Census" on March 4.