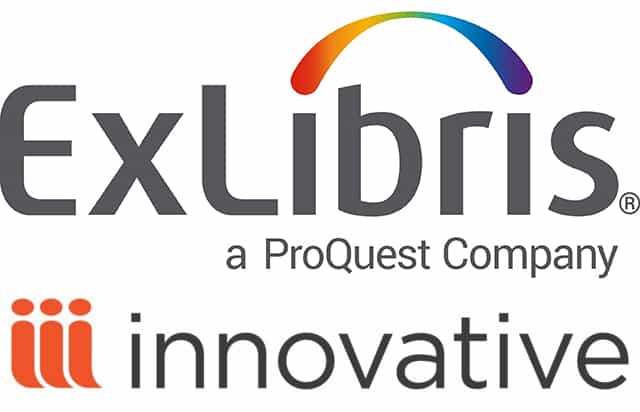 In a move that further consolidates the library technology industry, Ex Libris announced on December 5 that it has entered into a definitive agreement to acquire Innovative Interfaces from its private equity investors.
Since December 2015, Ex Libris has been owned by ProQuest. In addition to its role as a major content provider to libraries, ProQuest is now responsible for a growing portfolio of library technology products, including major systems for resource management, content discovery, materials acquisition, reading list integration, and research services. While ProQuest faces major competition for each of its product categories, this move substantially strengthens its position in the sector and broadens its scope to include public libraries.
Ex Libris is a wholly owned business of ProQuest, which is in turn owned by Cambridge Information Group (CIG) and Atairos. The acquisition of Innovative comes on the heels of Atairos' new major investment in ProQuest. With the infusion of new capital, it is also not surprising to see the company expand through acquisitions and product developments.
Details of the acquisition
The transaction is expected to close in early 2020. Until that time, the two companies will continue to operate independently. Financial details of the acquisition were not disclosed publicly.
Following the acquisition, Innovative will become a wholly owned business unit of Ex Libris and will report through its president, Bar Veinstein. No public announcements have been made regarding changes in Innovative's current executive management.
Product strategy
ProQuest executives stress that this move will not disrupt the libraries using Innovative's products, which will continue to see the same levels of support and development as they had prior to the acquisition. Ex Libris has a reliable record with continuing products gained via business acquisitions. Voyager, for example, was acquired by Ex Libris in 2006 and has seen ongoing development and support ever since. Major institutions, including the Library of Congress, continue to use Voyager.
Innovative ranks as one of the major library technology companies, similar in size and impact to SirsiDynix, though smaller than top-level companies such as ProQuest, EBSCO, Follett, and Gale. Innovative is about half the size of OCLC in terms of annual revenue ($218 million in FY18). Innovative's products have been deployed in all types of libraries, especially academic, public, law, and medical libraries. The company is active in almost all global regions, though most its revenue comes from US libraries.
The company has a broad suite of products, including:
Sierra, the latest iteration of the integrated library system (ILS) internally developed by Innovative
Millennium, a predecessor of Sierra
Polaris, an ILS designed specifically for public libraries
Virtua, an ILS gained through the acquisition of VTLS. Innovative no longer actively develops or markets Virtua, and its implementations are rapidly diminishing.
Inspire Discovery, the initial product developed on Innovative's next-generation technology platform
Encore, a discovery interface, which has been widely implemented by many libraries using Sierra
Encore Duet, which expands the scope of search to also include articles, book chapters, and other content via the EBSCO Discovery Service index
SkyRiver bibliographic service, which was launched as a competitor to OCLC's cataloging service
Innovative's position in the academic market has been slipping in recent years, due primarily to the availability of Ex Libris's Alma and OCLC's WorldShare, both developed specifically for academic and research libraries.
Although Innovative's customer base spans all types of libraries, its position with public libraries makes its acquisition by Ex Libris especially notable. Nearly 64% of libraries using Sierra and almost all those using Polaris are public libraries, so this acquisition gives Ex Libris a strong entry into the public library sector.
With a stable of aging products with aging technical architectures, Innovative recently developed a next-generation technology platform, branded as Inspire, to support a suite of new product offerings. The initial component is Inspire Discovery. Given the nascent state of Inspire and mature and modern platforms already within the Ex Libris portfolio, it will be interesting to observe whether its development will continue under the new ownership arrangement.
Ex Libris has consistently followed a business strategy focused on development and expansion. The company has passed through multiple ownership arrangements and has leveraged the investments to create or acquire new products and services to fulfill anticipated demand in the library community.
Such a business strategy comes at a high financial cost. The typical private equity playbook prescribes minimizing development and maximizing sales and marketing. Ex Libris, in contrast, has devoted a much higher portion of its operations to product development. This approach may result in lower short-term profitability, but it has apparently worked well for the company's long-term value and its ability to attract new investors. This strategy can also be interpreted as more beneficial to the library community since it has resulted in the development of new offerings rather than extending the life of legacy products.
Impact of the acquisition
When counting active contracts to library organizations, Innovative has a customer base of about 1,846 compared with 4,656 for Ex Libris. These contract counts include those made with consortia, multilibrary systems, and standalone libraries, as reported for the annual American Libraries "Library Systems Report" by Innovative in 2017 and Ex Libris in 2018. Since many of Innovative's contracts are for public libraries, the number of libraries and facilities involved is larger.
That said, this acquisition strengthens Ex Libris's position in the academic library sector. Among the Association for Research Libraries (ARL), for example, Ex Libris currently serves 85 out of the 125 members. Adding Innovative's customers, Ex Libris presence among the ARL members expands to 104. It should be noted that in the global sphere of 20,000 higher educational institutions, its total market share is more modest.
With this acquisition, ProQuest makes its first entry into the public library automation arena, though its content products are well represented in this sector. Ex Libris has previously been exclusively focused on technologies for academic libraries.
Impact of consolidation
Consolidation in the library technology industry has been aggressive in the last couple of decades. But it is important to note that while there has been a narrowing of vendors, the diminishment of products has been remarkably gentle. Legacy products, even when seriously outdated, follow a long trajectory as they are phased out.
The consolidation of vendors in general, and this acquisition in particular, puts an enormous burden of responsibility for product development and support in the hands of a small number of companies. The key questions lie in whether the customer support and business infrastructure of these large companies can scale and provide better service than the incumbent companies and whether their development capacity will result in more capable products.
We can anticipate additional consolidation in the near to mid-term. The age of the standalone ILS company may eventually pass in favor of a business environment where library technology is increasingly offered via companies with diverse portfolios of products and services.
This story is an excerpt from the January 2020 issue of Smart Libraries Newsletter (vol. XL, no. 1), which will be available in early January. For more information, see journals.ala.org/sln.