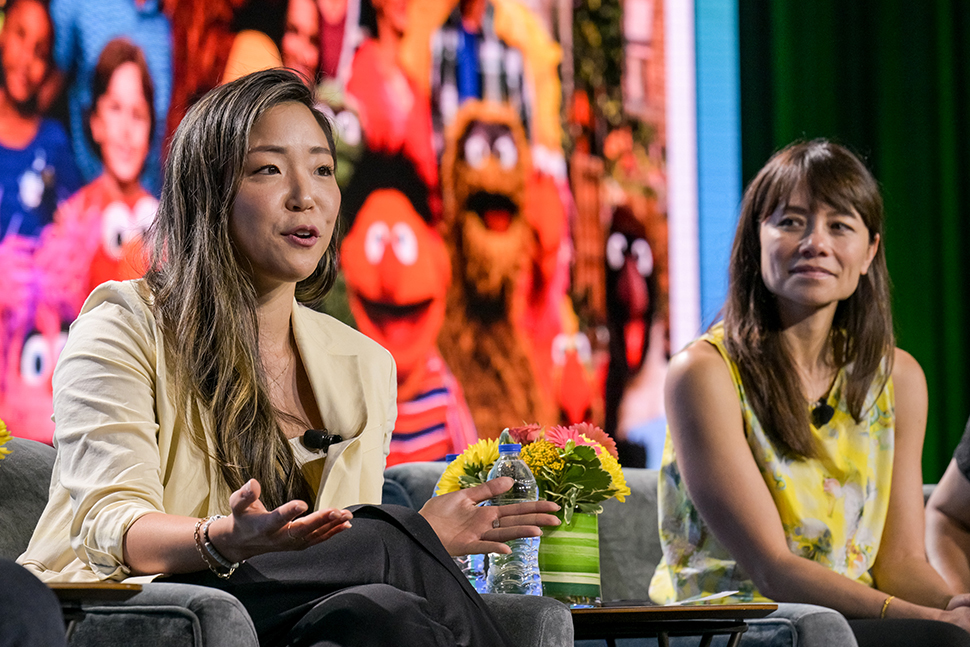 How has the children's publishing industry evolved, in terms of whose story gets told? What role can books play to promote a more diverse and equitable world? And what does the future hold for Asian American creators and their narratives?
American Library Association (ALA) President Patricia "Patty" M. Wong convened a panel of authors, publishers, and literacy advocates to discuss these questions at "Advancing the Asian American Story," a June 26 program at ALA's 2022 Annual Conference and Exhibition in Washington, D.C.
To better understand the strides the publishing industry is making with representation and inclusion, Wong first asked participants about their pasts—including questions about their early memories about food and the first time they saw themselves represented in popular culture.
Christina Soontornvat, award-winning author of more than a dozen books (including the forthcoming graphic novel The Tryout) recalled growing up in Weatherford, Texas. "My family moved there to start the first Asian restaurant in the whole county. We are Thai—but we [had] a Chinese restaurant." Though the chefs made Americanized Chinese food, they sometimes cooked her favorite Thai dish, pad kra pao, consisting of ground meat, garlic, chili peppers, basil, and a fried egg.
For Philip Lee, cocreator and publisher of food literacy imprint Readers to Eaters, nothing beats char siu bao—the steamed bun fits in one's hand and it "always means gathering to me," he said. Lee showed a photo of himself as a grumpy young child—"this is me growing up in Hong Kong when I'm hangry"—before he immigrated to Los Angeles at 14.
Other memories shared were more painful. Children's book author Linda Sue Park, the first Korean American to win the Newbery Medal (in 2002, for A Single Shard), recalled being the only Korean family in a small Illinois town. Kids at school associated her with the racist caricature on the Riceland rice bag and made derogatory comments. She didn't see positive representations of herself, so she gravitated to children's books with Black characters, like Roosevelt Grady by Louisa R. Shotwell. "He wasn't white, and he wasn't Asian, but close enough right now," Linda Sue Park recalled thinking.
Similarly, Jane Park, senior content strategist for Google Kids and Families, couldn't think of a character who reflected who she was as a kid, which was why she gravitated to watching Korean dramas with her aunt on VHS tapes. Figure skater Kristi Yamaguchi was the first person in American media who came close. "Even though she was Japanese American, she was Asian American, and that instilled a sense of pride there," Jane Park said.
Deconstructing the monolith
"While we've come a long way," Wong observed, "we still have a lot of work to do." She noted that though representation of those who are Black, Indigenous, and people of color has improved in children's book publishing, data from the Cooperative Children's Book Center indicates that the majority of children's book characters are still either white people or animals.
"I'm happy to see books that reflect the Asian American experience," Lee said. "This is not a trend; this is a movement." What's next, he said, is for characters to have more nuance. "I want books that reflect kids much more than just racially."
Jane Park agreed and pointed to the diverse characters of Sesame Street as an example: "Differences are celebrated, but sometimes it's not called out. They just happen to live on this street together."
With that nuance must come the idea that groups of people are not monolithic, Linda Sue Park stressed. "Not all Asian is the same. Asian is not a monolith and Koreans are not a monolith." To share some of this cultural breadth, she created a website called kiBooka, which profiles Korean American authors and their children's books.
For the most part, the panel sees an industry that's getting better at highlighting marginalized voices. "My wish for kids is that they don't have to wait to be seen or to read these types of stories," Soontornvat said. "We're entering the golden age—we need more!"
She added: "[There are] people who are threatened by change and offended by it, for whatever reason, and fearful of it, but as authors, we're not going to stop writing our stories. The books are wonderful and people are buying them."