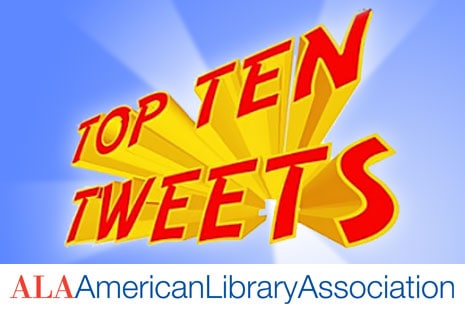 When you see the hotel has prepared for librarians:
https://twitter.com/Madam_Pince/status/962006304255455232
But then you remember…
Conference life is so different from regular life… #alamw18

— Lessa Pelayo-Lozada (@lessalibrarian) February 10, 2018
If it's your first time attending #alamw18, networking is everything!
Standing in a crowd at #alamw18 as a conference newbie like pic.twitter.com/1vDWmOgXMz

— Stephen Ashley (@_stephenashley) February 10, 2018
After introducing yourself, it's time to head to the opening session, which hosted two inspirational speakers.
Listening to Marley Dias is giving me hope for the future. #alamw18

— Danielle Johnson (@dwhren) February 9, 2018
"Take time for yourself always." Patrice Cullors' advice to Marley Dias. (Also good advice to anyone committed to social justice) #alamw18

— Annie Pho (@catladylib) February 9, 2018
Most amazing @ALALibrary event I have ever been to … and I've been to a few! Thanks @OsopePatrisse and @iammarleydias you are both brilliant and fun! #ALAMW18 pic.twitter.com/AqLIbGofpk

— April Mazza (@baconvoodoo) February 10, 2018
After the session, it's time to practice your fast walking to the exhibits. (Also your carrying skills.)
Survived the traditional Running of the Librarians, snagged some amazing ARCs and amazing-er buffalo chicken wontons. An auspicious start to #alamw18

— Cate Merlin (@bibliothecate) February 10, 2018
However, if you skip out on opening night of exhibits, you begin to plan how to pack your second suitcase.
Had a fun first day downtown at @alamw #alamw18 TOMORROW I TAKE ALL THE THINGS FROM THE EXHIBIT HALL. pic.twitter.com/fUA2kDUIVh

— Natalie Romano (@cardiganhunter) February 10, 2018
After exhibits, there are some evening events that continue to inspire.
Wasn't expecting a tear jerker, but it was sincerely moving to hear how much @LanceMW has impacted the lives of those around him in the library community, devoted to public service. Congrats on a well deserved 2018 Librarian of the Year! @LibraryJournal #alamw18 pic.twitter.com/oHVDBHTYDS

— Meghan Davis (@MeghanDavisVT) February 10, 2018
As always, the first day of #alamw18 means a nice long sleep afterwards.
Me rn #alamw18 pic.twitter.com/AxweyccuMs

— Jill Grunenwald (@Jill_Grun) February 10, 2018
P.S. Hot tip for the rest of the weekend: If you're attend a signing, make sure to get in line early or you might end up behind the big blue bear.
The official end of every book-signing line during the conference #alamw18 pic.twitter.com/gxtuND59as

— Galen Charlton (@gmcharlt) February 9, 2018
And #alaleftbehind folks, we'll make sure to bug your colleagues to bring you back ARCs and swag.
Please post freely from #alamw18. Books, food, signage, I won't judge. Thank you. #alaleftbehind

— Andrienne (@deienara) February 10, 2018