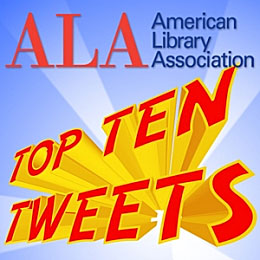 Here are some things to expect during an ALA conference:
First time @alaannual #alaac15! So many cardigans on the corner of 4th and Mission.

— Meg Ocampo (@megocampo) June 27, 2015
I got a ton of free stuff at @alaannual so I would say it has been a success. Oh yeah, and I learned things. #alaac15

— Katherine Hickey (@kathhickey) June 28, 2015
Being at #alaac15 humbles me. What a bunch of smart, caring, and dedicated people! @ALALibrary .@alaannual

— Arlen Kimmelman (@pseudandry) June 27, 2015
@alaannual Great inclusion at #alaac15 #LGBT #SFPride #LoveWins and it's simply not a big deal. Welcome to all! pic.twitter.com/7lOrUpSELr

— Jennifer Kimbley (@jenkimbley) June 27, 2015
I love being part of an organization that does this @ALALibrary #alaac15 pic.twitter.com/oITHY0yO8q

— Stacey Rattner (@staceybethr) June 27, 2015
Saturday had a great assortment of inspirational speakers:
"The truth will set you free, but first it will piss you off." – Gloria Steinem #alaac15 https://t.co/EbowVMEE5C

— Jenny Levine (@shifted) June 27, 2015
@Nick_Offerman @alaannual bringing the funny – dry and sharp pic.twitter.com/g8qInlsxYD

— Authors! Authors! (@AuthorsAuthors) June 27, 2015
Sarah Vowell and @Nick_Offerman at @alaannual #alaac15 Funny stuff! pic.twitter.com/PKXY6V5XCa

— evanstruble (@evanstruble) June 27, 2015
We didn't forget about you, #alaleftbehind!
And have promised a signed copy of @NightValeRadio book to #alaleftbehind colleague. It was a cataloger-cataloger blood oath, thus sacred.

— MARCinaColdClimate (@marccold) June 27, 2015
Feeding on all the #MarriageEquality news, posts & comments helps me take my mind out of being #alaleftbehind

— A / K / L (@AKLlib) June 27, 2015
Keep up with Annual news with #alaac15!