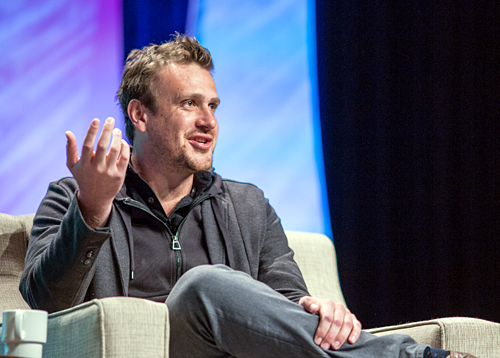 Actor and screenwriter Jason Segel is known for his comedic work on the small and big screen as the star of the long-running television show How I Met Your Mother and cult fave Freaks and Geeks, and hit films Forgetting Sarah Marshall and The Muppets. Another pursuit brought Segel to the 2015 ALA Midwinter Meeting & Exhibits in Chicago: author.
Segel is the co-author with writer Kirsten Miller of Nightmares!, the first entry in a new book series for kids. Nightmares! follows a young boy named Charlie as he battles the witches, goblins, and more that inhabit his nighttime dreamworld. Segel spent much of his very funny Saturday morning talk at Midwinter, part of the ALA Auditorium Speaker Series, discussing the book, its inspiration, and themes—as well as his love of books and horror movies, future projects, and more.
Segel said Nightmares! was adapted from the first script he wrote after the series Freaks and Geeks was cancelled in 2000. Its inspiration runs deeper into his past, however. Segel suffered from night terrors as a child, and in these episodes, he dreamed a witch was trying to eat his toes. Much of the book's action plays out in a nightmare state, but Segel was quick to point out the metaphor: that nightmares are a placeholder for any fear that holds us back. Segel said our fears and being afraid to do scary, unknown things are necessary parts of life. Facing those fears allow us to grow.
"This book is about how nightmares are really the gatekeepers to our dreams," he said. "You have to walk through your fears. When I pursue something that I'm no good at, I do better. You have to go through this period where you suck. It's ok to be afraid. It's ok. Let's work on it."
Segel cited Roald Dahl, Tim Burton, The Simpsons, and Pixar films like Up and Toy Story as influences for their ability to tell stories—particularly scary stories—to kids that adults can enjoy, too.
"[Roald Dahl books] are pretty spooky. I really like that. And they don't talk down to kids," he said. He also admires these works for their ability to combine spookiness with humor. The combination gives the works an even broader appeal, but it can be hard for parents to accept such work sometimes, fearing that it may be too intense. But kids are tougher than adults would like to admit, he noted.
"It's a fine line. As a parent, you want your kid to be stimulated, but not too much," he said. "But kids like to be a little scared."
Segel can relate. He loves to be scared. He mentioned that he watches a horror movie every night. It's a practice that influences his comedic work.
"I find horror fascinating. I love what it does to my body," he said, earning big laughs. "Horror and comedy both elicit a similar response." He made sure to position the two side-by-side in Nightmares!
Segel spoke of the differences between writing a book and writing for film and television. His reverence for the printed word was undeniable.
"Television and film want you to sit back and watch; be passive. With a book, there's a collaboration going on between the writer and the readers' imagination. Books are a gateway to a new world," he said. This ability to engage minds, particularly the minds of youth, is very important to Segel. "Kids are meant for more than just sitting and receiving. Kids are smart," he said to applause.
Segel was equally adamant about his preference for real books over e-readers. A book's tactile nature is a part of the reading experience, he said. He referenced one of his future projects to cement his belief.
Segel will star as David Foster Wallace in an upcoming film about the late author's life. Wallace's idiosyncratic work, which is full of footnotes and endnotes that take readers on journeys back and forth through the physical pages of his books, cannot be experienced on a tablet, Segel said.
He also related how he was obsessed with the video game Myst in his youth. The game came with an accompanying book that he kept with him at all times until it was ragged. He hopes the same thing happens to his book.
"I want my book to be carried around and thrown around. I want you to get Cheetos on it," he said.
Videos:
Jason Segel on Nightmares!:
Jason Segel on Reading: