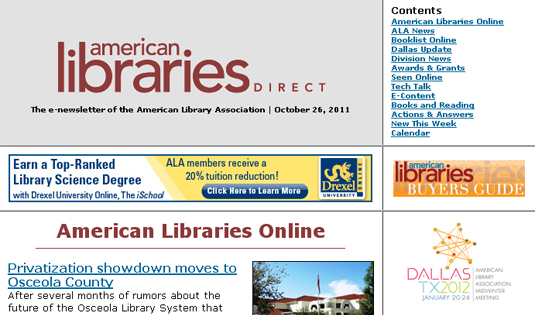 Reach librarians actively engaged in reading library industry news each week
Award-winning e-newsletter is delivered to more than 54,000 opt-in library professionals weekly
Open and click through rates above 30% shows highly active readership
Now available to both ALA members and non-members
Uncluttered advertising environment means your banner gets noticed
Delivers the latest in library activities, facilities, business news, updates on state and federal legislation, upcoming events, and industry statistics to librarians
Next Steps
Contact Us
For printed information and sample copies of the print
American Libraries
magazine, please send your contact information to Katie Bane at
kbane@ala.org
.
To discuss advertising in any American Libraries publication, please email americanlibrariesadvertising@ala.org.
---
What our readers are saying…
"I love AL Direct and look forward to it each week."

"I love the range of articles that the newsletter offers. I can always find something helpful or interesting!"

"A quick way to keep me up-to-date with library news"

"I always find a couple of interesting items that I don't think I would find otherwise"

"I love the weekly e-newsletter. I like the range of information it contains for all fields of librarianship"

"Superb in tracking current issues"
---